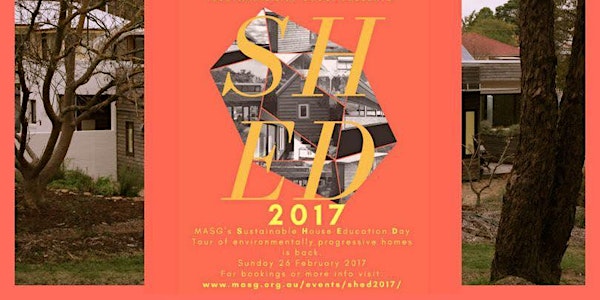 Sustainable House Education Day (SHeD) 2017 - SUSTAINABLE LIVING FESTIVAL
Location
The Local
233 Barker Street
Castlemaine, VIC 3450
Australia
Description
The Mount Alexander Sustainability Group's (MASG) popular tour of environmentally progressive homes is back! Be inspired by what local residents of the Mount Alexander Shire have achieved and find out how they did it.
On Sunday 26 February 2017, 9-4:30pm, featured as part of the 2017 Sustainable Living Festival, local residents of the Mount Alexander Shire are opening their homes to the public to discuss some of the design and build choices they have made in their energy efficient and sustainably contructed homes.
The houses on the tour range from a re-purposed Methodist Church built in 1869, a tiny relocatable home on a trailer, a passive-solar home built from scratch 4 years ago, and a retro-fitted brick veneer 1960s house.

Morning tea, lunch, and afternoon tea, catered by 'Growing Abundance' are included in some ticket prices - see options below.
ON THE DAY:
Registration and morning tea will be from 9am at The Local - 233 Barker St. The tour will commence at 10am, with four featured properties. The day will end at The Local with afternoon tea, a drink, and a discussion with a panel of experts on sustainable design and building.

FEATURED HOMES:
HOUSE ONE: Our passive solar home was built from scratch on a difficult south sloping block just over 4 years ago. The contemporary looking Lifehouse design offers ample light, ventilation and maximum efficiency with minimum space wastage. It also functions well with the temporary blended family use.
It has many features to enhance its low energy use, such as passive solar (north facing, concrete slab, thermal mass wall, double glazing), solar pv and hot water, and use of water tanks (>50,000L). The large garden was started from bare ground and features 22 fruit trees, vege plots and shade plants. We live very busy lives so all the systems (house and garden) are built around ease of input, maintenance and output. The block, like us, is an ever evolving system that incorporates many ideas with the flexibility of modern lifestyles.
HOUSE TWO: "I began the church project five years ago with a brief to convert it into a vibrant mix of residential, commercial and community uses. The masterplan for the project included the staged implementation of a number of energy saving measures and the reconfiguration of the interior into two small footprint residences, an architecture practice studio and a multi-purpose room suitable for small community gatherings, along with landscaping works to house bicycles, harvest water and grow food.
Adopting an existing building to a new contemporary use is large scale repurposing, with zero embodied energy in the building envelope. Adopting a building in a central location with proximity to the railway station and walkable distance to all amenities reduces reliance on car use.
My design strategy was to work with the opportunities and constraints of the site/ existing buildings and the prioritisation of heritage spaces and elements. This led to the decision to keep the large volume and decorative heritage features of the original church building, while converting the smaller hall to residential scale, north facing living spaces.

The creation of small footprint housing was an ethical decision based on providing access to affordable dwellings with low running costs. I wanted to cater for single parents with part-time children, who are under-represented in the current real estate market. I wanted to create good quality, functional, comfortable, energy efficient, weather resilient space. Energy saving measures implemented in this project include the installation of solar panels, insulating the roof, ceiling & floors, double glazing, providing shading, the removal of air-conditioners, the use of recycled materials, provision of bike racks, and passive solar design that maximises natural light and the ability to isolate and control temperatures."

HOUSE THREE:
"Based on a Tumbleweed Tiny House design, this single occupancy mobile home was built between 2013 and 2015 by it's owner. Built from a mixture of new and recycled materials, the home consists of a sleeping area, kitchen, shower and lounge/work area. These charming homes offer the DIY builder the achievable experience in creating one's own shelter and a way of circumventing cumbersome council planning permissions and building codes. The chief sustainability feature of a Tiny Home is the freedom from leading a materially acquisitive lifestyle."

HOUSE FOUR:

"A 1940s brick veneer classic with a sympathetic, sustainable retrofit including 4kW solar, insulation (ceiling, floor and walls), reclaimed materials, productive garden, 20,000l water tank and more.

What we have done with insulation is a bit different to what most people do, we have also incorporated a lot of recycled materials while keeping all the period features of the home, so hopefully that gives people ideas to utilise in their own building and renovation projects.
We will be sharing the mistakes we have made too!"