Description
Surfing the 60s. Original 8mm film footage by Rex Popplewell from the 1960s.
Film screening and social gathering. Monday 12 December 2016. The Entrance, NSW, Australia.
---
See what surfing was like over 50 years ago!
Follow the journey of some local everyday surfers, Rex Popplewell and his mates, surfing at local beaches including: Terrigal, Avoca, Blue Bay, Forresters Beach, Wamberal, Little Beach, Tallows, Maitland Bay, Newcastle, The Cowrie Hole, Seal Rocks, Crescent Head, Green Knob, some Queensland and Victorian beaches including the iconic Bells Beach and some footage of the world championships at Manly in Sydney in 1964.
Film Screening - Majestic Cinema, The Entrance
-------------------------------------------------------
Doors open 5pm for 5.30 start at Majestic Cinema.
Social Gathering
-------------------
The film screening will be followed by an social gathering across the road from the cinema at The Lakes Hotel in The Entrance where everyone (18 years and over) is invited to come over and join us there we hope it will be a great chance to connect, socialise, share surfing and 60's stories and have some fun with old and new mates connecting over cross generational surf lifestyle and coastal culture. *Buy your own drinks/food.
Ticket Prices
----------------
Film Showing : $13.50 per person.* * * *
Please note any door sales will be cash only for any remaining tickets until sold out.
DVD pre-special at the event!
----------------------------------
After the movie screening if DVD orders will be taken for anyone who would like to purchase the film at our pre-sale event special price of $20 per Surfing the 60's DVD. Please bring and extra $20 cash in case you'd like to order one. We hope to get them out to you before christmas but at the latest they will be delivered to you by new years!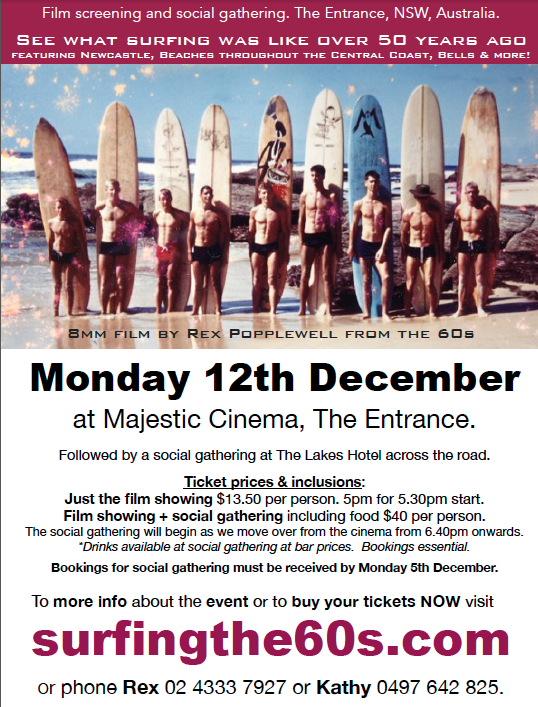 We'd love you to join us for a great social night out. Get your 'Tickets' here on Eventbrite site up the top right of this page NOW!
Or visit us for more info or to connect over at https://www.surfingthe60s.com!