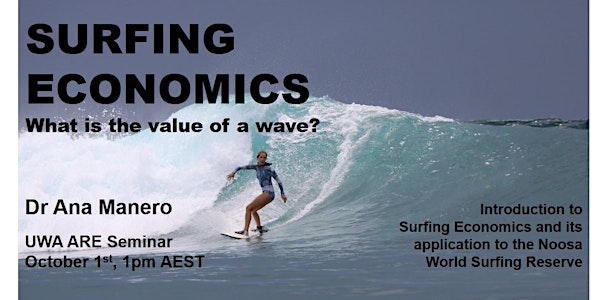 Surfing Economics: a travel cost study of the Noosa World Surfing Reserve
Dr Ana Manero will present an overview of what 'surfing economics' is, why it is important and how it was applied to the Noosa WSR.
About this event
Abstract
Across the world, over 50 million people practise surfing on a regular basis, with seven percent of the Australian population engaging in the sport. Pre-pandemic, global surf travel expenditure was estimated at between $32 to $65 billion USD. For many, surfing is not just a sport but a lifestyle that is fundamental for their personal and social wellbeing. While market and non-market values of coastal-based recreational activities have been widely documented (e.g. fishing), the study of 'surfing economics' is just emerging. In this seminar, Dr Ana Manero will present an overview of what 'surfing economics' is and why it is important. Further, Ana will share the results of one of the first Australian studies in 'surfing economics', done in collaboration with Dr Javier Leon (University of the Sunshine Coast). An application of the travel cost method to the Noosa World Surfing Reserve (Queensland) indicates that surfers' consumer surplus is between A$22 and $56 per person per trip. This 'proof-of-concept' demonstrates a novel application of non-market valuation techniques and provides practical recommendations for researchers and policy-makers to recognise waves as a valuable ecosystem service that should be better understood and protected.
Bio
Dr Ana Manero is an environmental economist working as a post-doctoral research fellow at the Water Justice Hub, within the Australian National University. She holds an adjunct potion at UWA's Centre for Environmental Economics & Policy. Ana has over 15 years of experience in industry and academia working on environmental management, focused on water resources. With a unique combination of environmental economics skills and a deep understanding of surfing, Ana is now pioneering 'surfing economics' research in Australia. Ana was recently interviewed by ABC TV and Radio, as well as other media, about the importance of recognising WA's waves as a valuable resource. Ana looks forward to building a community of practice around surfing research in WA and beyond. If this is something that could be of interest to you, please do not hesitate to reach out.