Description
For many people with Complex Communication Needs (CCN), Augmentative and Alternative Communication (AAC) enables people to communicate effectively. There are significant considerations when supporting people to use AAC.
This workshop covers the background of AAC, how to support effective communication and implementing strategies to support people to use AAC. This is targeted to support staff, family members and others communication partners. Use of practical strategies and interactive learning will provide hands-on opportunities to improve your communication partner skills.
Objectives:
Understand what is meant by the terms 'Complex Communication Needs (CCN)' and 'Augmentative and Alternative Communication (AAC)'.
Understand how AAC can enable people to be effective communicators and active participants in their communities.
Know about the different types of AAC systems.
Have general knowledge on how to support and implement AAC systems.
Be aware of the complexity of AAC and challenges for AAC use.
Practice strategies to support people with complex communication needs.
Understand people's roles and contributions within an AAC team.
Know where and how to find further AAC supports, resources and funding.
Audience
This introductory workshop is suitable for consumers, support workers, carers, local area coordinators, support coordinators and health professionals who are developing skills in this area.
Why learn with LifeTec?
LifeTec's learning and development service provides face to face and online training opportunities for consumers, allied health practitioners and service providers. Our unique approach centres on the enabling possibilities that assistive technology offers, and the journey in choosing, implementing and living with assistive technologies for people of all needs.
Our digital learning capabilities enable us to share learning opportunities and provide greater support to our regional, rural and remote clientele. LifeTec is able to tailor workshops to your suit the needs of your workplace and help to build capacity and skills within staff.
Cancellations and Refunds
Cancellations up to 7 days prior to the session will receive a full refund. Cancellations less than seven days prior to the workshop will receive a refund minus a 15% administration charge. Fees from registrants who cancel less than 24 hours prior to the event are not refundable, however, registrants may arrange for another person to attend in their place. Registrations will be confirmed once payment has been received. LifeTec Australia reserves the right to cancel the workshop if there are insufficient registrations. In this event, payment will be fully refunded.
LifeTec requires a minimum of 8 people for this workshop to run, if in the event we need to cancel the workshop due to low registrations, you will receive a full refund.
Presenter Profile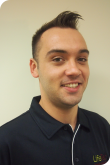 Sebastian is a speech pathologist with a special interest area in Augmentative and Alternative Communication (AAC). Since graduating from the University of Queensland with a Bachelor of Speech Pathology in 2013, he has worked with individuals with a broad range of complex communication needs from across the lifespan.
Sebastian is passionate and enthusiastic about assisting people access their right to communicate about what they want, when they want, and with who they want. Prior to joining LifeTec in 2016, he built up experience working within the disability sector. He strives to find holistic client-centred solutions to enable people to better access the world around them through communication and assistive technology.