This workshop provides best-practice strategies to support, teach and care for adolescents who present with complex needs and behaviours.
About this Event
Who is the Workshop For?
Teachers, caregivers, disability workers, social workers, youth workers, case workers, support workers, professionals and practitioners who provide support, teach and care for adolescents who present with complex needs and behaviours.
Key Content
This webinar, supported by participant engagement (questions, polling and feedback), will bring focus to the following evidence-based content.
Adopting a personalised, growth-focused and intentional approach to understanding and responding to adolescents.
Understanding 'normal' adolescent development, including behaviour, developmental tasks (identity) and risk-taking processes.
Understanding what is 'under the surface' for adolescents, including brain development.
Understanding the developmental impact of historical experiences on the adolescent developmental transition (and brain), including trauma, early uncertainty and different life events.
'Responding' rather than 'reacting' to adolescent behaviour and under the surface needs.
Key areas of growth intent (or focus of scripts, strategies and intervention) for adolescents' social, emotional, cognitive and wellbeing development.
Relationship-focused and trauma-responsive scripts, strategies and methods to 'respond to the needs' underpinning various adolescent behaviours, and in a neuro-developmental manner (or as personalised to an adolescent's developmental level).
How to manage expectations and bring flexibility to support roles, with a focus on implementing a side-by-side support and coaching role.
Delivery
The session will be delivered by Zoom, which is an online web-based platform that can be accessed by smart phone, tablet and computer. All participants who register will receive an email 24 hours before the session with the Zoom code.
Facilitators
The session will be delivered by two LBI Foundation presenters with significant experience in providing preventative and targeted support (clinical and non-clinical) to adolescents (and their families and support systems).
Dr Ivan Raymond (Clinical Psychologist)
Ashleigh Ditcham (Clinical Psychologist)
Workshop Cost
Free - Personnel associated with member agencies. Please register through Eventbrite.
$75.00 - For non-member agency personnel. Please register through Eventbrite.
$45.00 - For non-member agency personnel where 4+ tickets are purchased. Please email info@lbi.org.au for this ticket option.
Additional Information
This workshop is a Specialist Application Module of the broader IMPACT Program. Participants completing the workshop will be invited to complete an online accreditation process and receive a certificate linked to their LBI learning record.
For additional information on the events and training conducted by LBI Foundation, click here.
This workshop can also be delivered in-house (to an agency, program site or school) by LBI Foundation.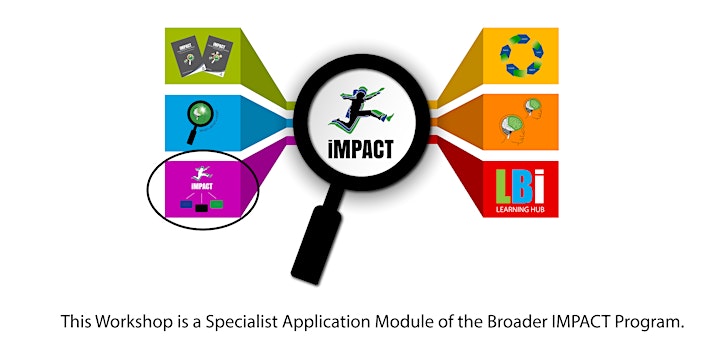 Date and Time
Location
Refund Policy