Description
What's New in 2018
Come along and hear what your customers need from you in 2018.
You are invited to attend an information session on a Supply Chain Improvement Project, to inform you of current requirements in the Australian manufacturing sector.
About the project
The project's aim is to increase visibility and safety of food ingredients and raw material supply chains, using a universal set of standards for all trading partners.
Identify, Capture & Share your product data with customers using GS1 Barcodes and unique identification

Implement EDI - Electronic Purchase Order, Advanced Ship Notices (ASN) and eInvoice
The objective of this event is to:
Provide a brief overview of the Supply Chain Improvement Project
Describe why GS1 standards are involved
Discuss the benefits of the integration of your supply chain for both suppliers and Australian manufacturer
The session is designed for both business and IT representatives of your business involved in managing the supply to FMCG manufacturers.

How will you benefit from the project?
You will have one single system of identification & communication for all customers.
You will improve your customer relationships by supplying the information they need in the format request.
You will see improved processes and reduced costs. Global standards work for everyone within the supply chain.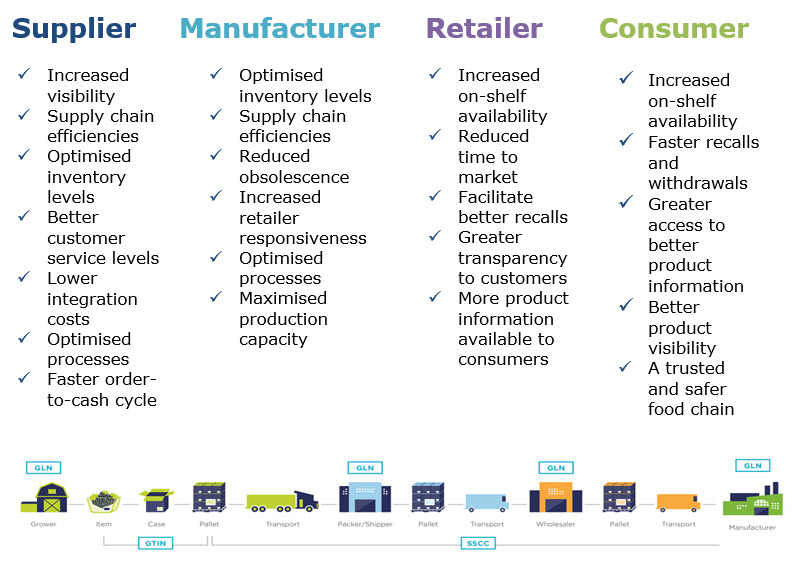 Modernise your supply chain management practices in the Australian FMCG sector.
Information on parking at this event will be sent closer to the event.
Should you require further information please contact:
Project Support - Melanie Wishart on 02 9695 2218 melanie.wishart@gs1au.org
Project Support - Ann Tindale on 03 9558 9559 ann.tindale@gs1au.org