Supercharged Meditation is the secret body hack that is changing people's lives, and could transform your health issues forever.
About this Event
SUPERCHARGED MEDITATION
Vagus Nerve Stimulation plus Meditation to Supercharge your results
Are you tired of feeling low with no energy and a foggy brain?
Do you suffer from chronic pain such as gut inflammation or migraines that makes your life unbearable?
Have you experienced a deep trauma that is causing you depression, anxiety, sleep disorders or memory issues?
Do you often feel overwhelmed with everything you need to handle?
If you've answered 'yes' to one or more of these questions, you've likely done damage to your nervous system.
Spaces are strictly limited to ten participants per class.
Book your spot early to avoid disappointment.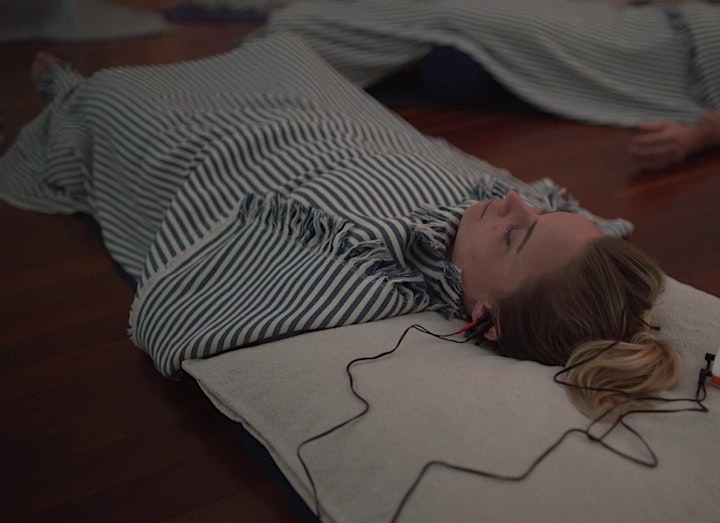 What happens in a Class?
After a short guided meditation with Chibs, Sam will explain the science and technology behind Vagus Nerve Stimulation. You will lie or sit down and get comfortable, as Sam attaches you to a state-of-the-art Vagus Nerve Stimulator that will work on your Vagus Nerve.
As the electrical current flows through your Vagus Nerve, Chibs will guide you through a 30-minute relaxing and focus-enhancing body-scan meditation. The Supercharged combination of Vagus Nerve Stimulation and Mindfulness Meditation creates a multiplier effect that you cannot get from Vagus Nerve Stimulation or Meditation alone.
There will be plenty of time at the end of the Meditation for sharing and questions.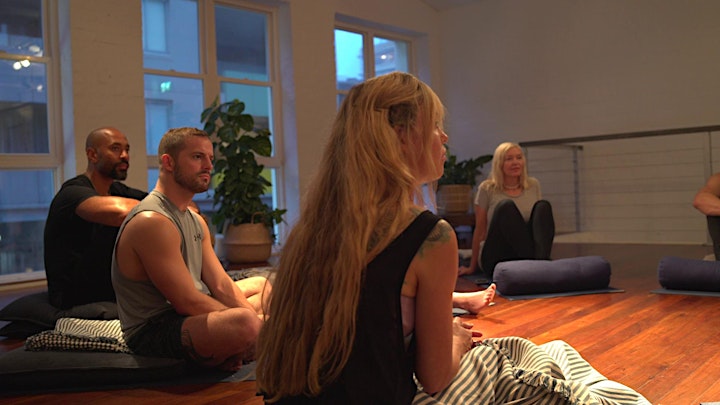 How Will a Damaged Nervous System Affect Me?
A poorly functioning nervous system means that your brain will be unable to "switch off", and your body will be unable to relax, digest food properly, sleep soundly, or heal from illness and injury. Your mind and body will be in a constant state of fight-or-flight, and daily life will feel stressful and overwhelming.
Trauma, prolonged periods of stress, and illness are a few things that can injure the nervous system.
Supercharged Meditation repairs your nervous system, giving you more energy, more focus, a stiller mind, and fewer feelings of stress or overwhelm in your life.
Supercharged Meditation is the secret body hack that is changing people's lives, and could transform your health issues forever.
What is Supercharged Meditation?
Two passionate Bondi Wellbeing Practitioners created this groundbreaking technique. They combined Vagus Nerve Stimulation and Mindfulness-Based Stress Reduction Meditation to Supercharge the mind-body healing process.
Supercharged Meditation is an evidence-based treatment that uses cutting edge technology to repair your nervous system. It is a fast, easy and effective way to quieten the noise in your head, improve your health, and reduce feelings of stress and overwhelm.
Vagus Nerve Stimulation - What is it?
Vagus nerve stimulation is a noninvasive medical procedure that stimulates the vagus nerve with electrical impulses.
Vagus nerve stimulation has been tested scientifically in the US and Europe, and the US Food and Drug Administration (FDA) has approved its use.
Clinical trials have shown Vagus Nerve Stimulation helps with rapid cycling bipolar disorder, anxiety disorders and Alzheimer's disease, rheumatoid arthritis, heart failure, metabolic syndrome, heart disease, inflammation from diabetes mellitus, abnormal heart rhythm, and inflammation from Crohn's disease (Frontier in Psychology, 2019).
Mindfulness-Based Stress Reduction (MBSR)
Mindfulness is a crucial element in fighting stress. Mindfulness is the practice of staying aware of yourself and your surroundings. It is a skill that is developed by the practice of Mindfulness Meditation.
MBSR is the gold-standard in Mindfulness training and has over four decades of research behind it. When added to existing medical or psychological treatments, or as a standalone practice, MBSR is proven to enhance the results of treatment significantly.
MBSR is clinically proven to help treat anxiety and panic attacks; asthma; cancer; chronic illness; depression; eating disorders; fatigue; fibromyalgia; gastrointestinal distress; grief; headaches; heart disease; high blood pressure; pain; post-traumatic stress disorder; skin disorders; sleep problems; work stress; family stress; and financial stress (Center for Mindfulness at the University of Massachusetts Medical School, 2017).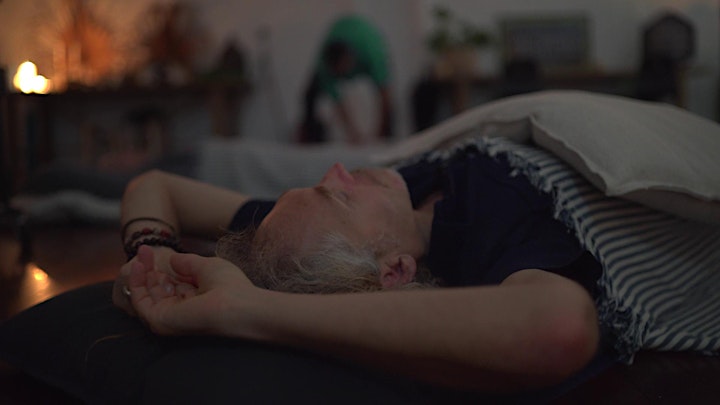 From stressed and overthinking to relaxed and focused
If you arrive for your session stressed, overwhelmed and overthinking, the Vagus Nerve Stimulation will gently shift your nervous system from fight-or-flight to rest-and-digest. This initial shifting phase lasts approximately 11 minutes.
This therapy is particularly beneficial for those people that find it impossible to meditate because their mind is too busy. In addition to releasing stress and overwhelm trapped in the body, Vagus Nerve Stimulation quiets the voices in your head. You are thereby freeing the mind from overthinking and cyclical thinking, even if you have no experience of Meditation.
For some individuals, a Supercharged Meditation class is the first time they have experienced a quiet mind.
From relaxed and focused, to a deep meditative healing state
If you are arriving at the session relaxed and focused, or if you are a seasoned meditator, the Vagus Nerve Stimulator will allow you to enter a deep meditative state much faster. The treatment will also strengthen your nervous system and improve your Vagal tone.
Once the Meditation is over, the body will be in a parasympathetic "rest and digest" state, speeding up healing, recovery and trauma integration. You will feel incredibly relaxed, yet focused and present. You will have significantly less anxiety and worry, and your mind will be brighter and less foggy. People also report being more aware of their body and their breathing.
We will spend plenty of time at the end of the Meditation for sharing and questions.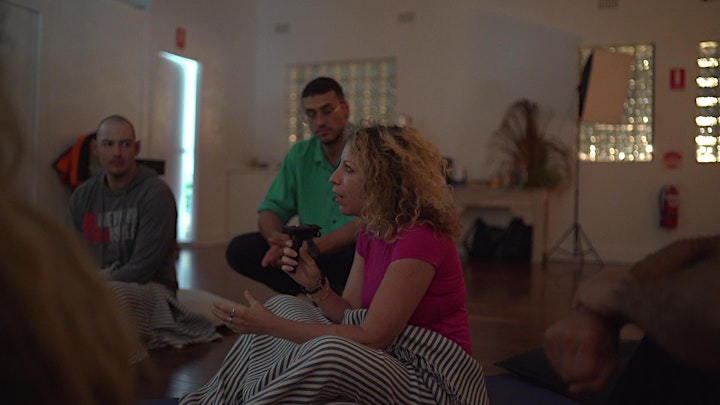 What does Supercharged Meditation do precisely?
Repairs your nervous system, so life doesn't feel overwhelming
Quietens your mind preventing overthinking and cyclical thinking
Puts your body into a healing state
Improves gut health and IBS symptoms
Releases stress and trauma trapped in the body
Moves trauma from short-term memory into long-term memory
initiates deep relaxation, improves sleep, and aids recovery from injury and trauma
Brings your body into the state of safety that activates its innate capacity to heal
Produces effects that last for days afterwards
Four sessions will provide permanent improvements in nervous system functioning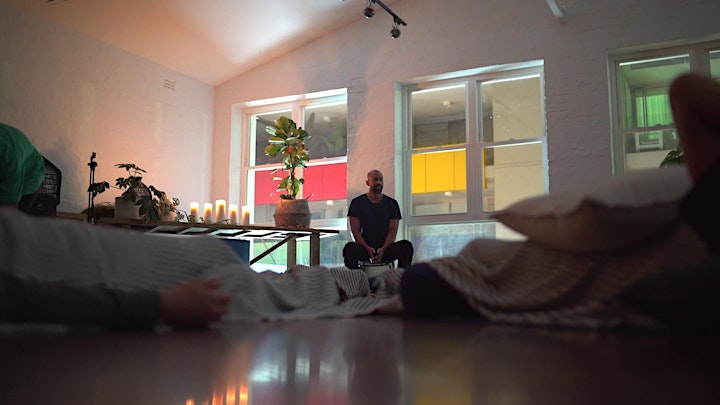 Stress and the Vagus Nerve
If the Vagus Nerve is working correctly, the body and mind will deal with stress appropriately - once the stressful event has passed, the body will quickly move into a rest-and-digest (parasympathetic) state. If the Vagus Nerve isn't working correctly, then stress will wreak havoc on the nervous system, causing all the problems outlined above.
With advances in research and technology, we can now quickly repair the nervous system. It's such an easy fix, and it's unfair that everyday Australians don't know about it. The Vagus Nerve is an integral part of health, maybe THE most important of our health, and everyone should know this.
People are spending so much energy, time and money on quick-fixes, antidepressants, therapies, and supplements. Most people simply aren't aware that the Vagus Nerve is responsible for all their physiological and psychological issues.
Experts Sam Minkin (Accredited Vagus Nerve and Musculoskeletal Therapist) and Chibs Okereke (Accredited Mindfulness-Based Stress Reduction Teacher), are on a mission to educate the world. They bring together the science of the Vagus Nerve and the ancient wisdom of Mindfulness to create a world-first - Supercharged Meditation.
Vagus Nerve Stimulation is scientifically proven to reduce overthinking, improve gut health, and increase relaxation. Four decades of research has shown Mindfulness-Based Stress Reduction reduces Stress, increases focus, and reduces anxiety.
Never before has Vagus Nerve Stimulation and Mindfulness Meditation been combined. Supercharged Meditation is producing spectacular results.
Chibs Okereke - Accredited Mindfulness-Based Stress Reduction Coach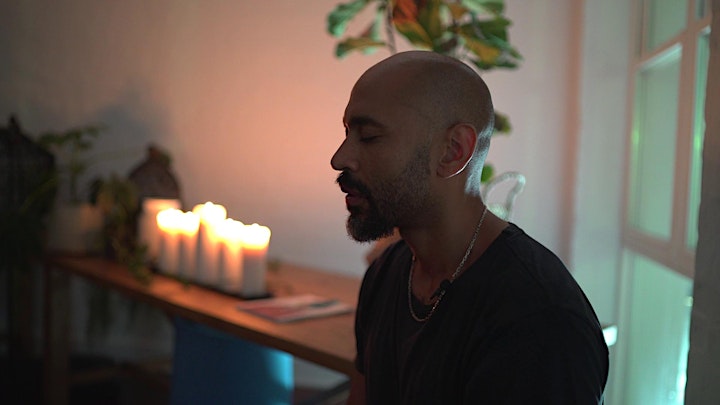 Chibs knows what it feels like to be anxious, depressed, and overwhelmed. Stress and burnout damaged his nervous system, and he used Mindfulness to get his life back.
Chibs has come from a Corporate and Business background. As CEO of several multimillion-dollar companies, he understands the impact of stress on the individual and to others. He also understands the need to perform at one's best.
Chibs has a Masters in Organisational Psychology, he is a regular speaker at Wellbeing at Work events, and he received his accreditation from The University of Massachusetts Medical School. The curriculum he teaches has the backing of over four decades of scientific research.
Chibs trains CEOs, Founders, and teaches meditation and stress-reduction techniques to innovative organisations such as Sumo Salad, Medibank and Xinja Bank.
Samuel Minkin - Musculoskeletal Therapist and Accredited Vagus Nerve Practitioner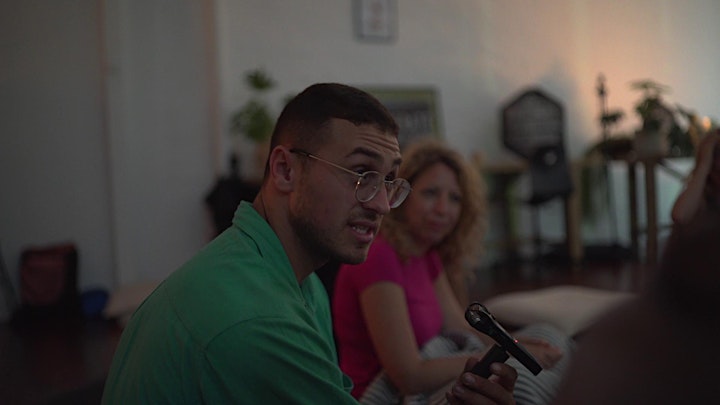 Sam understands what it's like to feel helpless, confused, and not able to trust his feelings. He has worked on his Vagus Nerve to bring himself into balance so that he can respond to life appropriately.
Sam comes from a Musculoskeletal and Functional Medicine background. As Director and principle Musculoskeletal Therapist of Recuperate Health and Wellbeing in Bondi, he knows the need for integrative approaches to peoples health and wellbeing assessing and treating his patients physical and mental health.
Sam is passionate about improving his client's health. He prides himself on his persistent efforts to find answers and help his patients.
Sam has a Bachelor of Health Science in Musculoskeletal therapy from Endeavour College of Natural Health. He is a Certified Vagus Nerve practitioner and a Certified Photobiomodulation practitioner. He has a Diploma of Fitness, Certificate 3 in Sports Training, and he is a Level 1 Strength and Conditioning Coach. Sam has certificates in advanced resuscitation and advanced first aid.
Sam is regarded as an expert when it comes to assessing and treating the Vagus Nerve. The protocol he uses is based and backed by current research findings and evidence-based practice.
Sam works with CEOs, elite sporting teams of Queensland, New South Wales and Australia, as well as working with the World Table Tennis Federation. He helps and finds answers for people with complex and debilitating conditions.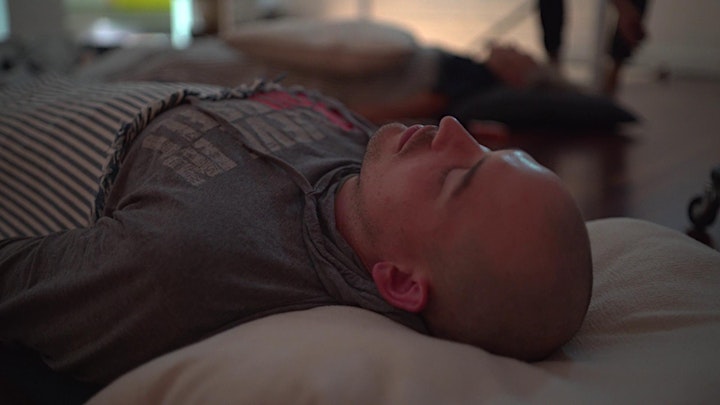 Peace-of-mind Guarantee
There are no side-effects.
This procedure will not wipe you out it will energise you
This treatment doesn't hurt (if your vagus nerve is in disrepair, there may be some sensitivity where the stimulator is attached. This sensitivity will end after the second or third session)
It won't interact with any medications
It won't interfere with any other treatments or therapies
The course is a scientifically-backed one. Chibs received his Teaching accreditation from the Centre for Mindfulness at The University of Massachusetts Medical School. Sam received his Musculoskeletal and Functional Medicine certifications from The Endeavour College of Natural Health.
What if you don't try a Supercharged Meditation class?
You may never know what a healthy nervous system feels like
You might remain in fight-or-flight, and life could continue to feel overwhelming and stressful
You may not respond to situations appropriately
You might keep battling with gut issues
FAQs
What is the Nervous System?
The nervous system consists of the brain, spinal cord and nerves, and it is the most important system in your body. It coordinates and regulates all the communication and processes within your body, as well as helping you adjust to an ever-changing environment.
Some of the unconscious processes the nervous system controls are digestion, the immune system, heart rate, blood pressure, coordination and balance, pain reflexes, and sweating.
Your nervous system controls every cell, tissue and organ of your body. It controls and regulates how your body functions.
What is Fight-or-Flight (What is the Sympathetic Nervous System)
The nervous system is in a sympathetic state (fight-or-flight), or it's in a parasympathetic state (rest and digest). It cannot be in both at the same time.
Fight-or-flight is an excellent way for the mind and body to deal with danger or threatening circumstances. When a threat is detected, the nervous system stimulates the adrenal glands releasing adrenaline and cortisol. Thereby increasing heart rate, blood pressure, and breathing rate, tensing up your muscles, so you are ready to fight or run away from the danger.
In small doses, Fight-or-flight is also helpful in instances where you are under pressure to perform well. It motivates you to take action in work, school or sport, for example.
What is Rest and Digest (What is the Parasympathetic Nervous System)
A healthy body should be in rest and digest for the vast majority of its day. When the parasympathetic nervous system is active, our heartbeat slows, and digestion and healing are enhanced. The immune system is activated to fight and protect against disease. The job of the parasympathetic nervous system is to calm the body down and keep the vital functions stable.
When the body is in fight-or-flight, the rest and digest system switches off, which is why chronic stress is responsible for so many physiological and psychological illnesses.
What is the Vagus Nerve?
Your Vagus Nerve is the largest and most important nerve in your body. It is the main parasympathetic nerve, and it regulates your parasympathetic nervous system. It carries messages to and from your brain, gut, heart, and other major muscles and organs.
The Vagus Nerve plays a crucial role in determining your psychological and emotional states. Many common psychological and physical symptoms, from anxiety and depression to migraines and back pain, indicate that the Vagus Nerve is not functioning correctly.
Common issues like inflammation, stress, or physical trauma can interfere with the Vagus Nerve's ability to function. Luckily, Supercharged Meditation is a quick-and-easy way to activate and exercise the Vagus Nerve, strengthening its function and restoring your body to good health. This class will help you unlock the power of the Vagus Nerve to heal your body and get back to a state of balance.
What does stress do to the body?
Stress prevents digestion, causes inflammation, prevents healing, hinders recovery after exercise, stops the processing of grief and trauma, dysregulates hormones, increases pain, causes poor sleep, causes reflux, raises blood pressure, increases brain-fog, leads to addictions, affects relationships, causes sexual dysfunction and infertility, and weakens the immune system.
How does Stress make us feel?
Stress makes us feel anxious, depressed, emotionally reactive, angry, overwhelmed, ashamed, worried, and a whole host of negative emotions.
What are the Benefits of Vagus Nerve Stimulation
Improved Gut Health
Increased Vagal Tone
Increased insulin sensitivity
Improved gut permeability
Improved cortisol regulation
Decreased depression
Less anxiety
Better memory
Increased divergent thinking
Greater ability to get into stage 3 and 4 REM cycles
Decreased allergy responses
Improved inflammatory regulation
Increased neuroplasticity
Faster brain signals
Less dependent on drugs and alcohol
Increased motivation
Rehabilitation after stroke, TBI and other brain-related injuries
What are the Benefits of Mindfulness Meditation
Healthier mind
Calmer, happier, relaxed and more confident
Greater emotional stability
Increased performance at work, school, sport
More fulfilling relationships
Better sleep
Healthier body
Less reliance on addictive behaviours
More self-worth
Higher self-esteem
More time to do the things you love
Able to pay more attention to the things you love
Better focus
More engaged in life
Why do some people find it impossible to Meditate?
For those of us that have done damage to our nervous system, through trauma, stress, or illness, our body will be in a chronic state of fight-or-flight. In this state, the world will seem unsafe, and we will have a general feeling of uneasiness. Our minds will overthink, we will ruminate about problems from the past and problems that haven't happened yet.
When our body is in fight-or-flight, the nervous system behaves as though there is physical danger in the environment.
If we truly are in danger, the last thing the body wants to do is close its eyes, because you won't be able to see the threats coming your way. Therefore the nervous system does all it can do to encourage you to open your eyes.
Your mind will start racing, you will think about all the "threats" in your environment. Since there aren't any immediate physical threats, your brain will scan for threats to your income, your self-worth, your ego, or your image.
You will think about bills, problems that might happen in the future, and everything that's left on your to-do list!
You'll ruminate over current relationships, past relationships, and you'll remember every bad thing that's happened to you in the past.
This "noise" will feel overwhelming to many of us, and the most common answer to a frantic mind is, "my mind is too busy to meditate, so I'm going to give up".
The good news is, even without Supercharged Meditation, most people will be able to calm their nervous systems down with several weeks of daily mindfulness meditation practice. They just need to persevere through the uncomfortable stage.
The even better news is that with Supercharged Meditation, the nervous system calms down in less than 11 minutes. This means we can accelerate the learning and healing process, diving straight into an extended meditation.