Location
39 Dukes Walk
39 Dukes Walk
South Wharf, VIC 3006
Australia
Join us at The Common Man for Superbowl LVI live and loud on our giant outdoor megascreen on Monday the 14th of February 2022 from 9am.
About this event
Direct from SoFi Stadium California enjoy Superbowl 56 live and loud on The Common Man's epic mega screen on the lawn. Complete with a purpose-built marquee, sound system and US -themed drinks and food it's the spot to be this Superbowl!
This year we have a couple of options to choose from, VIP tickets which will put you upfront and undercover for our Mega Screen and general admission to our other areas. Read on for details.
VIP tickets are $120 per person plus booking fee and include the following:
Reserved Seating under our Marquee with view of the Mega Screen
Bottomless Drinks & Food from 10.30am - 1.30pm including;
Coopers Beers
Jack Daniels RTDs
West Coast Cooler Hard Seltzers
Low and No Alcohol Beer
Soft Drinks
US themed grazing food will be delivered throughout the package including Mini Chicken Waffles, Triple Dipper Super Dogs, Bacon Double Cheese Burger Slider and Loaded Wedges.
Free water is available always.
General Admission Tickets
These range from $29 per person to $39 per person depending on the area you book and includes entry and reserved seating. Food and drinks are on consumption with any general admission ticket.
Superbowl Menu & Special Beverages
This year's Superbowl we're highlighting beer by Coopers, Jack Daniels and the brand new West Coast Cooler hard seltzers with our bucket promos with full bar available also.
Plus in addition to a reduced selection of our usual burgers, parmas and other favourites enjoy a selection of GRID_IRON specials ranging including Chicken Waffles, Triple Dipper Super Dogs, Bacon Double Cheese Burger Slider and Loaded Wedges amongst others.
Got questions? Scroll past these images and we'll probably answer them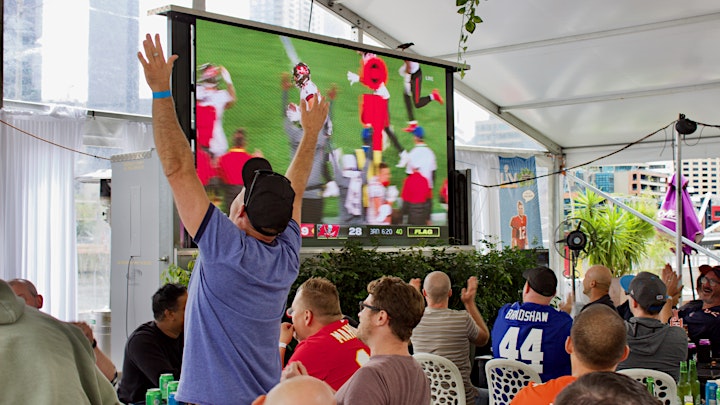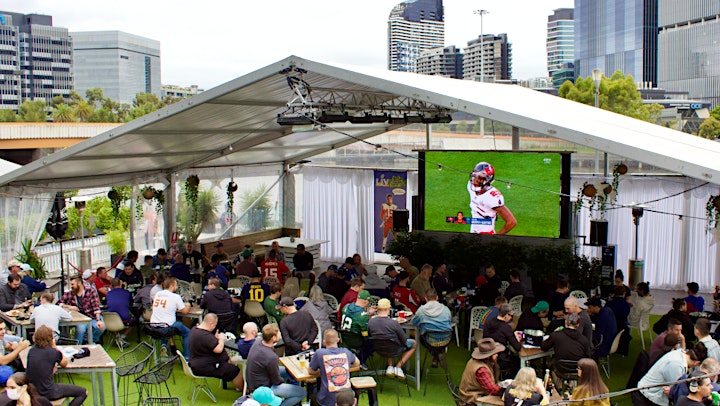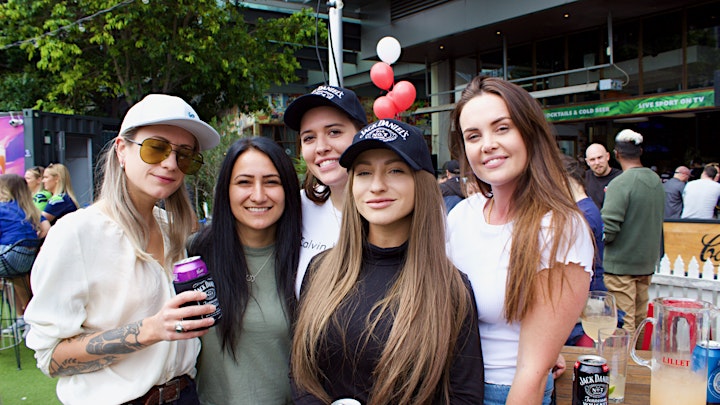 Areas
Lawn - Marquee
Our premier event space adjacent to the Yarra with an epic view of the Melbourne CBD with astro-turf and a chilled out vibe.
Plus, on the lawn we have a purpose built Mega Screen to watch all the action live and loud. Plus, there is a 15mx10m marquee to keep you warm and dry incase of some dodgy weather.
Lawn - Outside
In the same area as the above but outside of the marquee. A fantastic view of the Mega Screen and awesome atmosphere. We'll provide some shade but in order to ensure a great view of the screen for everyone most of the Lawn - Outside area will be in the sun so bring a hat!
Terrace
Our terrace boasts a great view of the Melbourne CBD, TVs and it's weather-proof in most situations. There is also plenty of shade but bring a hat just in case.
Inside
As the name suggests this is inside seating. We have big screen TVs and the Superbowl will be live and loud!
Dietary Requirements
If purchasing VIP tickets please advise of any allergies that are likely to put you in hospital so we don't serve you that.
We will be serving a reduced menu that will facilitate for most dietry requirements if you would like to order further on the day or if you are purchasing a general admin ticket.
Arrival Times
Superbowl LVI is a reserved seating event. You may arrive any time from 9am. Due to the current requirements to check vaccinations, check everyone in and logistics involved in seating everyone we advise you give yourself time to arrive and get comfortabe.
Superbowl is fast becoming one of the biggest days on the event calendar. Due to this there will likely be Uber and other ride share surges and delays so plan ahead and arrive early.
Bottomless beverages & grazing food for the VIP ticket holders will be served from 10.30am until 1.30pm exclusively. We will not extend the hours due to you being late.
Bottomless Beverages - VIP Tickets Only
The bottomless beverages component of this event will be served from 10.30am to 1.30pm exclusively and will apply to VIP ticket holders only. If you are not in attendance within these times for any reason we cannot extend the times. The Common Man proudly supports responsible service of alcohol and there will be free water available. Please drink responsibly.
Joining Others?
We offer the opportunity for people to book separately for this event. Please select a table name for your group and ensure everyone uses this group name at time of checkout. You'll also need to make sure you're booking the same area so word up your mates. Extra points for Superbowl themed names! Due to the uncertainty of this crazy world, we dunno if there is going to be capacity restrictions or not, if you have a large group table sizes may be capped and your group may need to be split. We will let you know if this is the case.
Sold Out?
Join the waiting list! For many reasons people pull out or cannot make it. We encourage you to join the waiting list.
Refunds
Due to the immense impact COVID-19 and the reduction of capacity that it has brought we regretfully inform you that we will not accept cancellations this year after purchase if the event is permitted to go ahead.
In the case of the event being unable to go ahead due to COVID-19 lockdown your purchase will be refunded as long as notifiction of lockdown is in excess of 48 hours prior to the event start time.
We will not offer refunds if you are asked to self isolate or contract COVID-19. We will allow transfer of tickets.
In the case of reduced capacity due to COVID-19 it will be strictly a first-come, best-dressed scenario in which those who purchased their tickets first will get preference of attendance.
COVID-19 VACCINATION POLICY
As per the current Victorian Government Public Health Orders all guests over the age of 18 must provide evidence of being fully vaccinated against COVID-19 or be medically exempt. Those who are unable to provide sufficient official evidence of medical exemption unfortunately will not be able to enter the venue and our cancellation and no-show policy will apply to those guests unable to enter and we will not be offering refunds in this case