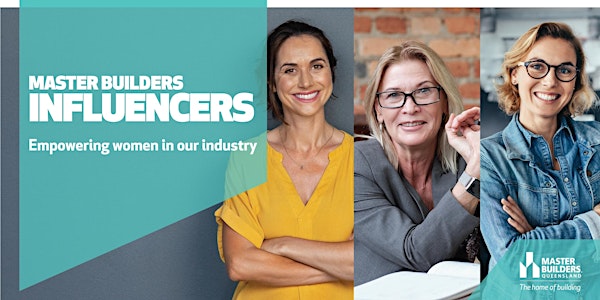 Sunshine Coast Influencers(Women In Building) Workshop
Event Information
Location
Buderim Tavern
81 Burnett Street
Buderim, QLD 4556
Australia
An opportunity for women, and the people who support them, to discuss a range of building and construction industry business topics.
About this event
GET UP TO DATE ON THE LATEST IN OUR INDUSTRY
Plus, hear about facing challenges through a build and apprenticeship programs.
You don't want to miss our upcoming Influencers Workshop as we bring together industry experts to share their insights and experience.
Join us on Thursday, 24 February and hear from our in-house Principal Lawyer, Julian Lane, on facing unexpected challenges throughout building and construction projects. You'll also hear from Community Solutions Business Development Representative, Craig Knight, on how Community Solutions are helping apprentices and trainees with employment, and how you can take on an apprentice or trainee through their Carpentry and Engineering pre-apprenticeship program.
This event is a great chance to get up to date on the latest in our industry whilst networking with other like-minded women working in building and construction.
OUR SPEAKERS
JULIAN LANE
Principal Lawyer, Master Builders Members Legal
Julian has over a decade of commercial and construction law experience that he will draw on to discuss dealing with unexpected challenges during a project. Some areas he will touch on include price increases, labour and material shortages, lockdowns, latent conditions, and changes to a clients financial position. Julian will also provide some tips on how to use the cost-plus contract.
CRAIG KNIGHT
Business Development Representative, Community Solutions
With over 35 years of experience across Retail, Building & Construction, and Training & Education, Craig will delve into Community Solutions' new funding and consequential 13-week Carpentry and Engineering pre-apprenticeship program.
In this program, participants will receive a traineeship wage, attend TAFE for 10 weeks, complete 3 weeks of work experience and receive a Certificate I upon completion.
Employers can also assist with this program and express interest in taking on an apprentice or trainee.
Register now, it's free!
PLEASE NOTE:
In accordance with Queensland Government regulations, as of 17 December 2021, patrons are required to be vaccinated and show proof of vaccination to gain entry to this venue.
Date and time
Location
Buderim Tavern
81 Burnett Street
Buderim, QLD 4556
Australia