Sunset Long Exposure Landscape Workshop - Dragons Head, Rye, Vic
Capturing the dragons head in Rye at sunset. Includes use of a complete Haida M10 filter system.
About this Event
Join renowned photographer and educator Jay Collier from Photographers Collective for a 2 hour sunset landscape workshop to capture the dragons head at 16th Beach in Rye.
Each guest will receive a complete professional Haida M10 filter kit to use for the duration of the workshop which contains the M10 filter holder with drop in circular polarising filter, a 15,10 and 6 stop Red Diamond Series ND filter as well as a 3 stop soft graduated filter. Please note your lens must have 58,62,67,72,77 or 82mm filter sized threads to be compatible with the filters.
During this workshop you will be guided by Jay in a small group of only 6 guests to allow plenty of 1 on 1 tuition to learn:
How to use ND filters to capture dramatic landscape images
Which filter to use when why
Calculating exposure times
balancing ISO, aperture and shutter speed
Focus and depth of field for sharp images
Understanding light and mastering exposure
Reading your histogram
Composition and creating a variety of images on location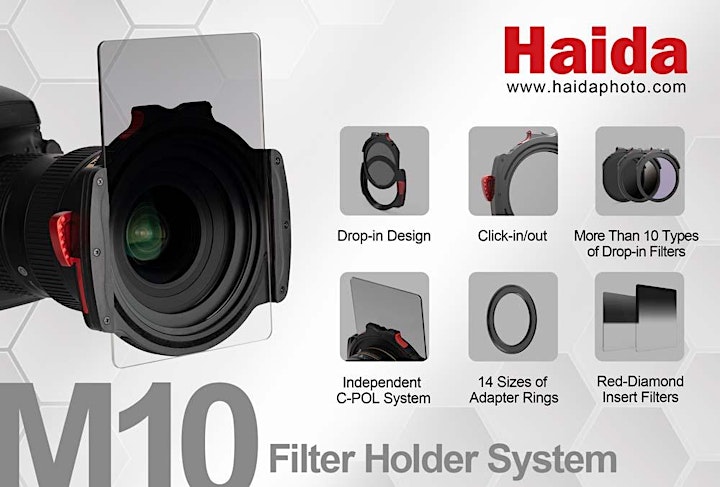 Suggested equipment & important information:
Please meet in the main carpark nearest to the beach access track. Filters will be handed out from Jays car. Parking is limited so please arrive early if possible.
1 or more digital SLR cameras
Wide angle lenses are recommended for this workshop which cover between 16-24mm at the widest angle are recommended.
Lenses must have filter sizes 58mm, 62mm,67mm,72mm,77mm or 82mm in order for the filter system to work on your lens.
Memory cards.
Tripods are essential for this workshop. Remember to check the camera plate is on your camera or tripod before leaving home
Spare batteries and ensure they are fully charged
A lens cloth to remove any sea spray or finger prints
Cable releases are useful but not essential
Reef shoes are highly recommended as you will be standing in water up to your ankles and at times may reach to below your knees. Do not wear good shoes and avoid thongs as you will require a good grip and enclosed toes.
Appropriate clothing as we will be outdoors. I suggest long sleeve shirts, shorts and a hat
Sunscreen and sunglasses
Insect repellant as there can be march flies at different times of the year at this location
Water Bottle
Please arrive at least 15 mins ahead of the scheduled starting time. It may not be possible to catch up on important information or to repeat any section of the workshop for those who arrive late without affecting the experience of others. We will depart to walk to the location as a group and can not wait for those arriving late
For safety reasons, this workshop is not recommended for those with limited mobility or fitness as we will be walking a decent distance over uneven terrain, deep sand and wet rock pools.
This workshop is not recommended to bring guests such as partners or children due to safety
Toilets are not available at this location. There is a cafe near the turn off to the carpark.
Consider a small camera bag or no bag at all as this location is surrounded by water and has nowhere to place your camera bag down. A shoulder bag or even laptop bag which is easy to access is recommended rather than a backpack.
Be sure to join our online Facebook community and share your images at https://www.facebook.com/Photographers-Collective-118494376659220
COVID-19
All workshops are strictly run in accordance to current COVID-19 restrictions and up to date Gov advice. Group sizes will be limited to the maximum number allowed for outdoor gatherings at the time.
All guests must at all times:
Remain 1.5m apart at all times
You must wear a face mask if the current restrictions still require this at the time of the workshop or if you are unable to maintain social distance. Masks will not provided and any guests arriving without a suitable face mask will not be allowed to join the workshop and will forfeit their booking
Adhere to any advice or requests by the event staff
Wash your hands and or use hand sanitiser at the commencement of the workshop. Bathrooms are available at the carpark. Please BYO wipes or sanitiser also.
Please do not attend if:
If you have any symptoms or have come in contact with anybody who has tested positive for COVID-19 in the past 14 days, please do not attend the workshop and notify Jay Collier via email at photographerscollective@outlook.com ASAP if you are unable to attend.
If you have been tested for COVID-19 and awaiting results please do not attend and notify Jay Collier via email at photographerscollective@outlook.com ASAP
people aged 65 years and over with chronic medical conditions
people with a compromised immune system
By booking an event, you agree to cooperate with all requirements and confirm you do not fall within one of the above listed categories. If your situation changes between booking your event and the day of the event, please do not attend and notify Jay Collier via email at photographerscollective@outlook.com
Bookings affected by changes to Gov advice for COVID-19 restrictions:
If for any reason the workshop cannot proceed due to Gov restrictions due to COVID-19 such as; numbers of guests for outdoor gatherings or bans between Melbourne Metro and regional VIC travel, an alternative date will be arranged and your bookings held for the new date. All guests will be notified by email if the event will be affected.
If a suitable alternative date cannot be arranged a refund will be offered
Terms Of Booking:
Please choose carefully. Except where otherwise indicated, we do not offer refunds unless an event has to be cancelled, rescheduled to a date you cannot attend, or where required under Australian Consumer Law.
Refunds are not available for change of mind or circumstances or late arriving / non-arriving guests
You must be 18 years of age or older.
You will receive an automated confirmation by Eventbrite of your order via email. It is Your responsibility to ensure you provide the correct email address and to check your junk-mail folder if necessary.
Guests must inform Jay Collier by email if they have any health concerns or physical limitations which may cause a risk to you or others in attendance at photographerscollective@outlook.com
Jay Collier reserves the right to decline or remove any participant from an Event for any reason, including if their conduct or condition is deemed to pose a risk or nuisance to others or to the participant.
You may be filmed or photographed during the workshop which may be used for promotional material by Photographers Collective only. By booking this workshop you agree to these terms and that if you do not wish to be filmed or photographed that you must inform Jay Collier by email before the event at photographerscollective@outlook.com
By booking this workshop you agree that you are responsible for the safety of yourself and your equipment and you accept and acknowledge that Jay Collier will not carry any liability in the case of injury and or damage caused to equipment. By proceeding with this booking you accept these terms.