Rest, restore and renew your body and mind with relaxation based yoga practices of Yin Yoga and Yoga Nidra.
About this Event
Yin Yoga and Yoga Nidra are relaxation based yoga practices and designed to cultivate greater balance and an opportunity to surrender into relaxation.
During this event you will enjoy a healthy dose of 'me-time' to enable you to relax, unwind, and de-stress.
Your Sunday Session is hosted in a beautiful studio space created to enable you to rest deeply and enjoy the full experience of this 'mini-time out'.
Your full experience is catered for with mats and bolsters. Your body will be supported with various props to ensure you are kept comfortable and safe for you to discover each pose without straining. The objective is for you to rest into each pose, allowing the pose to do the work...simply there is no effort on your part!
WHAT CAN YOU EXPECT?
Reacquaint yourself with the power of deep rest and slowing down life for a moment.
Address tiredness and exhaustion by surrendering into deep rest with relaxation based yoga practices of Yin Yoga and Yoga Nidra
Learn how you can lay the foundations to build your own regular deep rest practice to build and maintain your physical, emotional, mental and spiritual energy.
You will leave this Sunday Session with a simple 'prescription' for deep rest so that you can continue your practice at home.
THE DETAILS
Time: 1:00 pm - 3:00 pm (please arrive 5 minutes early)
What to bring: Yoga mats and props supplied. Please bring a towel for covering soft props.
TO GET THE MOST OUT OF THIS EVENT
Wear your unapologetic stretchy Sunday best: you need unrestricted comfort. You will be entering the zone of relaxation and deep rest.
Nourish your body and mind: Bring your own nutritious snacks and some water.
Don't rush...but please arrive 5 minutes early to settle in on a mat. Also, take your time when leaving. Don't undo all the good work you will be doing during this event.
What is Yin Yoga?
Yin Yoga is a gentle, slow and passive practice supporting you to slowly drop into poses and find stillness in the body and mind. It is an opportunity to promote softness in your muscles while stimulating the connective tissues through resting into poses and gentle stretches which are held for 3-5 minutes.
The connective tissues will respond well to slow movement. This is the reason why you are encouraged to rest into poses for longer periods of time with steadiness and stillness.
This style of yoga is performed sitting or lying on your yoga mat, and you allow gravity to do the work. You will find you will be able to surrender into rest, to be still, to listen to your body, to find your natural 'edge' but also respect your body and mind limitations.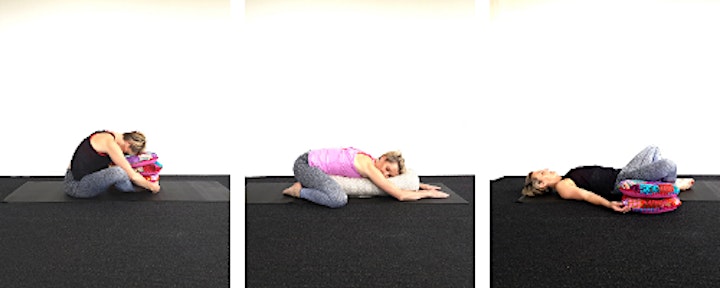 What is Yoga Nidra?
Practised in the lying position, Yoga Nidra is an easily accessible meditation technique as it takes you to a beautiful and delicious deep state of rest. Restorative, effortless and soothing, Yoga Nidra is as much a deep relaxation as it is an awakening. It allows you to peel back the layers to access areas of the body where you may be carrying stress, pressure and tension, that typically are ignored and also prevent you from deep rest and relaxation.
Welcome to Deep Rest and Renew by Penny Ward
Penny Ward is the founder of Deep Rest and Renew.
She is on a mission to support people to develop healthy new habits of deep rest and improved sleep anchored in relaxation-based yoga techniques. She believes a well- rested body, mind and soul is the foundation of brilliant, vibrant and resilient human beings.
Her journey to deep rest commenced in 2015 when she was introduced to yin yoga and yoga nidra to counter decades of high-intensity and high-impact fitness - largely attributed to the occupational requirements when she served in the Australian Defence Force.
She first noticed changes in her strength and flexibility on a deeper level, and was intrigued by the profound mental and emotional benefits — including the ability to access states of deep rest and relaxation, dialing down of the stress response, and improved resilience.
She soon dedicated herself to a daily Yin Yoga practice. Then, as a devoted practitioner, she decided to enrol in Yin Yoga and Yoga Nidra teacher training with global leaders in the field to deepen her knowledge, skills and practise.
In 2017 she founded 'Deep Rest and Renew' in Melbourne and expanded her classes and retreats into Canberra with a pop-up studio and online school focused on regular programs to build skills and healthy habits of deep rest with clients.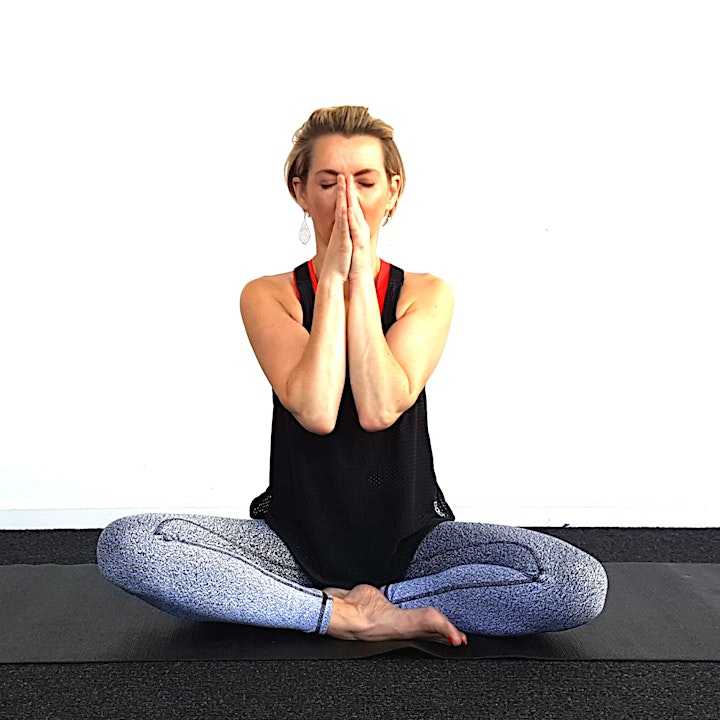 FAQ's
Do you I need to be experienced in yoga? Yin Yoga and Yoga Nidra are relaxation based practices requiring very little physical effort. The hardest part is to stay awake!
What do I bring? All props and mats are supplied, but you are welcome to bring your own personal items. Please bring a towel for soft covered props. All supplied equipment is cleaned before and after every session.
How are you ensuring compliance with ACT Government COVID plan requirements? A COVID Safety plan is in place at the venue and part of Deep Rest and Renew 's COVID Safety plan. Both are in line with ACT Health Restrictions- Step 3.1.
I am not flexible. Can I still practice? That is perfect! There is a belief you need to be flexible to begin yoga. That is not true. This is entry level yoga and will find that, over time, Yin Yoga and Yoga Nidra will help you increase your range of motion, as well as give you an overall sense of well-being.
I have an injury or medical issue can I come along? If you have an injury or have a medical issue you are not sure about, consult your doctor to ensure that the practice is suitable for you. This is particularly important if you are pregnant, nursing, regularly taking medications, or have any existing medical conditions.
I am pregnant, can I come along? It is advised you consult your doctor before attempting any type of yoga to ensure that you do not injure yourself. Yin Yoga is very gentle on the body, but your intention plays an important role in your practice, the idea is to not go further into the pose that you body allows.