About this Event
In partnership with Illumina we are delighted to invite you to our exclusive free Summer Oncology Seminar at The Doherty Institute.
Hear about cutting-edge clinical genomics research and advancements in precision medicine from principal scientists at leading universities and institutes in Melbourne.
Featuring Dr Edward Chew from Walter and Eliza Hall Institute of Medical Research, Elizabeth Christie from Peter MacCallum Cancer Centre, Dr Tu Nguyen-Dumont from Monash University, and Dr Christine White from The Hudson Institute of Medical Research.
The scientific agenda will be followed by drinks and canapes.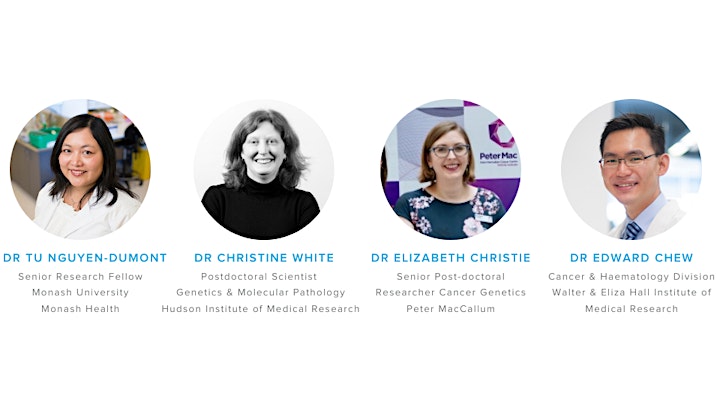 Agenda
2:00pm 'Clinical Genomics at AGRF' by Melinda Ziino, AGRF
2:15pm 'Identifying a Novel Familial AML Predisposition Syndrome Using Next Generation Sequencing' by Dr Edward Chew
3:00pm 'Understanding Acquired Drug Resistance in Ovarian Cancer' by Dr Elizabeth Christie
3:45pm Bio break
3:55pm 'The BRA-STRAP Study: Towards Precision Medicine and Precision Public Health for Breast Cancer' by Dr Tu Nguyen-Dumont
4:40pm 'The AIM BRAIN PROject - Access to Innovative Molecular Diagnostic PROfiling for Paediatric CNS Tumours' by Dr Christine White
5:25pm Drinks and canapes served
7:00pm Close
Register now to secure your spot!