Description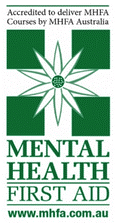 This 4-hour course provides education and information about suicide rates and risk factors in the Australian context. It teaches how to give first aid to someone who is feeling suicidal, how to intervene when someone is experiencing suicidal thoughts and behaviours and gives participants time to practicing these skills in a safe environment.
This course is delivered by our MHFA Master accredited and experienced professional trainer.
FREE Hanbook and other resources to take away.
*Please note this course is not a therapy or support group. This course is not recommended for individuals recently bereaved by suicide.