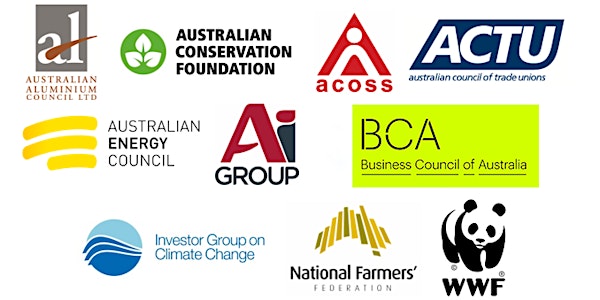 Successful Transitions to Net Zero Emissions in Australia: Workshop 6
About this event
What do successful transitions to net zero emissions look like for agriculture?
The Australian Climate Roundtable invites you to the sixth in our major series of workshops on what successful transitions to net zero emissions in Australia might look like.
This series of workshops builds on the strongly-attended workshops held in the first half of 2020 on the costs of inaction on climate change.
The second series has examined:
Principles for successful transition at the global and national levels;
the Australian electricity supply industry and the Latrobe Valley in particular;
how the cement and aluminium industries could innovate to much lower emissions while remaining competitive; and
how transition for workers and communities of particular regions with emissions-intensive industry may be best managed
This sixth workshop looks at the agricultural sector, which is critical to Australia's way of life, our economy and our self-image. The sector both emits and sequesters greenhouse gases. Where does the balance stand today? What are the options to cut emissions and increase sequestration? What are the challenges and opportunities in unlocking those options to help the agriculture sector play a part in a net zero emissions economy?
The workshop will hear from speakers with global, national and on-the-ground perspectives and then offer all participants the chance to offer questions and perspectives on agriculture's transition.
When: Thursday 30th September, 8:30 -10:00 am(AEST)
Where: VC or phone (details supplied when registered).
VC is encouraged for enhanced experience.
Presentations:
Global perspective on agricultural transition
Professor Mark Howden, Director, ANU Institute for Climate, Energy & Disaster Solutions
Mark is also a Vice Chair of the Intergovernmental Panel on Climate Change (IPCC) and contributes to several major national and international science and policy advisory bodies. Mark has worked on climate issues for over 30 years in partnership with many industry, community and policy groups via both research and science-policy roles. Issues he has addressed include agriculture and food security, the natural resource base, ecosystems and biodiversity, energy, water and urban systems. He helped develop both the national and international greenhouse gas inventories that are a fundamental part of the Paris Agreement and has assessed sustainable ways to reduce emissions.
National perspective on agricultural transition
TBA
A Federal Government representative is currently being confirmed
On-ground perspective on agricultural transition
Ellen Litchfield, Farmers for Climate Action
Ellen runs cattle and sheep on a pastoral property near Lake Eyre, 650km north of Adelaide. She has worked to understand and manage climate impacts on the property; increase use of renewable energy on farm; and attain organic certification. Ellen is also a practising veterinarian and holds a Masters in Sustainable Agriculture.
Summaries of the workshops will be published on the ACR's website afterwards.