Successful Stakeholder Engagement : Live Online Half-day workshop
About this event
Stakeholder engagement is critical in any organisation for successful projects and initiatives. We must plan our approach carefully to collaborate well with our stakeholders.
While there are many tools and techniques to plan, analyse and monitor stakeholder engagement, we need to analyse the mindset of our stakeholders – a deeper level of analysis – to understand how they might view various situations, and how we can best respond to them. We must also be willing to look within ourselves to understand how our words and actions may be perceived to identify how to build trust while avoiding conflict and misunderstanding. This is where mindfulness is needed.
This practical and interactive workshop will explore practical tools and techniques to cultivate effective stakeholder engagement, including the 'Stakeholder Engagement Canvas' and mindfulness.
The 'Stakeholder Engagement Canvas' is a new tool that enables you to perform a more thoughtful and insightful level of stakeholder analysis. It allows you to examine the stakeholder's needs and attitudes in depth to enable you to better plan the engagement process. While mindfulness is an important skill that helps you to better empathise with your stakeholders, communicate more effectively and build rapport to foster valuable working relationships.
You will learn skills and practices that will help you achieve successful stakeholder engagement.
Audience:
Project/program managers and leaders
Business analysts and consultants
SCRUM masters and agile leads
Product owners and product managers
Anyone who works with stakeholders and customers
Learning Objectives:
Successful stakeholder engagement practices
The importance of mindfulness for effective stakeholder engagement
Using the 'Stakeholder Engagement Canvas" to plan and monitor the engagement process
Learn some practical mindfulness techniques
Workshop Overview
The stakeholder engagement process.
Introducing the "Stakeholder Engagement Canvas".
Defining mindfulness.
The benefits of mindfulness.
Types of mindfulness practices.
Mindfulness and meditation techniques.
Mindful communication.
Applying the "Stakeholder Engagement Canvas".
Integrating mindfulness in your daily life.
Live, online, interactive, half-day training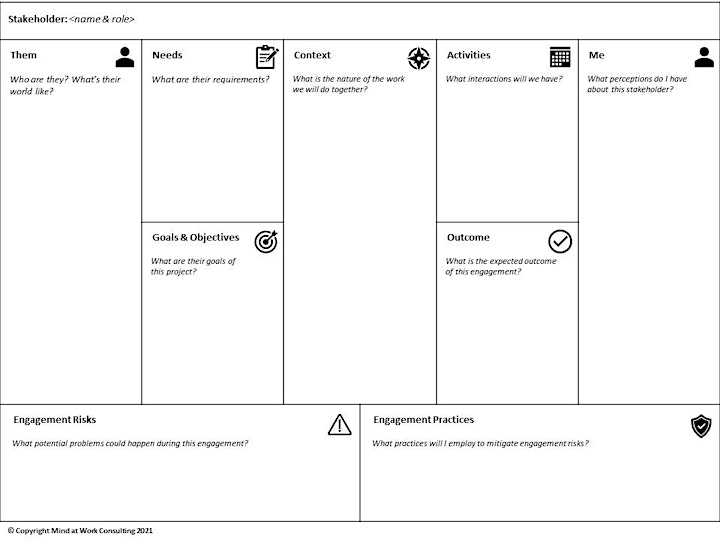 Organiser of Successful Stakeholder Engagement - Live Online Workshop
Mind at Work Consulting provides training, coaching, mentoring and consulting services to improve and develop genuine team collaboration, as well as implement agile practices and techniques more effectively. Through mindfulness, teams learn the traits needed at an individual level that lead to more effective interactions at the team level. Mindfulness is the key element that enables teams to genuinely embody the agile mindset and collaborate effortlessly. We help teams to implement agile practices quickly and effectively.