Description
To celebrate Richard Branson coming to Sydney, we are running a free full-day seminar: -
"The Success Secrets of Richard Branson (& Steve Jobs)"
We will be covering:
What makes Richard Branson and Steve Jobs so exceptional?

What we can learn from them

Why most companies (and individuals)

fail to achieve the level of innovation Virgin and Apple have achieved

limit their success

How Richard Branson inspires and brings out the best in his workforce

How you can use their examples to transform your life and your work
Who should come:
Anyone who wants to be more successful in their life, and in their job or business

Business owners and senior corporate managers who want to build innovative corporations, and inspire their workforce
Cost:
P.S. Originally we set aside many seats for paid guests only. However the 100+ free tickets we'd set aside were booked out within a day, leaving a lot of disappointed people. So we're no longer offering paid tickets - so we can give them away instead. If you have already purchased a ticket, however, don't worry, we're still honouring everything we promised you. (e.g. lunch, a pre-ordered copy of our next book etc.)

Organised by:
The Institute of Advanced Leadership. We promote great leadership throughout the world. We work with individuals and organisations who want to make their lives count.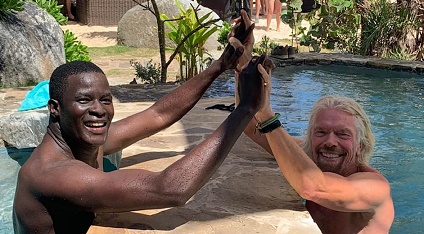 Richard Branson teaching one of our students, Victor Ochen to swim at Necker Island. (Victor is Africa's youngest Nobel Peace Prize nominee.)
- This program is being run independently of Richard Branson and the Virgin group. -