Succeeding Beyond Borders Conference & Networking Drinks
This Conference is a partnership between African Professionals of Australia and Regions International. The Conference aims to promote knowle
About this event
The Conference promotes knowledge with an aim for African Professionals living in Australia to continue contributing positively to the Australian and African economies. It also encourages and enhance research on economic, governance and policy issues relating to the development of African economies.
The Theme for this year is 'African Diaspora - Funding African Projects'. The conference will feature 3 main topic areas concentrating on Investment, Capital Raising and Funding Sources for;
1. Real estate investment in Africa
2. Food Production in Africa
3. Boosting Health Care Systems in African Countries
The Conference & Networking drinks event will run from 5pm-8.30pm.
VENUE: Pan Pacific Hotel, Perth, Australia
EVENT SPEAKERS: TBA
Being an International Conference, speakers and delegates will join in from Australia, Africa and Europe. The conference will feature speakers and delegation from various industries and sectors including heads of mission. A great opportunity for networking and professional & business development.
Our goal is to encourage new and existing projects, ideas and businesses to develop opportunities between Australia and Africa and Integrate the African diaspora alongside Australian technical and financial expertise to provide end to end solution project delivery into Africa.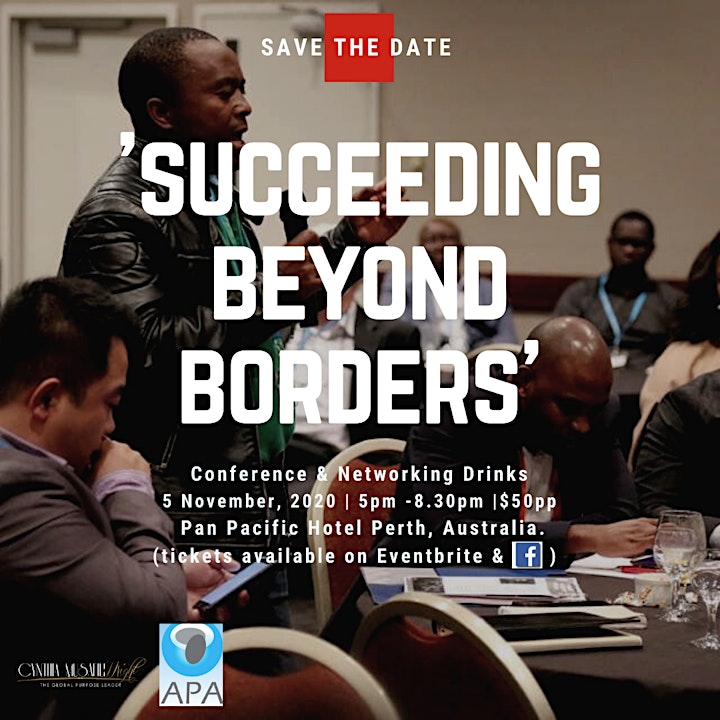 Organiser of Succeeding Beyond Borders Conference & Networking Drinks