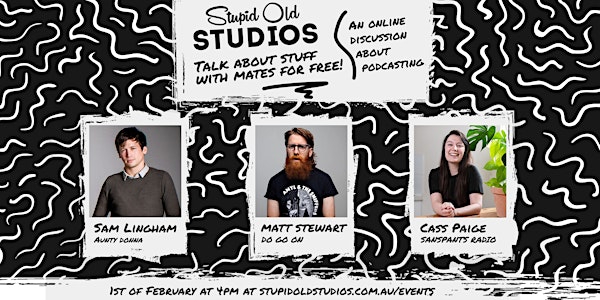 Stupid Old Studios: An Online Discussion About Comedy Podcasting
Experienced comedy podcasters share their knowledge about how to set up and maintain a successful podcast
About this event
If you're a comedian, chances are you have a podcast, or you're thinking of starting one. Podcasting offers a great opportunity to grow your audience and hone your comedic skills. It can also offer opportunities to make money outside of festivals and touring and create professional opportunities.
In the first of our Stupid Old Studios Learns series we bring together successful independent and small-network comedy podcasters to talk about podcasting as a channel for creativity and income.
The Panel
Host: Bec Petraitis
Bec is a media all-rounder whose proven track record as a bubbly writer, performer and digital producer has led to her working across many of Australia's biggest productions. Bec is a podcast host and audio engineer for true crime podcast The Vanishing of Vivienne Cameron.
Sam Lingham (Aunty Donna)
Sam Lingham is part of the award-winning comedy powerhouse that is Aunty Donna. As well as regularly taking part in the Aunty Donna podcast, directing their live shows and producing their Netflix series Aunty Donna's Big Ol House of Fun, he also co-created the sci-fi comedy narrative podcast Margaret Moves To Mars with comedian Michelle Brasier.
Matt Stewart (Do Go On)
Matt is an award-winning comedian and one of the founders of Stupid Old Studios. He is also the co-host of popular comedy podcast Do Go On who have racked up an impressive 300+ episodes over 6 years and have sold out live shows across Australia and the UK as well as undertaking a number of successful live video streams, an AACTA nominated web series spin off and run a successful Patreon to back it all up.
Cass Paige (Sanspants Radio)
Cass Paige is a podcast presenter from the Sanspants Radio network - a comedy and pop culture podcast network founded in 2011. You can hear Cass on the podcasts Shut Up a Second, D&D is for Nerds and why am I sad?
Submit Your Questions
We'll be taking live questions during the event, but if you want to make sure your question gets ask you can submit it in advance. Use this form: https://bit.ly/podcast-panel-questions
About Stupid Old Studios
Stupid Old Studios is an all-in-one production house that develops, writes and produces fine, hand crafted videos with a focus on comedy. Our studios, located in Brunswick, Melbourne is a creative hub founded by comedians, for comedians providing resources and facilities for people to create, share and learn.