Study or Immigrate to Australia Canada New Zealand - Free Orientation
Event Information
Location
1616 Cityland Herrera Tower
Rufino Street
Salcedo Village
Makati City, 1227
Philippines
Description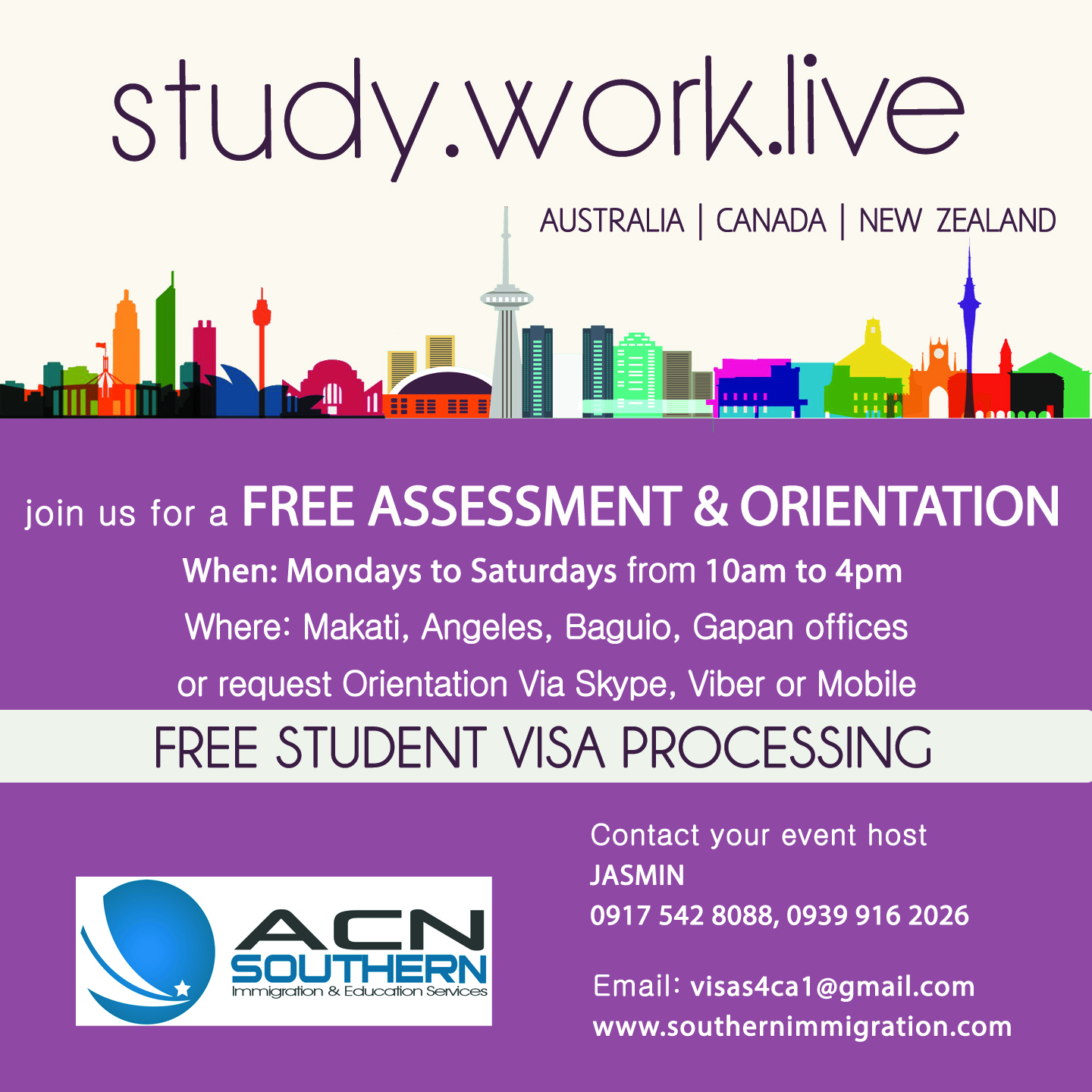 Dear Friends
My name is JASMIN, your host of this free orientation seminar.
Australia, Canada and New Zealand are looking for skilled migrants and genuine students. With the assistance of our registered migration agents and education advisers, find out the best visa option for you in Australia Canada and New Zealand.

Please send your resume to my email address: VISAS4CA1@GMAIL.COM so I can have it assessed by our registered migration consultants at no cost to you.
Why Immigrate to Australia Canada New Zealand ?
As a permanent resident, you have the right to:

1) Get most social benefits that Australian, Canadian and New Zealand citizens receive, including health care coverage
2) Live, work or study anywhere in Australia, Canada, New Zealand
3) Apply for Australian, Canadian and New Zealand citizenship after qualifying period
4) Protection under Australian, Canadian and New Zealand law
5) Possibility of sponsoring relatives for permanent residence, subject to meeting criteria
6) Lifetime Opportunity for you and family to live in some of the best countries to live in the world
Why Study in Australia Canada New Zealand ?
1) Obtain world-recognised and high-quality qualification
2) Earn while you study
3) You can bring your spouse and dependants
4) You and dependants can work from 20hrs per week to unlimited hrs
5) Post graduate work visa after completing your studies
6) Opportunity to be sponsored by employers for working visa or permanent residency
7) Opportunity to apply for permanent residency while studying or after study
Why Apply with ACN?
1) We offer FREE STUDENT VISA PROCESSING (for those enrolling in our partner schools)
2) Some of partner schools does NOT REQUIRE IELTS
3) We provide free education planning advice using qualified or trained education counsellors
4) You will pay no more than advertised fees of partner schools
5) Our partner schools are affordable and fully accredited to admit overseas students
6) You will be involved and fully informed in the visa application process
7) You will pay expenses directly to schools and embassies
8) We also offer FREE ASSESSMENT for skilled migration
9) We have the support of Registered Migration & Education Consultants (MARA ,RCIC, IAA)
Choose your Orientation Venue:
You have the option to attend the orientation either in our office or at the comfort of your home.
Please select from any of our office locations:
Makati City Office
1616 Cityland Herrera Tower, VA Rufino cor Valero St
Salcedo Village, Makati City
Phone: (632) 753 1554 or 753-2553
Globe: 0917 542 8088
Smart: 09399162026, Sun: 0932 877 0499
Baguio City Office
Unit 404, Jose N. De Leon III Center
138 Session Road, Baguio City
PLDT: (074) 442-7211
Globe: 0977 821 1451, Smart: 0921 224 4878
Angeles City Office
Unit 1 , 2nd Floor, JEV Building
Infront of Bayanihan Park
MacArthur Highway, Balibago, Angeles City
Phone: (045) 458 1724
Globe: 0917 855 8263, ​Smart: 0947 892 3575
Gapan City Office
2nd Floor, Centro Building
Tinio Street, San Vicente, Gapan City
Phone (44) 958 9440
Globe : 0917 892 5974, Smart : 0949 301 4113
Orientation in your place
You can request a callback to be oriented by sending " Jasmin , your name, email address " to 0917 542 8088, 0939 916 2026, 0932 877 0499

Date and Time
Location
1616 Cityland Herrera Tower
Rufino Street
Salcedo Village
Makati City, 1227
Philippines