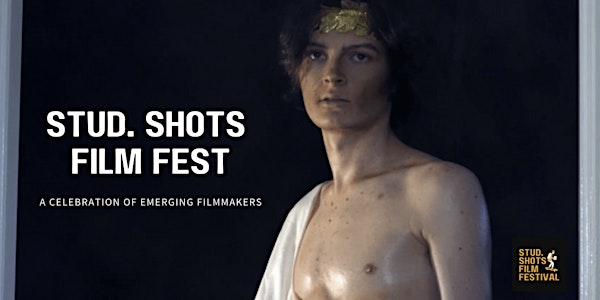 Location
The Mix Bar
765 Stanley Street
Woolloongabba, QLD 4102
Australia
Refund policy
Refunds up to 7 days before event
Eventbrite's fee is nonrefundable.
Sales Have Ended
Ticket sales have ended
Unfortunately, Sales have ended for this event but be sure to check out @studshotsfilmfest on Insta for more info on future events.
A mini Film Festival with a focus on Student content.
About this event
Enjoy 10+ Student Films on a big screen, film inspired cocktails, pizza trucks and more at one of Brisbane's heritage listed venues.
Our goal is to raise 50% of each Film's production costs so that emerging student filmmakers can continue to create award-winning Film's with less financial strain.
Your Ticket Includes:
Entry into the venue
1x re-entry wrist band
Access to watch over 10 Short Films
Access to the Opening and Closing Party
A complimentary professional photo with your friends (must provide email)
Frequently Asked Questions:
Is this an 18+ event?
No. Guests under 18 will be allowed to attend so long as they are accompanied by a responsible adult which is a parent or guardian.
What do I need to bring with me?
Griffith Film School Student Ticket holders will need to provide valid student ID upon entry.
What time should I arrive?
Doors open at 6:30pm. Please arrive 15 minutes beforehand for security and registration processing.
How do I find The Mix Bar?
The Mix Bar Woolloongabba, previously used as a Post & Telegraphic Office, is on the corner of Hubert and Stanley St., a 3 minute walk from the Woolloongabba Bus Station. Entry will be provided via the doors up a small flight of stairs on Stanley St.
Where can I park?
Guests arriving by car must make their own parking arrangements. Free parking is available on Hubert St. but is limited.
What is the refund policy?
We are more than happy to refund purchased tickets until 7 days prior to the event. Guests who wish to cancel their ticket after this time will only receive 50% of the purchase amount back. Refund requests can be made through Event Brite or by getting in contact with the Event Organiser via email - cassxsharp@gmail.com
No refunds are available within 48 hours of the event. Event Brite's fees are non-refundable.
What is the dress code?
This years dress code is "Rip-off Red Carpet". Come in your most frugal, thrifted Red Carpet outfit.
Do I have to bring my ticket to the event?
Yes, each guest will need to show their ticket upon entry. These tickets will be checked against the buyer's name provided to Event Brite.
Each ticket permits 1x entry wrist band which will allow you to come and go to the venue as you please. You will need to keep your wrist band on to be provided re-entry. Certain lock-out periods will apply. Visit @studshotsfilmfest on Insta for more details.
Who do I get in contact with if I have any questions?
Feel free to message us on Instagram @studshotsfilmfest or get in contact with the Event Organiser directly via email - cassxsharp@gmail.com
All prices are per ticket. Additional Service Fees and GST apply. All prices are stated and transactions processed in AUD.
Terms and Conditions:
By continuing past this page and placing your order, you are agreeing to the following Terms and Conditions of purchase for this event as well as any additional Terms and Conditions specified by Event Brite…
1. Entry to and attendance at the Event is in accordance with these Event Terms, the Merchant Terms and any other Event rules displayed at the Event or communicated by the Promoter from time to time in any other format. 2. You must have a valid Event ticket to enter the Event entertainment precinct and you must have a valid wrist band to re-enter the venue during non-lockout periods. 3. The Promoter reserves the right to refuse entry or evict any person from the Event site who does not comply with these Event Terms, the Merchant Terms, the Event rules or who engages in an illegal activity or activity deemed in the Promoter's sole discretion to be antisocial (including without limitation to, being affected by alcohol or drugs). 4. Patrons will be removed from the Event site if, in the opinion of the Promoter, they behave or act in a threatening or inappropriate manner, including without limitation, any aggressive, riotous, abusive, offensive, racist, sexist or insulting actions towards other patrons, Event staff or any other persons working at or attending the Event. 5. Patrons are required to follow the reasonable directions of the Promoter and Event staff at all times. 6. As part of the Event venue's liquor licensing regulations, Patrons are strictly prohibited from bringing alcohol into the Event. The Promoter and relevant Venue Staff reserve the right to search all bags on arrival or at any time deemed necessary during the Event and may eject or refuse entry into the Event to Patrons who are found with alcohol or prohibited/banned items. Alcohol will only be available to purchase at the Event for Patrons over 18 years old with valid photo ID. 7. Refunds for Patrons refused entry into or who are ejected from the Event will not be issued. 8. Tickets must be treated like cash. Tickets will not be replaced or refunded if lost, stolen or damaged, except as required by law or as otherwise specified by these Event Terms, the Merchant Terms or by the Promoter from time to time. Damaged or defaced tickets will not be accepted. Do not share your ticket barcode with anyone else or you may be denied entry. Tickets purchased from a source other than the official ticket merchant will not be honoured at the Event. 9. The Promoter reserves the right to change the Event program and line-up and vary the Event date or venue at its discretion without prior notification. If the Event is cancelled in whole because of extreme weather, act of war, industrial dispute or for any event outside of the control of the Promoter then refunds shall be provided in full. 11. The Promoter is not responsible or liable for any unattended, lost or stolen items. Patrons agree to enter the Event site at their own risk and shall be responsible for their own property and personal items.12. The Ticket Holder must comply with the law at all times during the Event. Proof of age identification is required to buy and consume alcohol and may be requested at any time. 13. Purchasing alcohol for a minor is illegal. Underage drinkers, excessive drinkers, illegal drug users or patrons displaying antisocial behaviour may be ejected from the Event (at the Promoter's discretion) or be dealt with by police. 14. Possession, sale or use of illegal drugs or illicit substances is strictly prohibited at the Event. Any persons found with illegal drugs or illicit substances in their possession may be removed from the Event site and be subject to police action. 15. Patrons must not cause damage to, improperly use or tamper with any public facility or Event infrastructure or cause any damage to flora and fauna on or surrounding the Event venue. Patrons must not remove or attempt to remove any item or object from the Event venue or surrounding area. Patrons accept full liability and responsibility for any loss or damage caused in contravention of this clause or these Event Terms. 16. The following items (without limitation) are prohibited and cannot be brought into the Event venue: animals (with the exception of registered guide dogs and service animals), alcohol, glass, illegal substances, selfie sticks, lasers, flammable items, explosives, BBQs, gas bottles and butane cylinders, professional sound systems, umbrellas, bicycles, skateboards, scooters, knives, anything that could be used as a weapon, or any other item deemed by the Promoter or Event staff (in their discretion) to be dangerous. Ticket Holders and their property may be searched for prohibited items upon entry to or during the Event. Ticket Holders found with prohibited items or who refuse to make their clothes, bags, containers, vehicles or other possessions available for search by the Promoter, may be refused entry to the Event, ejected and/or have the prohibited items confiscated. Confiscated items will not be returned, replaced or reimbursed. 17. Tickets MUST be exchanged for a wristband once arriving to the Event site. Wristbands that are removed from wrists or tampered with will be rendered invalid and will not be replaced. The Promoter reserves the right to deny admission to the Event to any person holding a ticket that appears to be tampered with, counterfeited or duplicated. Anyone found on site without a valid wristband or accreditation will be deemed to have trespassed and will be evicted from the Event site and may be handed over to the Police. 18. Patrons acknowledge that there may be restricted capacities at the Event venue. Once it is determined by the Promoter (at its sole discretion) that the maximum capacity has been reached at the venue, there will be no further admissions. 19. The Promoter reserves the right to enforce published ticket purchase limits and cancel any tickets obtained above said limits by any one customer. 20. The Event venue is an area of TOTAL FIRE BAN. Patrons detected using any open flame within the venue may be fined and ejected from the Event. 21. Audio or visual recordings of the Film's screened at the Event are prohibited. Professional Cameras (including drones) cannot enter or be used in the Event venue without written consent of the Promoter. 22. Ticket Holders consent to their inclusion in official photographic, film and other visual and audio recordings of the Event by the Promoter and/or any of its authorised representatives and contractors and grant the Promoter the right to use such photos and recordings for promotion, marketing and any other purpose without restriction. 23. It is a condition of purchase that the Ticket Holder consents to the Promoter collecting and retaining their personal information in accordance with the Privacy Act 1988 (Cth). 24. There will be no refund of any unused portion of an Event Ticket if you are asked or forced to leave the Event for any of the reasons set out in the Event Terms or if you decide not to attend the Event. 25. Entry to the Event is at the Ticket Holder's own risk. Without limiting the generality of the foregoing, appropriate footwear and clothing must be worn at all times at the Event. To the extent permitted by law, the Promoter takes no responsibility for any hearing damage or loss caused by excessive noise or any injury caused by the Ticket Holder's lack of commons sense or failure to follow the Promoter's directions or Event rules. Offensive language may be used at the Event. 26. In the event of Patron injury or illness, the Promoter may at its discretion, and at the cost of the Patron, arrange medical treatment and/or emergency evacuation as deemed essential or necessary for the safety of the Patron (and/or other Patrons at the Event). 27. To the fullest extent permitted by law, Ticket Holders waive all legal rights of action against and fully release the Promoter, its directors, officers, agents, employees, contractors and volunteers from and against all claims for compensation, expense, loss, damage, injury or death suffered or incurred howsoever arising out of or in relation to the Ticket Holder's attendance and participation in the Event including without limitation, liability for any negligent or tortious act or omission on the part of the persons released or under statute or for breach of these Event Terms. Patrons agree to indemnify the Promoter, its directors, officers, agents, employees against any loss, damage or expense suffered or incurred by the Promoter as a result of any negligence or breach of these Event Terms by the Patron. 28. In the case of an emergency or serious injury, Patrons must follow all official directives of the Promoter or Promoter's authorized staff and personnel. 29. Any provision of these Event Terms which is or becomes unenforceable shall not invalidate the other provisions of these Event Terms. 30. The laws of the state of Brisbane applies to these Event Terms and the Promoter and the Ticket Holder submit to the jurisdiction of the courts of Brisbane with respect to any proceedings arising out of or relating to the Event. 31. This is not an 18+ event, however, minors in attendance must be accompanied by a responsible adult which is a parent or guardian.