Description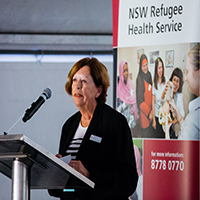 Refugee Health will be presented by Ms Sandy Eagar who has over thirty years nursing experience in the fields of emergency nursing, refugee health, education and management. She holds a Masters Science (Honours) Research, Bachelor of Applied Science in Advanced Nursing and qualifications in emergency nursing, emergency paediatric nursing, education and advanced life support.
Sandy is currently the Nurse Manager Professional Development at the Centre for Education and Workforce Development, Sydney South West Area Health Service and is the RCNA representative on the Australian Government Department of Immigrations Detention Health Advisory Group. Her professional interests include refugee health issues and competency in new graduate nurses
Dress: Smart Casual.
Please note car parking onsite costs $9.00 and cars must park in a blue marked spot.
A business meeting will be held from 6.00pm until 6:30pm.