Join us for a rare opportunity to explore the beauty of the erhu, one of the most popular traditional Chinese musical instruments.
About this event
String Whispers Erhu Concert 2021 (Rescheduled)
The erhu (二胡), sometimes called the Chinese violin, with only one bow and two strings, carries more than one thousand years of Chinese history and is one of the most popular traditional Chinese musical instruments. Gentle and subtle, sonorous and intense, the erhu produces a great range of effects. Its unique sounds can be compared to angel's whispers emanating ancient wisdom and diffusing beauty.
At 7:00PM on Saturday, 21 August 2021, four young erhu artists, David Dai, Alice Zou, Felix Wang and Angela Gu, will be showcasing their magic on the erhu in Elder Hall, the spiritual home of music in Adelaide. Their dedicated works include classics that bring back those dusty memories, as well as new arrangements that break with tradition and navigate new, untrodden paths.
Australia is a multicultural land where people and arts live together harmoniously. Music has no boundaries. To bring this music to the widest possible audience, admission for this concert is free. Come and experience the sublime melodies of the erhu that will linger in your mind for days.
When: 7.00pm, Saturday August 21, 2021
Where: Elder Hall, University of Adelaide
Admission: Free
Hosted by the Elder Conservatorium of Music, University of Adelaide;
Supported by the General-Consulate of the People's Republic of China in Adelaide.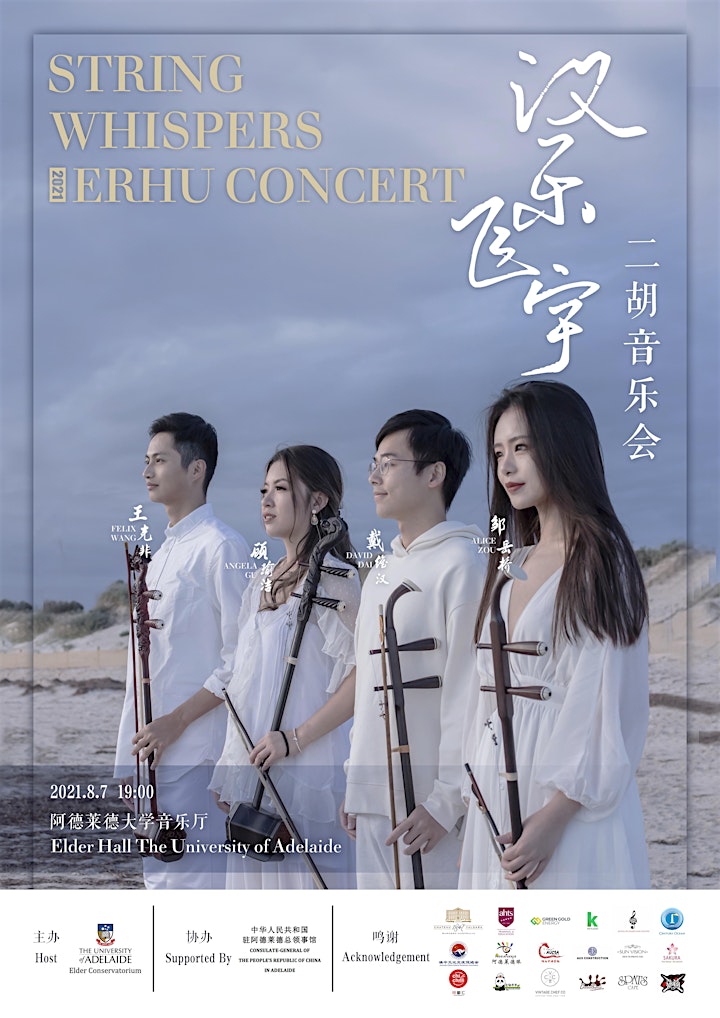 Organiser of String Whispers Erhu Concert 2021