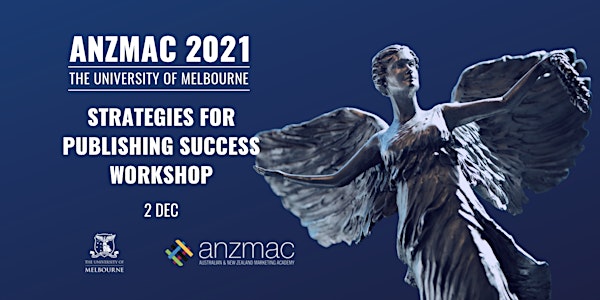 "Strategies for Publishing Success" Workshop - ANZMAC 2021 @ UoM
Location
The University of Melbourne
TBC
Parkville, VIC 3052
Australia
Sales Have Ended
Ticket sales have ended
Thank you for your registration to attend the Strategies for Publishing Success Workshop - ANZMAC 2021, 26 - 28 November 2021. A receipt will be issued via email to you shortly.
ANZMAC 2021 Strategies for Publishing Success Workshop Proudly hosted by The University of Melbourne.
About this event
Given the ongoing international border closure, our JM&JCR Research Development Workshop will be deferred. We appreciate that this is disappointing news, but we are happy to report that all the editors are still keen to deliver this workshop in the future when it is feasible to make the trip down under.
But do not despair, we are offering a modified workshop assembled by our Australasian editors and editorial review board members of Marketing's top four journals.
-
"Strategies for Publishing Success" is a face-to-face workshop that will take place immediately following the Australian and New Zealand Marketing Academy Conference (ANZMAC) on Thursday, 2 December 2021. It is open to all Marketing faculty who seek to target or are currently targeting a project for one of Marketing's top four journals. The goal is to advance participants' skills in developing research ideas and articulating contributions to marketing theory and practice.
This one-day workshop will include plenary speakers and interactive activities focused on developing ideas and evolving those ideas into a paper to submit to one of the top four journals. Participants will be assigned to small groups supervised by a member of the editorial team, who will provide feedback on ideas on the project's contribution, conceptualization, construct development/operationalization, and empirical plan.
Due to the small group meetings with Editors and Editorial review board members, attendance is limited.
If you are a doctoral student, early career researcher, or more advanced faculty looking for new insights and approaches, please register for participation.
Registrations for ANZMAC 2021 Main, 29 November - 1 December 2021 please go to:
Key Dates:
Program: Saturday 2nd December
For full program and event details go to: