STRATEGIC ROADMAPPING: TRANSLATING VISION INTO ACHIEVABLE OUTCOMES
Description
A 2-day short course on translating aspiratinal, creative departmental goals and government priorities into pragmatic, benchmarked and achievable opportunities.
This 2-day short course has been specially developed for Senior Executives and Managers interested in taking their career to the highest stages of success. It draws upon Strategic Roadmapping as developed by Cambridge University and The Australian National University and harnesses recent research advances from the field of contextual behavioural science. The course will prepare leaders for the complexities of steering their department and divisions through uncertainty, turmoil and volatility so characteristic of the global situation today.
Importantly, this course recognizes the critical human dimensions of any organisational strategy and uses powerful tools gained from recent insights on psychological flexibility and prosociality in inspiring your top managers and maintaining team spirit and cohesion in pursuit of organisational goals.
The course is led by organisational psychologist Dr Robert Styles and systems engineer Dr Matthew Doolan, who together first developed strategic roadmapping with an emphasis on the human dimensions of roadmap execution in 2015. The unique and innovative course on developing strategy draw extensively from the latest, empirically-validated and evidence-based research advances in contextual behavioural science and systems engineering.
Who will benefit?
Senior Executives and Managers wanting to develop robust strategies and plans that will most effectively realise organisational KPI's. Leaders wanting the best for their organisation and keen to improve their advisory roles. SES officers and senior managers who wish to be prepared for dealing with the political and social uncertainties of our times and who want to command loyal, top performing teams.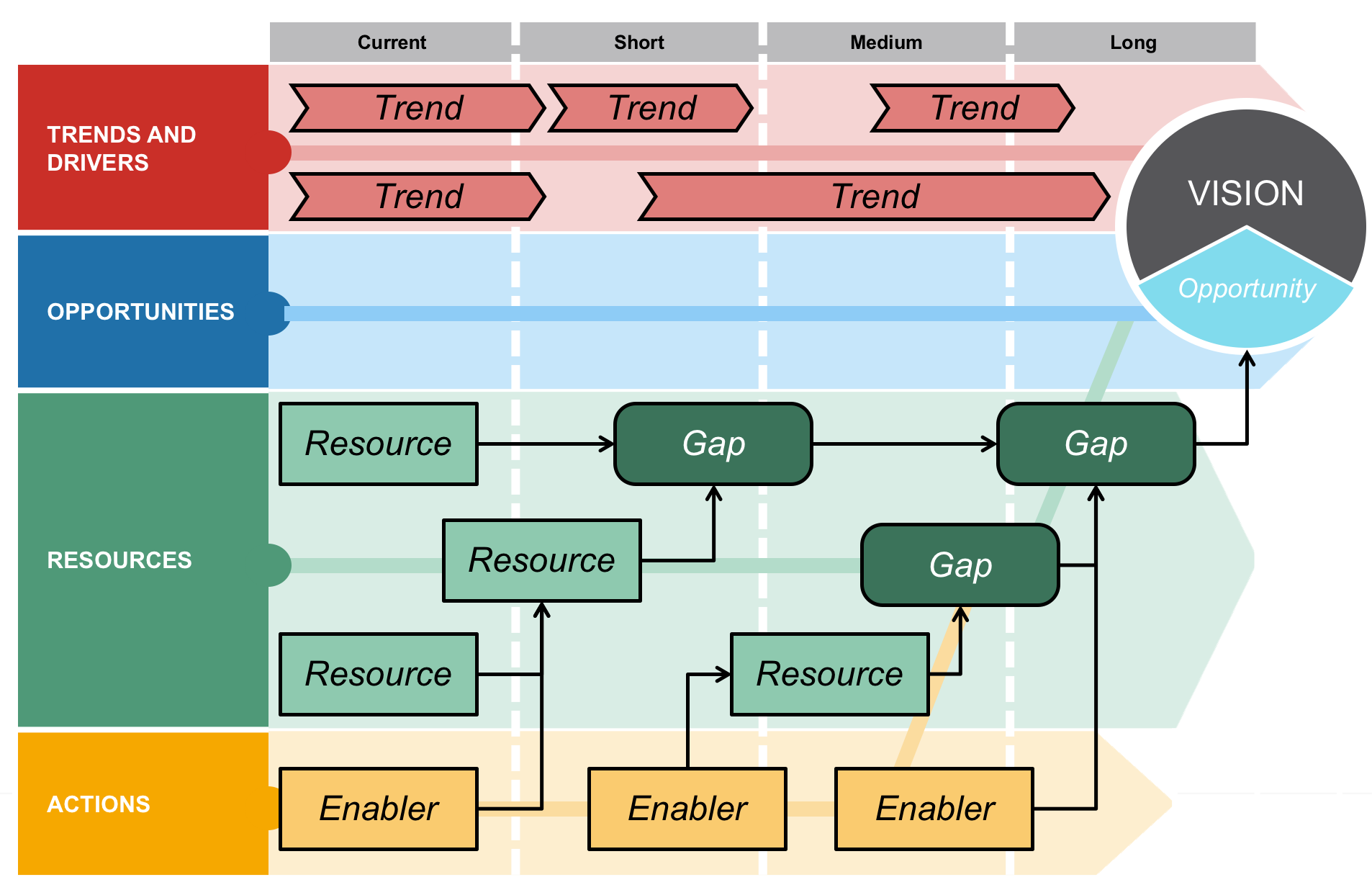 Senior Executives & Managers will learn to:
Chart and substantiate the required investment for strategy execution in your organisation

Manage the expectations of Boards, staff, stakeholders and the citizen

Empower and enhance the performance of the executives and managers integral to the effort and strengthen their commitment and resilience

Manage potential 'crisis' and the vagaries of volatile, uncertain events in charting the pathway forward

Maintain a collegial, professional, confident and productive workforce and work environment
Course Outline
Day 1
Draft visions/goal based on preferred and probable futures that reflet a response to adaptive challenges
Identify key criteria for success
Identify opportunities and qualify how well-poorly they respond to the key criteria for success
Rank each opportunity 'fit for vision'
Day 2
Assign and benchmarking capabilities required to achieve each opportunity against selection criteria

Rank each opportunity 'fit for capability'
Prioritise opportunities based on 'fitness for vision' and 'fitness for capability'

Draft a roadmap underpinned by actions over time to achieve the opportunities and vision
Compare individual team roadmaps and identify common elements and actions

Course Outcomes
Strategically influence and coordinate organisation-wide efforts in realising tangible goals

Empower and

inspire motivated, cooperative and productive teams by actively engaging them in the planning process

Communicate with impact in c

reating a robust organisational vision for the future

Catalyse innovation and changed behaviours in Senior Executives and Managers within your organisation

Become a strategic-thinking and influential leader and advisor
Participant Responses
"Like no other leadership course I attended. One in which my views and those of my peers were valued and utilised…"
"At 54 and managing a billion dollar portfolio, I thought I had seen it all. This experience proved me otherwise... sobering"
"The focus was on me as an individual and as an instrument for change – powerfully uplifting and motivating."
FACILITATORS
Dr Robert Styles is an internationally-renowned academic expert in the field of psychological flexibility and adaptive leadership who has published widely in the field of contextual behavioural science. His PhD examined the influences of language on sustained, positive overt and covert behavioural change in leaders and managers. He has successfully trained hundreds of senior managers, executives, CEOs and leaders from businesses and public agencies throughout the Asia-Pacific and Australasia.
Dr Matthew Doolan completed his PhD in systems engineering with Ford and is an academic in the School of Engineering at The Australian National University. His extensive record in industry covers stints at Ford Australia, Toll Auto Logistics and Futuris. Dr Doolan also led the highly acclaimed national strategic roadmapping projects, 'Automotive Australia 2020' and the Australian Railroad industry's 'On Track to 2040'. Dr Doolan works in partnership with Cambridge University.


FAQs
Can't attend on this date?
Please contact ExecEd@anuenterprise.com.au to find out about future dates and schedules, as well as to enquire about training delivery at your own premises.
Are there any Group discounts?
Group discounts are available for bulk registrations of 3 or more participants.
What is the cancellation policy?
Cancellations or changes to course registrations should be provided in writing to execed@anuenterprise.com.au at the earliest opportunity. Late substitution of registrants and shifting to other advertised courses is permissible but subject to approval and may incur a cost.
What is the refund policy?
Attendees are required to provide no less than 10 working days' notice to request a full refund. No further refund will be offered once this period has expired. Participants are able to nominate another attendee from their organisation at no charge.
Is my registration/ticket transferable?
Yes, your registration is transferable to another employee at your organisation at any time prior to the day of the event. Please advise new registration details to ExecEd@anuenterprise.com.au