Strategic Leadership in the Digital Era [Course DL03-01]

Friday, October 21, 2016 from 8:30 AM to 5:30 PM (AEDT)
Event Details
Secure your organisation's future by equipping your executives and managers with the right strategic leadership insights, competencies and skills to deal with unprecedented change.
With a 36% gap between the importance and readiness rating, leadership is the leading factor that underpins organisational excellence, performance and staff satisfaction. Additionally, only 5% of organizations feel that they have mastered 'digital' to a point of differentiation from their competitors.
This has serious consequences for organisations that have to deal with sustained change arising from factors such as globalisation, market shifts, digital disruption, economic fluctuations, innovation or increased competition.
It also presents an open opportunity for CEOs to take their organisations to a new level of performance through enhanced leadership capabilities and strategies.

WHY THIS COURSE?
In this one day intensive course, attendees will gain insights into contemporary leadership trends, challenges, opportunities as well as gain new competencies and approaches in our digital world.
Attendees will actively workshop their current business goals and pain points in an environment of collaboration and learning resulting in actionable steps that are implementable on workshop completion.
WHO SHOULD ATTEND THIS COURSE?
- Any CEO, CIO or senior executive wanting to gain insights into the new leadership skills and competencies, as well as how to map a leadership skill transformation initiative
- Human Resources executives needing to gain insights into the new competencies and skills inventories.of leaders and managers across their business
Click for complete Course Program: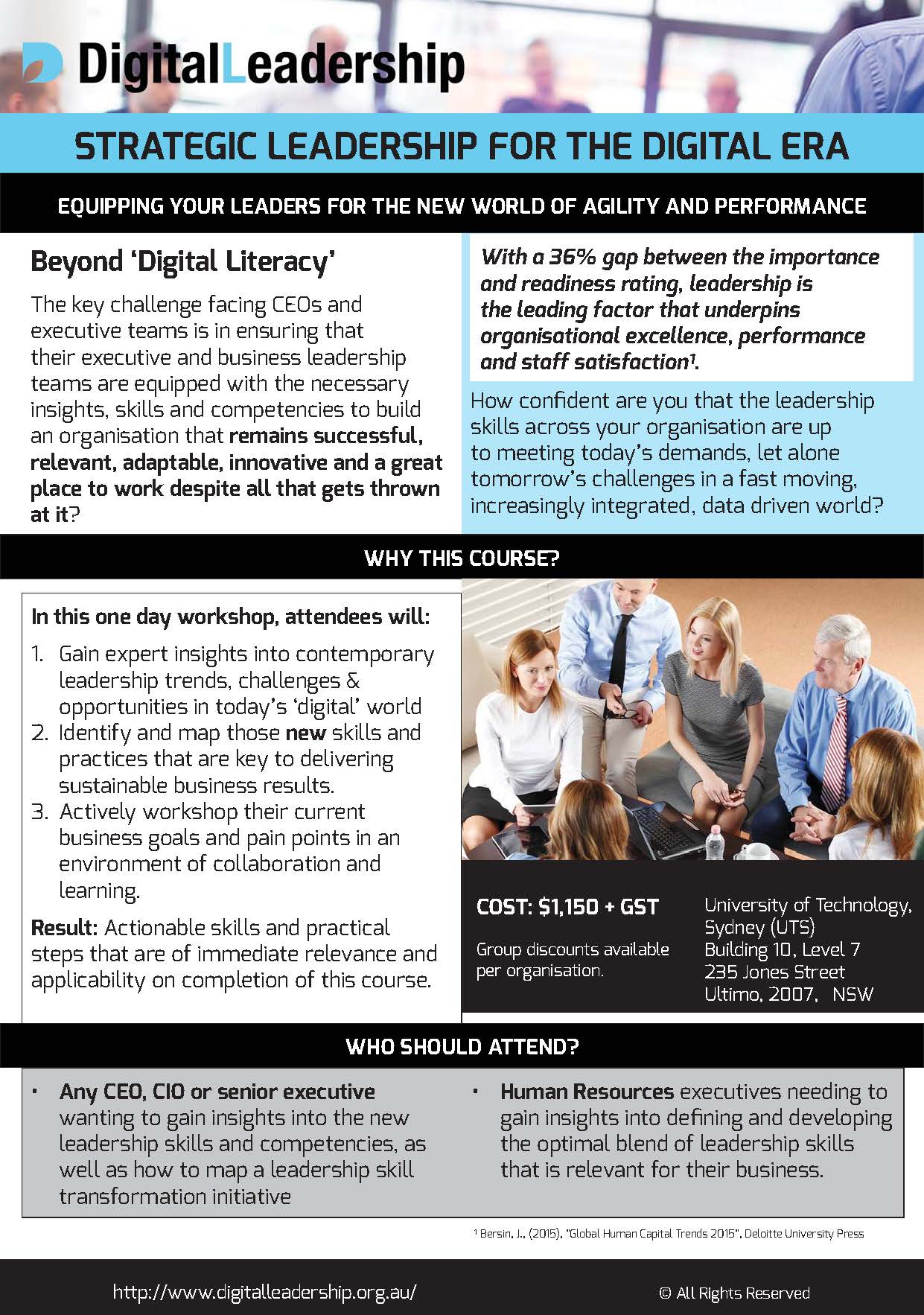 When & Where

University of Technology, Sydney
Building 10, Level 7, Seminar Room 2 [CB10.07.102]
235 Jones Street
Ultimo, NSW 2007
Australia

Friday, October 21, 2016 from 8:30 AM to 5:30 PM (AEDT)
Add to my calendar
Organizer
The Digital Leadership Initiative
The Digital Leadership initiative comprises a number of trusted, vendor independent, locally and globally acknowledged experts and practitioners in their respective fields of expertise who take time out of their busy schedules to collaboratively research, develop and deliver a range of one day intensive courses on a range of topics.
These vendor independent, intensive interactive courses are aimed at equipping attendees with the practical tools, insights, skills and latest industry perspectives to ensure that their organisation's digital / IT initiatives deliver sustainable business value.
Workshops focus on a range of key areas including Big Data, IT deptartment transformation, User Experience, enterprise digital strategy and transformation, innovation, analytics, governance, agile, risk, architecture and emerging technologies to name but a few.
The common theme underpinning all workshops is Strategic Leadership in the digital era.
The latest industry and academic research confirms our collective experience that conventional leadership approaches and competencies are inadequate when dealing with the demands of today's globalised and fast moving digital world.
Strategic Leadership in the Digital Era [Course DL03-01]