Strata Community Education Seminar - Cairns
Insurance/Reinsurance Pool Update | Committee Roles & Responsibilities
About this event
Following on from the success of our recent seminars, Smart Strata is pleased to present a new series of Strata Community Education Seminars commencing in October!
Join us in Cairns as we discuss the insurance/reinsurance pool update. Frank Higginson & Chris Irons from Hynes Legal will also be in attendance to discuss committee roles and responsibilities.
An open forum will follow with our guest speakers joined by Archers the Strata Professionals Partner, Andrew Staehr to chat about everything strata and beyond. There will also be local suppliers to chat with during the networking sessions to keep you up to date with the latest product and service innovations including giveaways! This session is a must for any strata committee member and will provide you the opportunity to speak directly with industry professionals.
*Please note: By registering to attend this event you agree to being filmed or photographed which may be used for marketing or promotional purposes. Please contact marketing@abcm.com.au if you have any concerns.
**Are you a service provider? Please read and agree to our Suit Casing Policy before registering.
Please contact info@smartstrata.com if you have any concerns.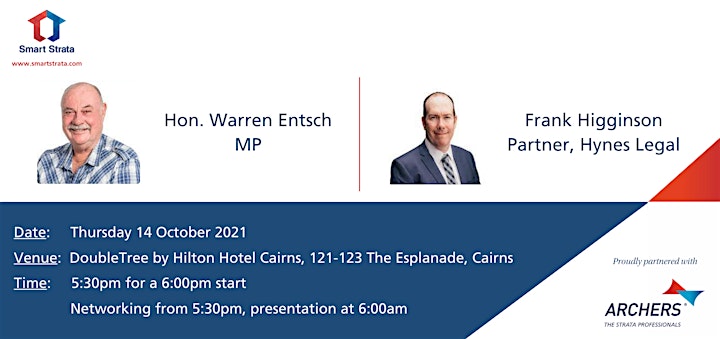 Organiser of Strata Community Education Seminar - Cairns