Description
Australia's premier journalism and storytelling festival is back in Sydney this August 30- 31, 2017.This year we also have a three-day program in Brisbane on August 24-26 — for Brisbane tickets (including Storyology After Dark) please visit the Brisbane Powerhouse website. Stay tuned for satellite events to be announced in Melbourne.
Over two days in Sydney, brush elbows with the best journalists from Australia and overseas, learn how they do what they do and hear their war stories. The festival offers fantastic professional development for anyone who works in or with the media, communications, PR, not for profits, and chock full of great stories and debates.. Featuring:
Andrew Quilty, Afghanistan-based freelance photojournalist

Sinead Boucher, Executive editor, Fairfax Media New Zealand

Frédéric Filloux, Editor, Monday Note (France)

Áine Kerr, Manager, Global Journalism Partnerships, Facebook (US)

Irene Jay Liu, APAC lead, Google News Lab (Hong Kong)

Tonya Mosley, Senior Silicon Valley correspondent (US)

Maria Ressa, CEO, Rappler (Philippines)

Siddharth Varadarajan, The Wire (India)

Sinead Boucher, Executive editor, Fairfax Media New Zealand (NZ)
---
Are you a MEAA member? Enter the promotional code MEAA2017 to get the discounted rate. Have your member number ready at registration.
---
TICKET OPTIONS:
Storyology Sydney Pass: gets you access to all sessions at the Eternitey Playhoue plus an invitation to join us at Storyology Social.
Storyology Sydney One Day Passes (Wed August 30 or Thu August 31): gets you access to one day of programing at the Eternity Playhouse. The Thursday day ticket also includes the Storyology Social.
Email Lauren.Katsikitis@walkleys.com for more information
---
Storyology would not be possible without the support of our partners: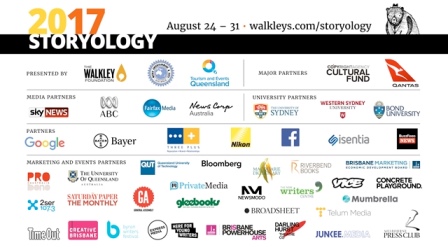 Organiser of Storyology Sydney 2017
The Walkley Foundation is at the heart of the Australian media. In addition to celebrating and promoting the most skilful, impactful and captivating Australian stories, our role is to foster resilience and growth in the industry in practical, measurable ways. The Walkley Awards were founded by Sir William Gaston Walkley in 1956. Now, the annual Walkley Awards are the pinnacle of achievement for every Australian journalist. Peer-judged and renowned for integrity, they recognise the impact of journalism and build public trust in good reporting.