Description
Story for Community Building: The Story Cookbook Workshop

Stories and storytelling have emerged as powerful creative processes for communication and change across personal, organisational and community contexts. With over 80 activities collected from contributors around the world, The Story Cookbook is one of the most comprehensive collections of story-based activities currently available. This special workshop by the editors of The Story Cookbook will provide a unique opportunity to engage with and explore the value and power of working with story and narratives.

This workshop will be useful to educators, consultants, facilitators, managers and leaders looking to work in more relational and creative ways.

Come along to this workshop if you would like to:
• Learn more about the application of story and narrative techniques in organisations, community building and beyond
• Fill your facilitator toolbox up with a number of new relationship and community building activities, methods and techniques
• Be inspired by the power of story telling and story listening

Who are your Facilitators?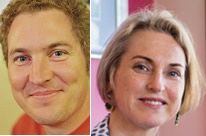 Andrew Rixon is the founder of Babel Fish Group and with one of the first PhD's in complexity science has gained global experience in working with organisations, within Australia and internationally in the UK, USA, Europe and Asia-Pacific. Andrew also holds an appointment with Swinburne Business School in the area of Entrepreneurship and Innovation. Andrew is the founder of The Story Conference and co-editor of the recently published book "The Story Cookbook: Practical Recipes for Change"

Cathryn Lloyd is a facilitator, creativity coach, educator and holds a doctoral degree in Creative Industries (DCI). She is the Founder and Director of Maverick Minds, a creative professional development consultancy that designs powerful and flexible learning experiences to shift thinking, gain new perspectives and create positive change. She has extensive experience across the creative industries, arts, business, management, and education. With an arts and design background, she brings a multi-disciplinary learning approach to her work, drawing on experiential, arts-based and action learning methodologies and processes to create purposeful learning environments.

** Registrants for this program have the opportunity to purchase The Story Cookbook: Practical Recipes for Change for $95 currently selling in Australian bookstores and Amazon for $145! (Simply check the box during registration and an order will be created separately.).