The Advance Dynamics Method is a transformational seminar which includes a hypnosis experience which embeds your new learnings.
About this event
You may not have experienced Hypnosis. You will love it. Even better you will love the result.
You will discover the building blocks which have come together to create the you of today. And then we will re-shuffle them just a little bit to change the future. Sound painful? Not at all. Just by learning how you work you will gain new understandings of why you do the stuff that you do that doesn't work. And then you'll be given a perfect model of behaviour to adopt (your choice); and then ntohing will ever be the same again.
My guarantee is; If you complete the 90 minute seminar and feel that it wasn't worth the $60.00 then I will refund 100% of your investment.
What you need to bring:- just your happy smiling face. You will be seated in chairs and water is available.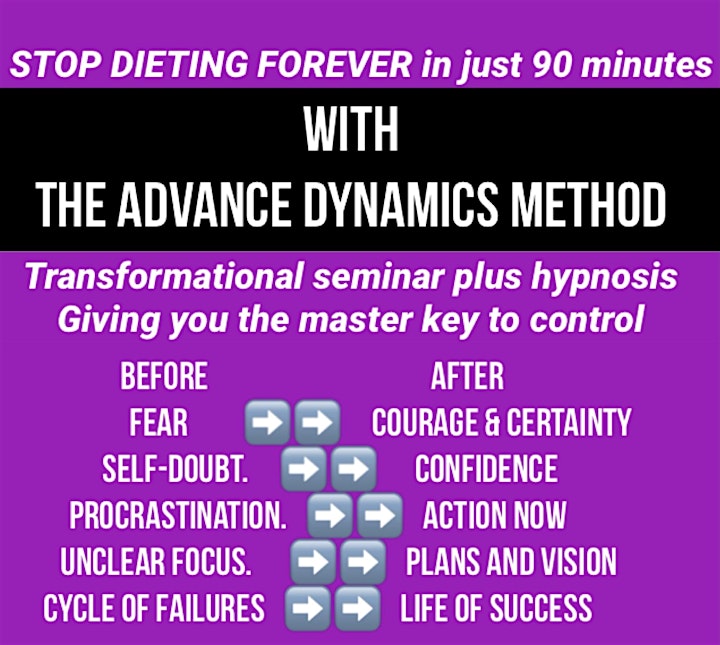 Organiser of STOP Dieting Forever with the Advance Dynamics method Donnybrook
Julian has a wealth of experience to share.The one thing we all want is to find a path through the smoke-screen of mis-information that clouds our route to success. Julian has journeyed through a lifetime of contrasts.
As a teenager he left school as young as was legally possible to start training as a Jackaroo on an isolated sheep station between Leonora and Laverton in Western Australia. He very soon found himself thrust into responsible role which had him driving around 150 miles a day on isolated bush tracks to check livestock watering points. Climbing down into wells and clambering up windmill towers to effect repairs.This was indeed a hazardous and isolated introduction into life as an adult which epitomised what was to become the Julian we know today. His journey through adulthood was not laid out like a blueprint to follow.
Julian found the answers through trial and error.The errors were costly, the rewards were meagre. Luck played some part in all of this. Over the years this cycle of trial and error continued. In 1996 the cycle was broken. Julian found himself in a group of people who were committed to personal development. Now for the first time there appeared a new possibility; some hope for the future of his dreams to be fulfilled.The path was unclear. There were so many options, so much information; much of it conflicting and all of it new and exciting. In this forest of data Julian strived for clarity.
The answers were as elusive as the questions. Depression and alcohol played a big part in this period as the pain of frustration seemed to overwhelm. His story of breakthrough is a moving testimonial to persistence and courage. He broke free of the chaos of uncertainty and confusion to suddenly find himself standing unconstrained by the past. How he created this clearing in a world of overwhelm is the cornerstone of his Being Your Best Self technology. Packaged as the Master Key Program he guides us to our own clearing, and empowers us to be the person we always wanted to be; to live the life we would love to live.