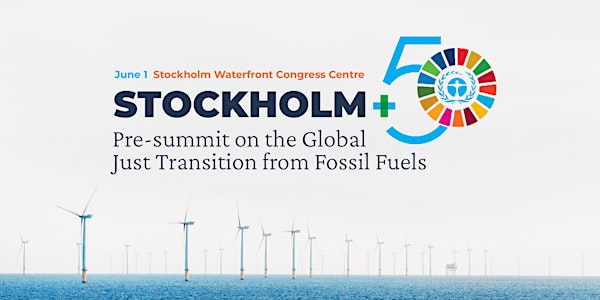 Stockholm+50 Pre-Summit on the Global Just Transition from Fossil Fuels
Location
Stockholm Waterfront Congress Centre
4 Nils Ericsons Plan
111 64 Norrmalm
Sweden
Register for the Stockholm+50 Pre-Summit on the Global Just Transition from Fossil Fuels — a public livestream will also be available.
About this event
It is increasingly clear that we need to mount international efforts to align the production of coal, oil, and gas with global climate and sustainable development goals, requiring a just transition away from the fossil-fuel system with international policy mechanisms that meets the scale of the challenge.
The Stockholm+50 Pre-Summit on the Global Just Transition from Fossil Fuels is an opportunity to advance conversations and collective action to address fossil fuel supply at an international level. The Stockholm+50 Conference, a historic convening reflecting on the successes and shortcomings of international environmental governance over the last half-century, provides the perfect venue to do so.
The day before the formal conference, representatives of Indigenous nations, governments, international institutions, civil society, academic experts, faith organizations and others in the diplomatic arena will gather for a major pre-summit event to advance the just and equitable international transition for fossil fuel production. The event will cover topics such as the threat of fossil fuels to a healthy planet; to peace and security, and strategies for international cooperation to fast-track a just transition.
Participants will be able to share successes and challenges to advance diplomatic efforts towards a fossil fuel free future. We hope the event can help build a shared sense of momentum amongst thought leaders and policymakers to rise to the urgent need to immediately stop fossil fuel expansion and to manage an equitable phase-down of fossil fuels in order to meet the objectives of the Paris Agreement and the Sustainable Development Goals. We hope to address how an international framework such as a Fossil Fuel Non-Proliferation Treaty can support these efforts. We further hope to identify ways in which the supply-side of fossil fuels might be highlighted and advanced during the formal Stockholm+50 meeting, and in subsequent multilateral fora.
As seats are limited, registration for this event is by invite only. To enquire about attending pleace contact stockholm50@fossilfueltreaty.org. The event will also be livestreamed to the broader public online.
Media Passes are also available for press.
The event is free, but you are welcome to make a donation to support travel grants to support civil society leaders, youth leaders and representatives of Indigenous communities in the Global South to attend the pre-summit event and the Stockholm+50 conference.
For any queries please contact stockholm50@fossilfueltreaty.org
_____
This pre-summit event is organised by the Fossil Fuel Non-Proliferation Treaty in partnership with the Stanley Centre for Peace and Security. Formal government co-hosts will be announced in the near future.