Stimulate / Sedate One Night Only Art Exhibition

Thursday, 5 December 2013 from 6:00 pm to 9:00 pm (Pacific Standard Time)
Event Details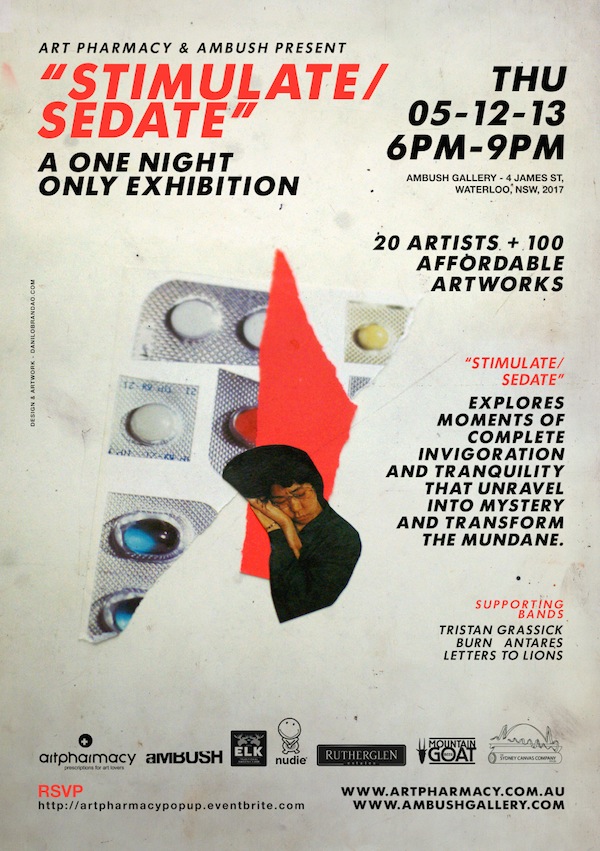 TAKE HOME ART ON THE NIGHT
Free wrapping service provided
 Affordable art priced from just $70
Featured Artists:
Anika Cook, Bea Bellingham, Bec Kilpatrick, Danilo Brandao, Emma Kidd, Gunjan Aylawadi, Hollie Kelley, Isabel R, JUMBO, Manuela Strano, Marine Coutroutsios, Mateo Camelo, Maz Dixon, Rosie Apps, Rubi Cassidy, Ryan McGennisken, Scott Marr, Stuart Smith, Swerfk, Thomas Wilcox, Victoria Garcia
Supporting Bands: Tristan Grassick, Burn Antares, Letters to Lions  
Refreshments: sponsored by Rutherglen Wines, Nudie Juices, Elk Cider & Mountain Goat.
Live Art: by 4 of Art Pharmacy's talented artists canvas donated by The Sydney Canvas Company
ABOUT STIMULATE / SEDATE
Art Pharmacy presents Stimulate/Sedate, a one-night only art exhibition that visually articulates the expanse of influences between electric moments of invigoration and periods of gentle tranquillity. 
Stimulate/Sedate comprises the work of twenty visual artists whose diversity of practise and aesthetic lends itself to the exhibition's breadth of conceptual avenues. Each artist has freely explored where they find their most heightened states of creativity, calamity and calm, and have used their work to communicate how those extremes balance to form a harmony of daily experiences. 
In addition to the dynamic spectrum of works, Stimulate/Sedate includes live painting and support performances by musicians Tristan Grassik, Burn Antares and Letters to Lions.
For food lovers, the Vege Patch food truck will be on site to sate appetites. 
Stimulate/Sedate is the final exhibition in aMBUSH Gallery's 2013 program – a suitably rousing show to close exciting years for both Art Pharmacy and aMBUSH Gallery. 

When & Where

Ambush Warehouse Gallery
4 James St
Waterloo, NSW 2017
Australia

Thursday, 5 December 2013 from 6:00 pm to 9:00 pm (Pacific Standard Time)
Add to my calendar
Organiser

Art Pharmacy is an online gallery that hosts regular pop-up exhibitions around Sydney. Our aim is to make affordable art accessible to everyone, while supporting local Australian artists. We have original prints, oils, watercolours, acrylics, photography and etchings. Art Pharmacy is here for art lovers and collectors – from those who already have substantial collections, to those who are just starting out. The biggest, grandest collectors in the world started off with one piece of art, so we believe that anyone can start an art collection, even on a budget.
We are also utterly passionate about supporting and nurturing emerging Australian artists, and fostering innovative dialogue around their work. All artists represented by Art Pharmacy have their own 'Artist Page' featuring artworks, interviews, and information about their career in the arts. When you buy a piece on Art Pharmacy you know that you are supporting local artists in Australia. We believe there are so many undiscovered artists out there and we want to do our bit to help you find them.
All the artists on Art Pharmacy have been specially selected by founder and Director, Emilya Colliver. Emilya has an extensive background in the visual arts, having worked for some of the top art galleries and institutions in the world, including Lisson Gallery, Hauser & Wirth, The British Museum and Eskenazi. Emilya also worked with a private collector for years, James Birch Esq. where she looked after his vast collection of art featuring works by globally renowned artists such as Damien Hirst, Francis Bacon and Gilbert & George (to name a few). This experience has given Emilya the skills to be able to spot emerging artists. 
As well as running Art Pharmacy, Emilya also runs Culture Scouts, and has recently developed Art Pharmacy Consulting. She also sits on the MCA Young Ambassador Committee, and was recently a nominee for the 'InStyle and Audi Women of Style'.