Draw a cake-inspired still life using an iPad Pro & Apple pencil. This class includes a delicious cake spread by Beatrix Bakes.
About this event
Classes run for two hours and cover all the basics for drawing digitally on an iPad Pro with an Apple pencil (provided, or BYO). Be inspired by the still life table in the centre of the room, the art on the walls of the gallery or do your own thing. Class format is casual and all levels are welcome. After drawing for 1.5 hours we will have afternoon tea. The menu is below.
Draw digitally in a medium you know from the real world – oil paint, coloured pencils, airbrush... or mix it up and try something new– there's always the "undo" option, and no mess! Classes are facilitated by artist/designer Alice Oehr, and discussion of all things "drawing" is encouraged (so is general chit-chat).
Tickets include a generous serving of cakes from the below list. Beatrix Bakes does not provide any vegan options, but please send any dietary requirements at checkout.
CAKE MENU
– Red Velvet layer Cake with white chocolate cream cheese buttercream
– Chocolate Sour Cream Layer Cake with chocolate custard buttercream
– Coconut Shagg Layer Cake
– Pistachio & Lemon Curd Layer Cake
– Carrot & Toasted hazelnut cake with chocolate cream cheese buttercream
+ some surprises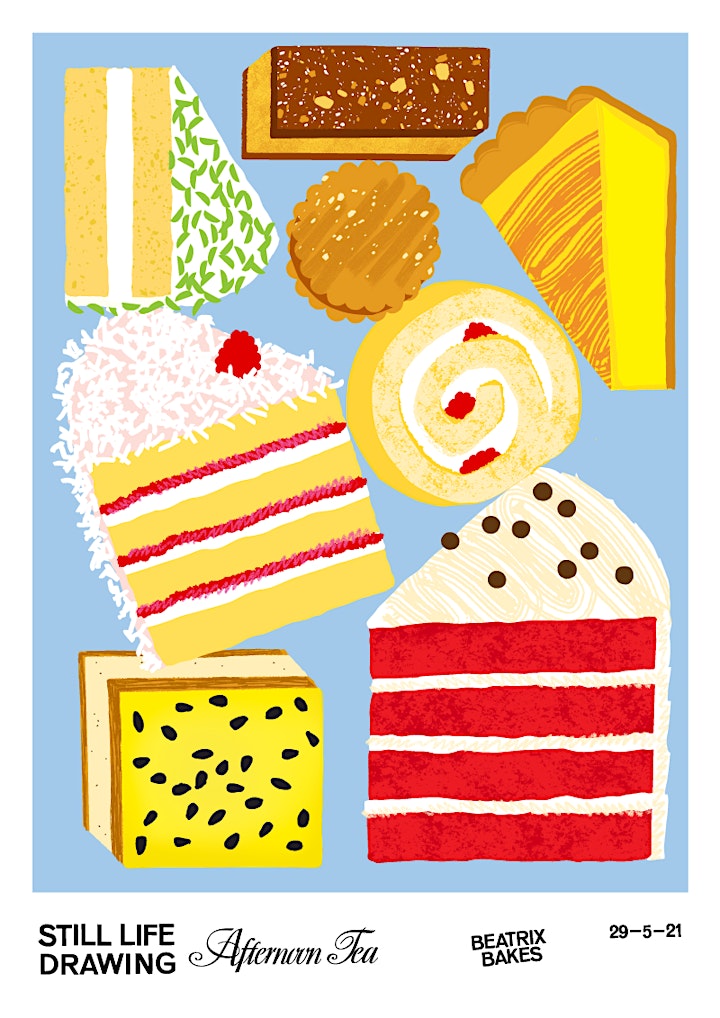 Organizer of Still Life Drawing Afternoon Tea with Beatrix Bakes
Alice Oehr is an illustrator & designer from Melbourne. Her distinct colourful style incorporates her love of food, pattern, collage and drawing. Many of her ideas have made their way onto textiles, homewares, magazines, books, and even once as a series of 6ft tall Ancient Egyptian statues for a marquee at the Spring Racing Carnival. Alice's work has been sought-after commercially by clients local and international. Alice teaches and speaks passionately about the changing medium of illustration in a digital age. She runs workshops for all ages with both HB pencils and Apple pencilsFor more info, visit aliceoehr.com