Description
We are needing to postpone this wonderful event from October 17 2019.

We are looking forward to running this transformative event sometime in the new year, possibly as part of the 2020 Quaker Peacebuilding Summer School (tentative dates below - to be confirmed - only included to enable you to register) Once the situation becomes clear we will write to you to let you know.
Please feel free to contact me on 045 0732 100 if you would like further information, or updates.
With thanks,
Adrian Glamorgan
Quaker Outreach Committee
---------
"Stepping Away From Empire, Towards Earth's Good Life" explores earthcare, decolonisation, and nonviolent pathways that reconnect us to the earth and each other..
This is a Quaker Peace & Earthcare weekend event, with activities 17-21 October in Perth, Western Australia,
Are you sensing the last days of and Empire's old order? Are you glimpsing a potential "Good Life" of authentic Earthcare and community? How might we live life as a joyful obligation, animated by love? What actions might that lead us to undertake together?

Jason MacLeod has been exploring ways to animate freedom:
challenging the world as it is,

encouraging us to consider new frameworks

finding ways to consciously move towards connectedness with our heritage, our place, and our aspirations

seeking out for the company of others,

appreciating the value and transforming power, of loving nonviolent action.
Jason MacLeod is an educator, organiser and researcher with over thirty years of activist education and campaigning experience in Australia, Asia and Oceania.
He currently resides on Jagera land, in Meanjin (Brisbane), where he is part of a co-housing settlement. His 2019 Backhouse Lecture, "Animating Freedom" (available from online outlets) challenged Quakers in Australia to deepen connection with Spirit and each other.
Schedule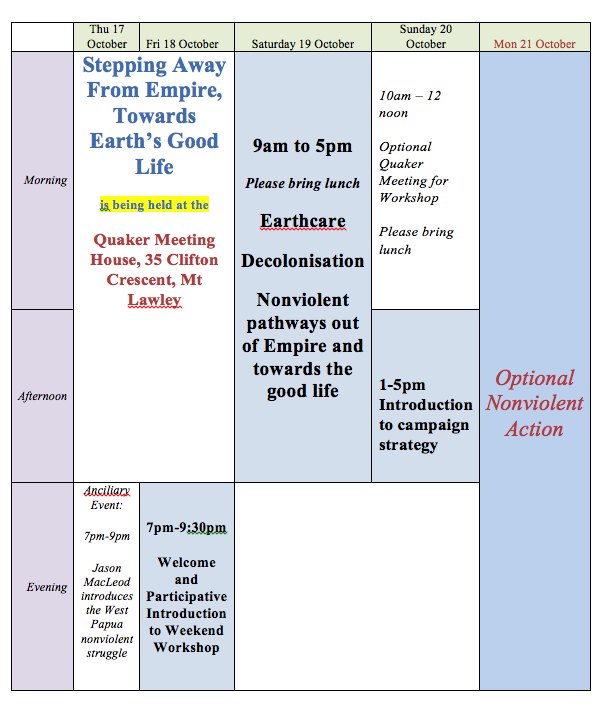 Please let us know if you require assistance with access.
Contact: Adrian Glamorgan 045 0732 100
The optional Sunday morning Quaker meeting, held largely in silence, is, as always, open to the community. If you would like to try it out, just turn up, and have a chat with the person at the door before Meeting starts. A cup of tea follows. Bring your lunch, to flow on to the afternoon workshop.

The Optional Nonviolent Action will be discussed over the weekend. It may involve a faith witness at Swanbourne Barracks, home of the Australian SAS.