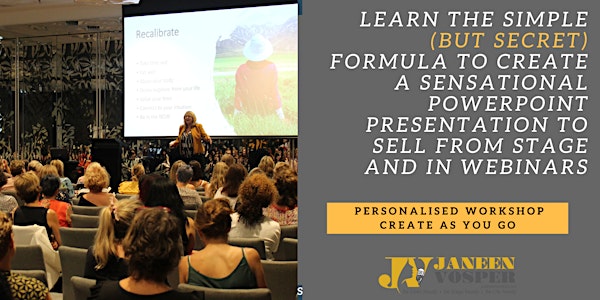 Multiple Dates
Step-by-Step Masterclass - How To Create a Dynamic PowerPoint Presentation
Stand out as a Professional with PowerPoint Presentations that will have people taking action immediately.
About this event
At this Workshop Discover the Five Steps You Need To Know To Create Extra-Ordinary Presentations that will WOW Your Audience.
In this workshop, you will not only learn the How To… you will actually get to Do It..
Karen found real value in learning the simple formula...
Once you know these 5 simple steps to create a winning presentation, you won't be lost for an idea again.
Delve into what type of presentation will work best to get your message across and create it on the day.
Learn how to weave a story that engages while educating.
Click to Register today and discover presenting techniques to take your online business to a whole new level.
If you ever wondered what is the best template to use, when to use animations and how to use images that tell your story rather than distract...this is the workshop for you.
Once you know the formula, you will be able to create webinars that will have people buying, stage presentations that will engage with your audience, and short industry sessions that is not DEATH BY PowerPoint.
This is what Jane Halliday and Raelene Jury from the Sunshine Coast had to say about this workshop.
"We found Janeen's workshop was EXACTLY what we needed. Her many practical techniques opened our minds to a more professional and creative approach, enabling us to achieve our personal objectives with practice.
Learning the Psychology behind the structure of a presentation and Janeen's expertise has enhanced the quality of our presentation,... which resulted in us tripling our (sales) volume to achieve a 25k rank in only 6 months.
We received very positive feedback from our attendees and with great pleasure, we are highly recommending Janeen's workshops to anyone wanting to expand in both public speaking and business."
In this practical workshop, you will learn how to...
Bring more energy and visual impact to your presentations.

Create high-quality presentations with stunning graphics.

Captivate your audience with new transitions and improved animations.

Organize and print your slides more effectively.

Use a simple formula to create amazing PowerPoint over and over again
Stand out as a Professional with PowerPoint Presentations that will have people taking action immediately.
Strictly Limited to the FIRST 3 PEOPLE who enroll- Register early so not to miss out
Organiser of Step-by-Step Masterclass - How To Create a Dynamic PowerPoint Presentation
As an author and sales coach, I typically works with Sales Teams, Small Business Owners and Entrepreneurs in developing authentic-selling techniques and helping cure any cold calling reluctance.  With over 30+ years' experience working in sales, I have assisted countless sales staff acquire the confidence to become top earners in their fields.
My passion is working with entrepreneurial women to develop confidence enabling them to have a voice to promote their business and enjoy success in all aspects of their professional and personal lives.
Having presented to the cream of the public speaking community at international conventions in Japan, New Zealand, across the US and around Australia, I've gained the status as a Fellow of ITC & ITC Corporate Trainer (International Training in Communication) which recognises me (yeh!) as a specialist elite trainer.  My expertise in presenting doesn't stop with delivering workshops around the world though. (Now this pretty cool) As the winner of the Australian region POWERtalk public speaking contest; I was chuffed to be able to represent my country in Hawaii in 2013. (yeh again!)