**Important Update - The STEP Australia National Conference has been postponed - updated information is available below**
About this event
Conference Dates:  Monday 28 March to Tuesday 29 March, 2022
Venue:  Sofitel Hotel Darling Harbour, Sydney, Australia
The STEP Australia 2022 Conference will be held at a luxury Sydney hotel, the Sofitel Sydney Darling Harbour Hotel, commencing with welcome drink's on the evening of Sunday 27 March 2022, followed by two full days of high-quality presentations. During the conference STEP will be hosting a Delegate Dinner on Monday 28 March 2022 and a Post-Conference Social Event on Tuesday 29 March 2022 to conclude the conference.
Programme Focus
This STEP Conference, bringing together leading minds in trusts and estates from across STEP Australia and beyond, is not to be missed. The programme is designed to enable practitioners to update their knowledge of recent developments, and to hear about cutting edge industry trends. The various presentations will review and comment on the challenges posed by current trends, including digitising death, lost trust deeds, comparative state land taxes, family law implications of trusts, contested inter vivos transfers, the long arm of NSW notional estate laws, advising incoming migrants and outgoing residents, spouses and family provision, digital assets, and Chinese investment within Australia. Included in the programme is a panel of experts, who will also discuss "Trusts and Succession Challenges in the Digital Age", as well as our dynamic duo commenting on "Is Succession Law Succeeding? A Long View". The programme provides an unparalleled opportunity to network with some of the foremost Australian trust and estate practitioners.
PRESENTERS:
The Hon. Justice Julie Ward, Chief Judge in Equity, Supreme Court of New South Wales
Sandra Boyle TEP & Christopher Boyle TEP - Former Registrars of the Supreme Court of Western Australia (recently retired), Perth
Prof. Gino Dal Pont, University of Tasmania
Dr Bernard Walrut TEP, Murray Chambers, Adelaide
Prof. John Glover TEP, Owen Dixon Chambers, Melbourne
Christine Smyth TEP, Christine Smyth Estate Lawyers, Brisbane
John Balazs, Balazs Lazanas & Welch LLP, Sydney
Kimberley Martin TEP, Worrall Moss Martin Lawyers, Tasmania
Jane Needham SC, St James Hall Chambers, Sydney
Michael Olesnicky TEP, Baker McKenzie, Hong Kong
Michele Sheehan TEP, enTrust Law and Sheehan & Co, Brisbane
Craig Gregson TEP, Gregson & Associates, Perth
Note: We have planned this conference in a COVID-normal world and depending on any local restrictions that may apply at the time of the conference, some of the speakers may need to present virtually and some last minute changes to the order of speakers as they appear on the program may occur.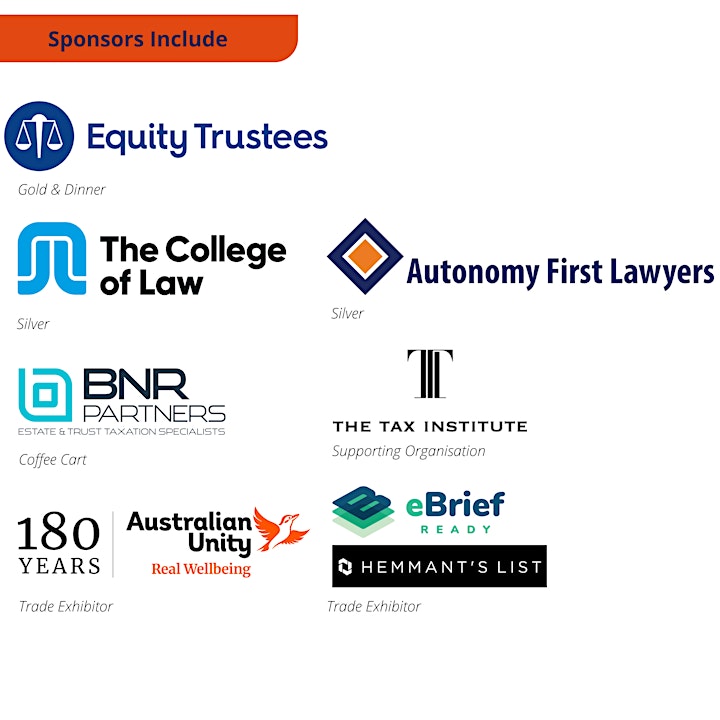 Gold & Dinner Sponsor | Equity Trustees | www.eqt.com.au
Equity Trustees is an independent specialist trustee company offering trustee or fiduciary services to a range of private and corporate clients.
Silver Sponsor | The College of Law | www.collaw.edu.au
The College of Law, Australia's largest provider of practice-focused legal education, is proud to partner with STEP to deliver postgraduate pathways to a career in wills and estate planning.
Silver Sponsor | Autonomy First Lawyers | autonomyfirstlawyers.com
Autonomy First Lawyers is a multidisciplinary law practice bringing together a unique team of highly experienced trusts and estates law, business law and clinical neuropsychology experts. We help legal, medical, financial and other professionals reduce risk to themselves and to vulnerable clients when their client's decision making ability is in doubt.
Coffee Cart Sponsor | BNR Partners | bnrpartners.com.au
BNR Partners are experts in the field of Deceased Estate and Trust taxation matters.
Supporting Organisation | The Tax Institute | taxinstitute.com.au
The Tax Institute is the leading forum for the tax community in Australia. We are committed to representing our members, shaping the future of the tax profession and continuous improvement of the tax system for the benefit of all, through the advancement of knowledge, member support and advocacy.
Trade Exhibitor | Australian Unity Trustees | australianunity.com.au/pfs/trustee-home
We can help you protect your assets in line with your wishes now and into the future.
Trade Exhibitor | Hemmant's List and eBrief | www.hemmantslist.com.au and www.ebriefready.com.au
Providing innovation, diversity and convenience for everything from choosing the right barrister to sharing briefs electronically.
_________________________________________________
Become a STEP Australia Conference Sponsor
Contact Dior Locke, our STEP Australia Operations Manger, to register your interest for sponsorship opportunities. 
_________________________________________________
Hear what our presenters, sponsors and delegates had to say about the STEP Australia Conference held in 2019...
FAQs
Can I pay via EFT or cheque?
Unfortunately, no, STEP Australia is only able to receive credit card payments through the EventBrite system. EventBrite will send you a receipt and ticket when you register. Please consider this your invoice.
Where can I find the Terms and Conditions of Sales?
Click the following link to read the full Terms and Conditions of Sales.
What's the refund policy?
If you cancel prior to the 1 May 2021, we will issue you a full refund. If you cancel on or after the 1 May 2021 no refunds are available if you are unable to meet the conditions outlined in the Terms and Conditions of Sales. You may transfer your ticket.
Do I have to bring my printed ticket to the event?
No, we will have your details on file and your name badge ready for collection.
Is my registration fee or ticket transferable?
Yes, you can transfer your ticket to another person however the delegate must be to the same ticket type. I.e. A STEP Member Ticket can be transferred to another STEP Member. Read the full Terms and Conditions of Sales for additions terms relating to ticket transfers. Please email dior.locke@step.org to transfer your ticket.
What is the dress code?
Please dress smart casual. This extends to the pre and post event functions, but you are welcome to dress up if you choose. 
When will I receive further details if I am attending virtually?
Further details will be circulated to virtual deleagates on the day of the Conference. Delegates will be provided with instructions on how to view the Conference online and provided with a code providing access from the time of the Conference .
Can I access conference rates for accommodation?
Yes, The Sofitel Hotel Darling Harbour has provided delegates reduced rates, so ensure you book your accommodation using the link you will receive when you book your ticket.
Will speaker slides and papers be distributed prior to the conference?
We work with our speakers to ensure that you have as much material as possible prior to conference. Due to the nature of the presentations and speakers who will ensure that the information presented is absolutely up-to-date, some material may not be available until after the conference.
How can I contact the organiser with any questions?
Please email Dior Locke, STEP Australia Operations Manager, via dior.locke@step.org
STEP Australia Website |  STEP Worldwide Website  | STEP Australia LinkedIn Page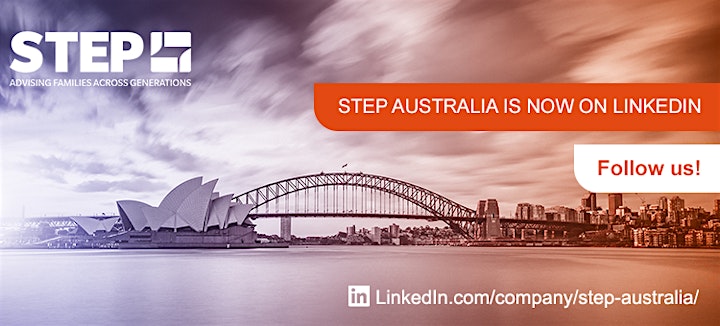 Terms and Conditions of Sales
Click "Terms and Conditions of Sales" to read the full terms and conditions of sales. Information regarding refunds and ticket transfers are outlined as well as COVID-19 specific conditions of entry.
Delegate Disclaimer and Acknowledgement
STEP Australia has endeavoured to implement appropriate measures and safeguards regarding COVID-19, however, there exists a risk of the spread of COVID-19 in any group, social or public setting, location or event. Presence at STEP Australia's Conference could increase your risk of contracting COVID-19 and you assume that risk. You agree to hold harmless and fully indemnify STEP Australia from all and any loss you incur or injury you suffer as a result of you contracting any disease (including, but not limited to COVID 19).
Organiser of STEP Australia 2022 Conference
The Society of Trust and Estate Practitioners ("STEP") is the worldwide professional association for practitioners in the fields of trusts and estates, executorship, administration and related issues.  STEP has more than 20,000 members from across 95 countries worldwide, who practice across the legal, accountancy, corporate trust, banking and related professions.  Members belong to branches that provide professional development and opportunities to network at a local level.