STEM CLUB - HOLIDAY FUN! .....April School Holidays.....
Description
We have STEM CLUB activities-
during the April School Holidays (Tuesdays 17th & 24th April & Thursdays 19th April & 26th April)
Half days start at 9.00am and finish at 12.00 noon

Full Days start at 8am and finish at 3.00pm
Please note-
As the event schedule will only show starting times due to the multiple times in one day and in one week, the choices of 1/2 day and full day schedules will be visible once registration is commenced.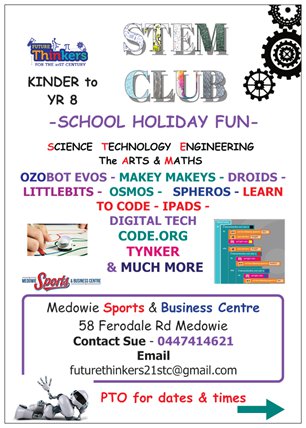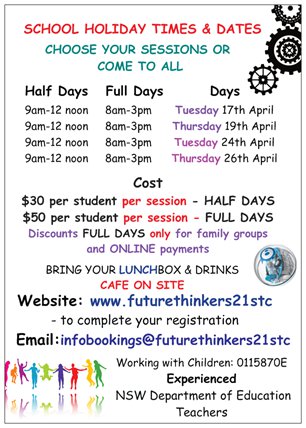 ---
Our company, 'Future Thinkers for the 21st Century' is focused on STEM education for both students and teachers.
Parallel workshops will be offered to Teachers during this holiday period.
The STEM Club for students will include a tailored program focusing on individual student's interest, needs and preferences in the areas of Robotics, Colour & Block Coding, Tynker and Code.org coding, Circuit Making, Tinkering, Creative and Critical Problem Solving. Digital Technologies.
Activities will include work with Makey Makeys, MakeDo construction, Ozobots, LittleBits Droids and Blocks, Osmo with Ipads, MakerBlock robots, Rube Goldberg Problem Solvers and much, much more.
All participants will also be introduced to a web based coding site -Code.org if they have not yet been so at school. We will give them a taste of the site which will be accessible while attending the STEM Club Holiday workshops.
All students will be catered for-whether they have technological and or engineering science or maths and or creative preferences;
The environment in which the students will work will also have a Makerspace platform where students can self select which tasks and projects they would like to to explore, tinker and create.
Our teachers Ross, Emily, Hayley, Sue and Tim will be on hand to assist students with their decisions.
---
All students will remain in our care in a secure and caring environment. The facilities at the venue- Medowie Sports Centre are second to none.
The room is purpose built and enables students to explore and work safely, collaboratively and cooperatively. We will assign a teacher to keep a close eye on all student movements at all times.
Before the event commences parents will be invited to advise Emily of any special requirements as well as the learning preferences and interests of their children. Look for an email on Saturday before the events commence.
We are also taking bookings for second Term After School STEM Club ( Tues & Thurs 3.30-5.30), commmencing
May 15th.-

week 3 Term 2.
Please check our Eventbrite links to the After School STEM CLUB.
For further information-
please contact - preferably email and not sms
Sue on 0447414621
infobookings@futurethinkers21stc.com
futurethinkers21stc@gmail.com
FAQs
1. What are my transport/parking options for getting to and from the event?
There is plenty of parking at the Sports and Business Centre.
2. What can I bring into the event?
Please bring a lunch box and drinks. There will be bottled spring water on hand at all times. There is also a Cafe on site and we will allow several breaks for the children to eat.
We will email parents and carers all details of foods available at the Cafe. The cafe is also offering a lunch pack by arrangement. Just give them a call or drop in to view their menu.
3. How can I contact the organiser with any questions?
Please phone Sue on 0447414621. Although here, an email is a better way to ensure a reply- smses often get lost in the load of communications.
Also- if you email her your questions she can then post answers up on this FAQs in case others need to know too. Email her @ - futurethinkers21stC@gmail.com
4. What should children wear?
As the venue is indoors and we will not be going outside- please have them dressed in comfortable play clothes.
5. Are all your teachers checked Working with Children
Yes.
All teachers are Working With Children Checked and our checks will be on display at the sign in table.
6. How do we deliver to and collect our children from the course?
You will need to sign in and sign out your children. Please don't drop your child at the front door of the Centre.
The room will be secured after all children are accounted for and children will be advised to ask to go to the toilet and they must be in pairs for this. This is a routine that they are used to as most schools have these in place. The toilets are nearby.
Also, one of our Teachers will be assigned during the sessions to watch the movement in and out of the room.
We take the safety of your children very seriously. Sue is a registered After School Supervisor and is well informed regarding Work, Health and Safety issues.
Your children are our utmost focus at these sessions. Please advise your child / children about some of the FAQ responses so that they are aware of their safety and well being.
7. I can't see the 1/2 day and full day registrations. I keep on being directed to the full day costs instead of the 1/2 day. How does this work?
Eventbrite thought, in their wisdom to lump the events by date / days instead of by hours. Even though I questioned this as I knew it might confuse people. As you can see, we have 2 sessions in a day.
One is a half day up until 12 and the other a full day running an hour before the half day starts- all day until 3.00. This was originally planned to start earlier than the 1/2 day so parents/carers who may work could drop their kids off and have time to get to work.
Alternatively, the 1/2 dayers' parents/carers may or may not necessarily be working and may then have more time to drop off and pick up in the middle of the day.
However, this initial selection 1/2 day can be missed and then cause confusion. We really apologise for any confusion if this happens.
Also, added to this costing, is the extra above the registration that EventBrite takes for hosting the events on their website.
8. What is your refund policy?
We will refund up to 24 hours before the event i.e. no later than 8am the day before the session.
This is in order for us to be able to be notified early enough to add participants who may be on a waiting list. There is a limit to the groups as we are very aware of appropriate safe and doable student : teacher ratios.
Please let us know if we have missed something too and keep those questions coming in!!

We check the sites every day but the gremlins can still get in.
9. The Parent / Child Survey sent after registration
I'm having trouble progressing to the next page of the PARENT / CHILD SURVEY
For a first time user- the form is a bit tricky.
I got into the same problems my first time. Make sure that you have answered all the questions i.e. where you don't want to answer something- just put NA or a ?? or just indicate whatever. The program needs an answer- even a simple mark. I think the emails are asked for twice- this is also a GOOGLE SURVEY problem.
Any other questions-
Please feel free to send an email to
futurethinkers21stc@gmail.com - copy and paste this link into your address bar
phone Sue on 0447414621.
Also check out our website
www.futurethinkers21stc.com
and our email
futurethinkers21stc@gmail.com
FAQs
How can I contact the organiser with any questions?
Your answer goes here