Description
Purpose
A morning workshop to help get your thinking unstuck, and a focus on developing the confidence to self-manage your career. Fresh insights, exercises and interesting discussion, you'll walk away with improved clarity, motivation and a practical approach to take charge of your career.

Who should come along?
If any of the following statements speak to you, this workshop offers some balm!

I'm not working to my potential; there's got to be more


I'm not sure what I'm meant to be doing, but it's not this

I know what I want, but worry about the risks

My career is stagnant. I'm stuck. I need a change

My company overlooks me for the roles I want

My work's ok, but I need to take more control of my future
Importantly, this workshop has been developed for people who are already reasonably established in their careers (7-plus years), but have become frustrated with their existing path, keen to explore work that holds more purpose and meaning, or just up for a change.

What to expect

A practical workshop with lots of information, facilitated discussion and exercises to help open and focus the mind. You'll walk away with a plan, resources and an expanded sense of how to direct your career.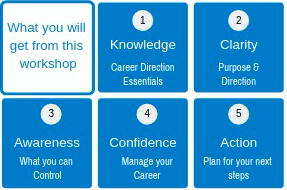 Workshop investment includes delivery, material, resources and morning tea along with Eventbrite's fees. Please note that bookings are final.

After you register, I'll send you a short questionnaire to get a sense of your needs from the workshop.


Interested, but can't make this date?
Please send me an email to confirm your interest, and I'll let you know the date of the next event, once it's been finalised.


About the Facilitator
Tracey is a deeply experienced career management consultant, facilitator and coach. She has more than 20 years of professional experience supporting individuals and organisations across a range of job-related activity. Her strength is helping people get more directed, focused and in control of their careers. She delivers work through individual sessions, company-sponsored programs or in public workshops & meetups. (She also feels super uncomfortable writing about herself in 3rd person). LinkedIn profile here.
Nice things said about Tracey's work

... I have seen first hand the care and commitment she has put into the services provided as a career consultant and mentor. Tracey has the ability to help people discover their key career aspirations and support them on their journey, providing encouragement, empathy, and help when required. Tracey is a true professional in the career and mentoring field - Nik
... able to inspire people when she presents and has so much knowledge in her field that you suddenly feel positive and enthusiastic of what lies ahead. Tracey is extremely approachable and very dedicated to her role, always welcoming and goes above and beyond to assist in all she can - Marianne

...invaluable throughout the whole process from clarifying career objectives all the way to the final contract negotiations. Great mix of group work and personalised one on one advice helped in preparing for the great leap while at the same time building up the confidence. Her no-nonsense communication style was a breath of fresh air and made for some great conversations - Luke

...enthusiastic, encouraging, motivating, understanding, and extremely supportive as I constantly changed direction and thinking about my next career move - Susan



Finally,
if you have any questions about this workshop, or any other career related services I might be able to support you with, please send me an email, or check website for additional information.