About this Event
How has social distancing changed sexual practices amongst gay and bisexual men? What does safe sex look like in 2020? Do you still need to take PrEP (an HIV prevention medication) if you're not having physical sex? Can you still access PrEP and HIV testing? How do you have a pleasurable sex life, stay safe from COVID-19, and prevent HIV?
Join us for a panel lunch and learn, where we explore sex and HIV in the era of COVID-19.
Learn more about HIV prevention strategies – undetectable viral load, PrEP, condoms, and testing. Hear about changes to sexual practices and PrEP usage since social distancing measures began. Explore different ways to navigate sex, pleasure, and intimacy in a harm reduction framework.
Panelists: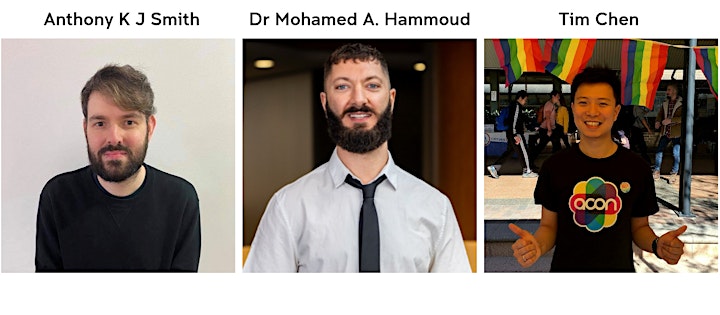 Anthony K J Smith | Scientia PhD Candidate & Research Assistant | Centre for Social Research in Health, Faculty of Arts & Social Sciences, UNSW Sydney
Anthony has worked in and researched HIV prevention for 5 years. He started his PhD 'PrEP in Practice: Clinician Perspectives on Providing PrEP in Australia' at UNSW in 2018. Prior to his PhD research, Anthony worked for the WA AIDS Council at M Clinic, a peer-based sexual health clinic for men who have sex with men, providing one on one comprehensive sexual health education and HIV/STI testing. Anthony's research interests include HIV prevention, qualitative research, and health sociology.
Dr Mohamed A. Hammoud | Research Fellow | Kirby Institute, Faculty of Medicine, UNSW Sydney
Mohamed's research in PrEP has focused on population-level implementation trials to assess the efficacy of PrEP among high-risk men, and sociobehavioural influences that led to high-risk men adopting this new biomedical HIV prevention technology. His research has been used to inform a national policy change to the Australasian pre-exposure prophylaxis (PrEP) Guidelines, and has been cited in the UNAIDS Global AIDS Update 2019 HIV update, UNODC HIV Prevention Technical Report, and, and WHO PrEP monitoring implementation tool.
Tim Chen | Community Development and Health Promotion Officer (Asian Gay Men) | ACON
Tim runs the Asian Gay Men's Project at ACON. This project is to help gay, bisexual men from Asian cultural backgrounds take control of their health by providing a range of programs, workshops, resources and events.
Join us for what is bound to be an insightful and intriguing discussion.
Note: This event will be an online event, and registration is essential to gain access to the zoom link. All registration details are collected by the UNSW Health Promotions team and remain completely confidential.