Description
Western Australia has reached a turning point – we are through the worst of the state's economic woes, according to CCI's latest biannual review of the WA economy.
With optimism returning to WA, now is the time for your business to start planning for the future growth opportunities, and for the Bunbury Geographe region to leverage its infrastructure, landscape and natural assets to grow and develop the region into a thriving economy.
Go Geo Ltd will be hosting CCIWA Chief Economist Rick Newnham to hear him discuss the state of the Bunbury Geographe Economy and opportunities for industry growth.
Rick will be available for questions, and attendees will have an opportunity to network over a provided lunch at the Rose Hotel Ballroom.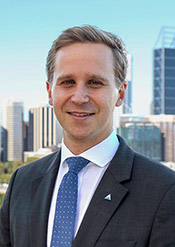 ABOUT RICK NEWNHAM
Rick Newnham is passionate about making Western Australia a world leading place to live and do business.
He joined the Chamber of Commerce and Industry of Western Australia (CCI) as Chief Economist in January 2017. Prior to joining CCI Rick worked as an Economist for Shell around the world, including postings in Australia (Brisbane and Perth), the UK (Aberdeen) and the Middle East (Dubai).
Rick is recognised by the World Economic Forum as a Global Shaper, he is an Ambassador for Australia Day and a State Advisory Council member of CEDA - The Committee for Economic Development Australia.
In 2011, Rick was awarded Young Western Australian of the Year for establishing the Left Right Think-Tank, Australia's first non-partisan think-tank of young minds.
Rick has a keen interest in innovation and policy that will advance Western Australia's position in the global economy. Through the economic policy, start-up and trade communities Rick stays connected to the economies of the Middle East and Asia, where his experience and interests most overlap.
Rick completed his undergraduate business studies at The University of Western Australia and post-graduate studies at Oxford University. His thesis at Oxford evaluated the economics of Uber and Airbnb's government relations strategies worldwide for which he won the Saïd Business School prize.
Seating is limited, please RSVP by the due date.
For further information, please contact emma@gogeo.com.au