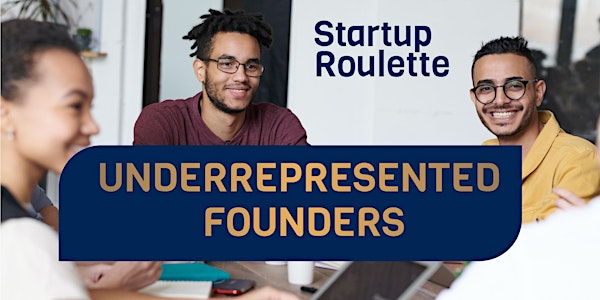 StartupRoulette: Underrepresented founders
This edition of StartupRoulette will be dedicated to 'underrepresented founders'. However, we would like to stress that anyone can join!
About this event
Fundraising isn't easy for anyone. But for some founders it's even harder.
European VCs want to be more diverse and inclusive, of course. But many still struggle with this, or often only see diversity through gender and rarely through the lens of ethnic background, sexual orientation, age, and more.
Therefore, we decided to host an edition of StartupRoulette dedicated to 'underrepresented founders' although we would like to stress that anyone can join. Mark your calendars for 1 July.
🔥 We start with a fireside chat with Sunkanmi Ola (Propel, just raised funding from Google Black Founders Fund) and Robert Gaal (serial entrepreneur and angel investor) moderated by Christina Caljé. They will share insights on fundraising, empathy and resilience.
💬 After that, we are hosting roundtables with various VCs and entrepreneurs (including Janneke Niessen (CapitalT) and Ferhat Topuz (Valyuu). Also Angel Impact Investors Dr. Nakeema Stefflbauer and Carol Tarr will join us to host a roundtable about ESG-aligning your startup). They will do their best to answer any questions you may have and share insights on how they built their organizations, raised funding, invest etc. You can network here with other founders and investors as well.
💰 From 15-16h we'll have the startup-investor speeddates as always.
You are welcome to join the whole program or just parts of it. We do curate the startups that want to join the speeddates.
For the speeddates signup here: https://startuproulette.vc/