Join us for this presentation to learn the best way to think about pricing your products with Patrick McKenzie from Stripe.
About this event
You've built a great product and you're ready to start selling it to customers - but how do you figure out how much to charge?
Figuring out how to price your product can be confusing.
Should it be based on your cost to produce + a profit margin? Or based on the value you believe the product will deliver for your customer? How do you figure out how much people are willing to pay? How do you test that pricing with your customers and communicate changes in price as your product improves and changes over time?
There's a lot to consider when it comes to pricing. So for this edition of the Startup Success Series we've invited Patrick McKenzie, Content and Communications @ Stripe and pricing thought leader to provide clarity and share some practical advice.
You can expect to learn about:
How intuitive pricing pyschology might be holding you back
The importance of re-evaluating your pricing on an ongoing basis
Tactics for rolling out pricing changes, and;
Why you should be charging more than you think
This edition of the Startup Success Series will be a presentation, followed by an audience Q&A with Patrick.
We can't wait to see you there!
Speakers
Moderator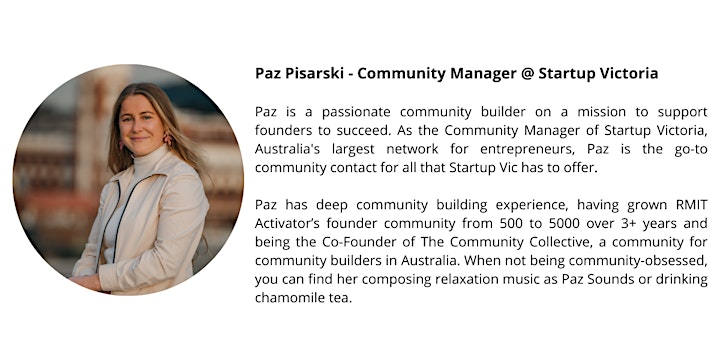 ________________________________________________________________________________________________
The Startup Success Series is run by Startup Victoria.
​Startup Victoria is Australia's largest network for entrepreneurs, with over 60,000 people in the community. Join our community today to access member-only resources, connect with awesome founders, 1-1 coaching, monthly Stand Ups and keep up to date with all that Startup Vic has to offer. Join now.