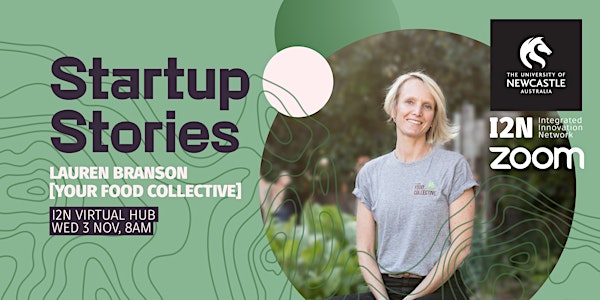 Startup Stories - Lauren Branson (Your Food Collective)
Hear the experiences of an entrepreneur and business owner – the highs, the lows, the wins, the mistakes, the inside story.
About this event
Lauren Branson and her cofounder Cara Cooper launched Your Food Collective in 2017, a local, ethical, and regenerative online grocery platform delivering fresh food to customers in Sydney, Newcastle and surrounding areas.
Having completed nearly 50,000 orders, achieved over 60 per cent reduction in household carbon emissions for over 15,000 households, and reduced food waste by up to 50 per cent across the supply chain, Your Food Collective are creating massive impact for their startup and their customers.
The team use a seven-point sustainability criteria for its farms and encourage suppliers to ensure lowest carbon footprint, reduce food waste, create greater product diversity and nutrient rich food. And they've made it so easy for customers to 'pick-to-order' their food and have it to their front door 48-hours through their proprietary tech.
Lauren has helped lead the company to an average year-on-year growth of 135 per cent and are hoping to hit $5mil in revenue for 2021-22 FY. They're also raising $1.2mil to scale across the state and country along with the expansion of their white label product lines.
Join us for Startup Stories and hear how Lauren and the Your Food Collective team are leading consumer-driven change, disrupting the $7bn online grocery industry and making a massively positive change for the environment.
Order of Proceedings
8:00AM - Zoom webinar commences
8:05AM - Housekeeping and introduction
8:10AM - Overview from Lauren Branson
8:20AM - Participant submitted Q&A
8:50AM - Additional Q&A with live audience
9:00AM - Event concludes
=================
What is I2N?
The University of Newcastle's Integrated Innovation Network (I2N) is responsible for driving economic diversity and business growth through innovation and entrepreneurship. At its network of innovation hubs, which are home the Hunter region's most promising innovators and entrepreneurs, the I2N delivers a range of enterprise skill building programs that develop ideas into sustainable, global businesses.
=================
You may be photographed or videoed while attending this event: please approach the organiser if you have questions, concerns, or do not wish this to happen.
The event organisers may add you to a mailing list so they can follow up, and you can receive updates about their activities: this mailing list will have an easy-to-find unsubscribe button.
Organiser of Startup Stories - Lauren Branson (Your Food Collective)