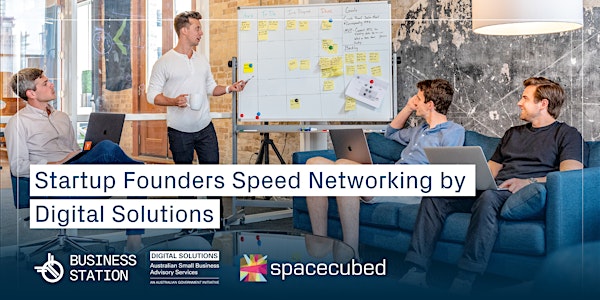 Startup Founders Speed Networking by Digital Solutions by Tristan [FW]
Sales Have Ended
Registrations are closed
Thank you for your registration to our ASBAS Digital Solutions Event.
Sales Have Ended
Registrations are closed
Thank you for your registration to our ASBAS Digital Solutions Event.
Speed Networking is similar to 'Speed Dating' without the 'Dating'. A structured opportunity to meet startup founders just like you.
About this event
Delivery Method: Face to Face Workshop
PLEASE NOTE: To register for this event you must be a business (0-19 employees)  and provide your ABN. 
Level : Beginner
Date/Time:
Wednesday, 19 January 2022
5:00 PM - 7:00PM
Speed Networking works a lot like 'Speed Dating' without the 'Dating'. A structured opportunity to meet accomplished small business owners/startup founders just like yourself, face to face, one business professional at time. Whether you are an entrepreneur, small business owner, legal or medical professional, in the finance, real estate or entertainment industry - speed networking events offer the perfect occasion to expand your business, social or enterprise contacts.
This workshop is brought to you by Business Station and AusIndustry under the Digital Solutions Program.
ABOUT PRESENTER
Tristan is a highly resourceful and purpose-driven General Business Advisor & Product Strategist, having worked in Large Corporate, Third-Sector, Small Business & Startup Organisations.
This gives him the perfect background to help deliver the Commonwealth Government's Digital Solutions program as a General Business Advisor, Business Developer & Strategic Stakeholder Liaison.
Tristan has worked within the following industries:- Business Strategy/Advisory- Information Technology- Commercial Construction- Building Engineering
Tristan has recently returned to Australia after several years working internationally in Europe & United Kingdom within the tech startup & scale-up sector. This experience has cultivated his strategic planning abilities, tenacity and social & emotional intelligence.
Tristan helps Startups, Scale-ups and Small Businesses by performing 360 Diagnostic Reviews & Health Checks to identify factors that are inhibiting growth / performance.
The output of these reviews is a detailed action plan/playbook for the business owners to undertake to improve their operational performance, marketing performance & financial performance.
Tristan's secret sauce is:
1. Aggregated experience of your internal team & external partners
2. Bringing into your business informed/alternative perspective(s)
3. Knowing who to speak to next and where to source these people from
4. An awareness of the business model weaknesses you need to address!
Tristan has advised over 100 Small Business, with many, many more in the pipeline, across:
- Architecture
- Construction
- Food & Beverage
- Art & Culture
- Financial Services
- HR Tech
- EdTech
- MedTec
- LegalTech
- FashTech
- ConstructionTech
- PropTech
#startupfounders #cofounders #smallbusiness #growthopportunities #networking #speednetworking
About Digital Solutions - Australian Small Business Advisory Services
Digital Solutions is one of the most generously supported digital transformation programs for small business by the Commonwealth Government. This iteration of the program has been run by Business Station in QLD, WA and NT for three years and has had a significant positive impact on the small business community.
This event will give you the chance to learn about the details of the program, what's on offer and who can access the free or highly subsidised support, training and resources! Perhaps you will find them beneficial for yourselves, your network or your clients.
To better understand what's on offer, we will encourage each attendee to register themselves to the program before the event, or otherwise by attending this workshop, you will be registered.
Important – Participating businesses must be aware that this information will be provided to the Commonwealth Department of Industry, Science, Energy and Resources for program evaluation and reporting purposes; and businesses may be approached by a representative from the Department to complete a survey on the services provided.
Organiser of Startup Founders Speed Networking by Digital Solutions by Tristan [FW]
BUSINESS STATION
Business Station is a not-for-profit organisation providing small business services across Australia.
Business Station is run by an energetic bunch of professionals who are passionate about empowering Australian businesses. The core purpose of Business Station is to help small businesses thrive. We facilitate, encourage and promote economic development across WA, QLD and NT by enabling and supporting the establishment, growth and ultimate success of new and small businesses. To find out more about our amazing team of superhumans, visit one of our spaces or explore our programs.
Our visions is to see business owners be successful, individuals flourish and communities grow.
 Visit www.businessstation.com.au for more information.
Aspiring and current business owners are invited to follow Business Station on Facebook, Twitter and LinkedIn @BizStationInc