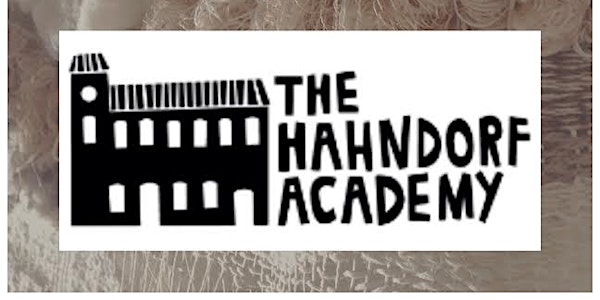 'Start Weaving' Workshop with Megan Walsh-Cheek at The Hahndorf Academy
Description
'Start Weaving' Workshop with Megan Walsh-Cheek

This workshop will provide you with an insight into Megan's artistic process, simple beginners tips to get started, and the confidence to begin on your own weaving adventures. Megan's guiding principle is 'Do what you can, where you are, with what you have', and she will show you that - with some imagination and a little resourcefulness - creating your own weavings can be easier than you think.


When: Sunday the 27th of September, 2015, 10:30am - 1:30pm (3hrs)

Where: The Hahndorf Academy, 68 Main Street, Hahndorf

Price: $90 per person

Who: - Maximum of x8 persons. Beginner skill level, all ages welcome.
- Places are limited to x8 people on a first-come basis,
to ensure personal attention and lots of friendly chit chat.


Workshop includes:
Mini Artist Talk

Simple picture frame loom and starter kit (including assorted fabric, yarn and ephemera)

Take home information sheet of tips and tricks

Support post workshop via email or a private Facebook group as desired
Please Note:
Due to the historic nature of the building, there is no wheelchair or elevator access to the workshop area upstairs. Please note that the staircase is narrow and steep; whilst a typically able-bodied person should have no difficulty ascending/descending to attend the workshop, please consider your individual physical situation before booking a place. Should you have any questions regarding this, please call Megan on 0418844966 to discuss.
Cancellation by attendee on/prior to the 20th of September = 50% refund issued.

Cancellation by attendee on the 26th or 27th of September = no refund issued (Should the workshop require cancellation at any time by the artist due to unforeseen circumstances, a full refund will be issued).