START UP & GROW Your Private Practice | Day 3 of 3 Masterclass Program
Description
START UP & GROW YOUR PRIVATE PRACTICE - MASTERCLASS 3 Day Program
An Experiential & Creative Approach

>Want to start or grow your private practice but don't know where to begin?
>Need help with marketing and your online presence ?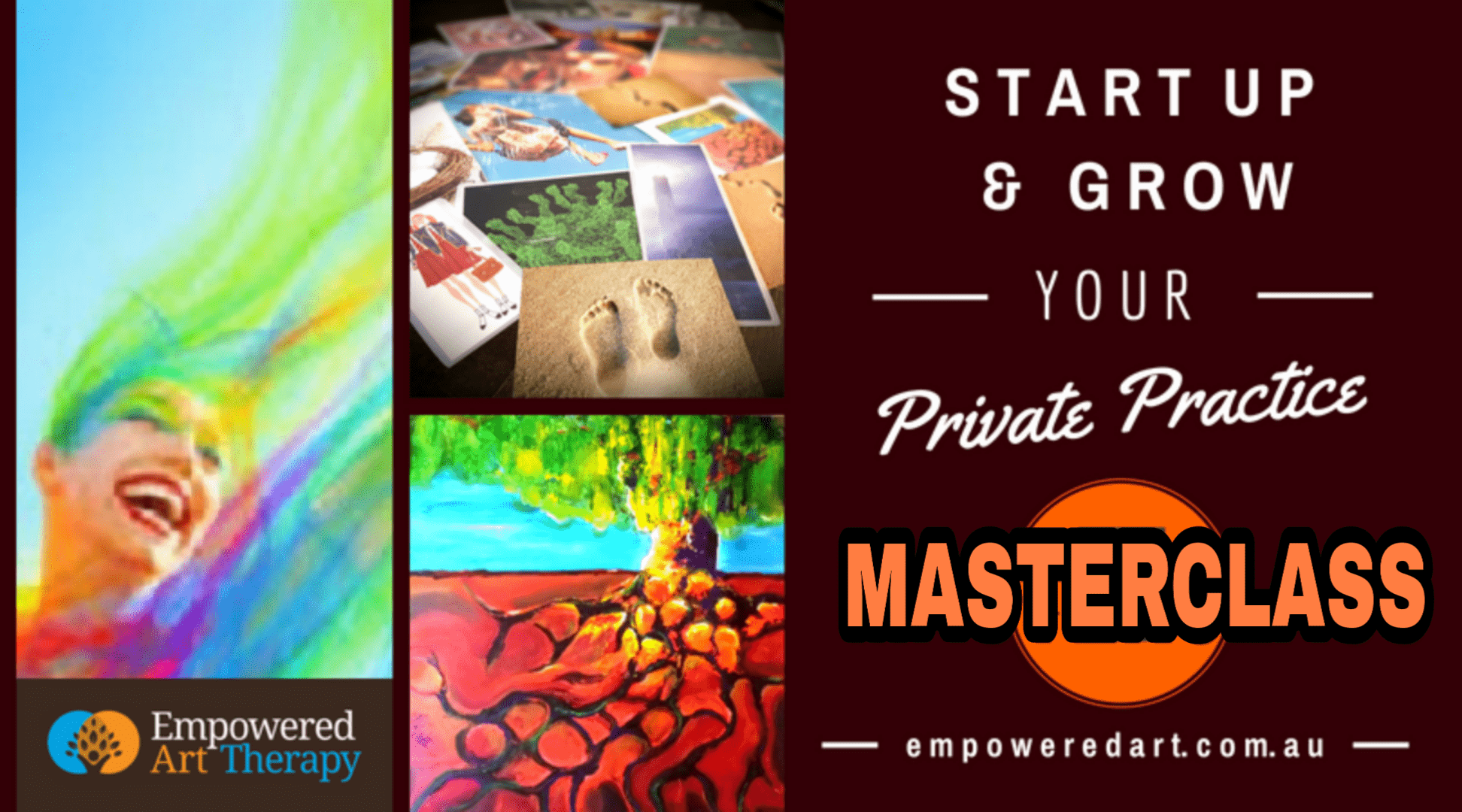 ---
3 DAY NOVEMBER 2019 MASTERCLASS WORKSHOP DATES AND TIMES:
Day 1: Saturday 16th November 2019 9.30am to 4pm
Day 2: Saturday 23rd November 2019 9.30am to 4pm
Day 3: Saturday 30th November 2019 9.30am to 4pm
---
Kerryn Knight is a private practice owner, founder of Kindred Art Space and previously in management for not-for-profit and private sectors.
With this experience Kerryn has navigated the marketing arena and formed a workable business model while remaining authentic to herself and the transpersonal therapeutic service she provides her clients.
In this 3 day Masterclass experiential and creative program she shares this knowledge and experience with you, to empower and support you to embody your practice and prepare you on your journey from business conception to start up and beyond.
---
This three-day workshop program will provide you with creative and experiential processes coupled with practical tools to empower you to design, create and build your successful and unique practice.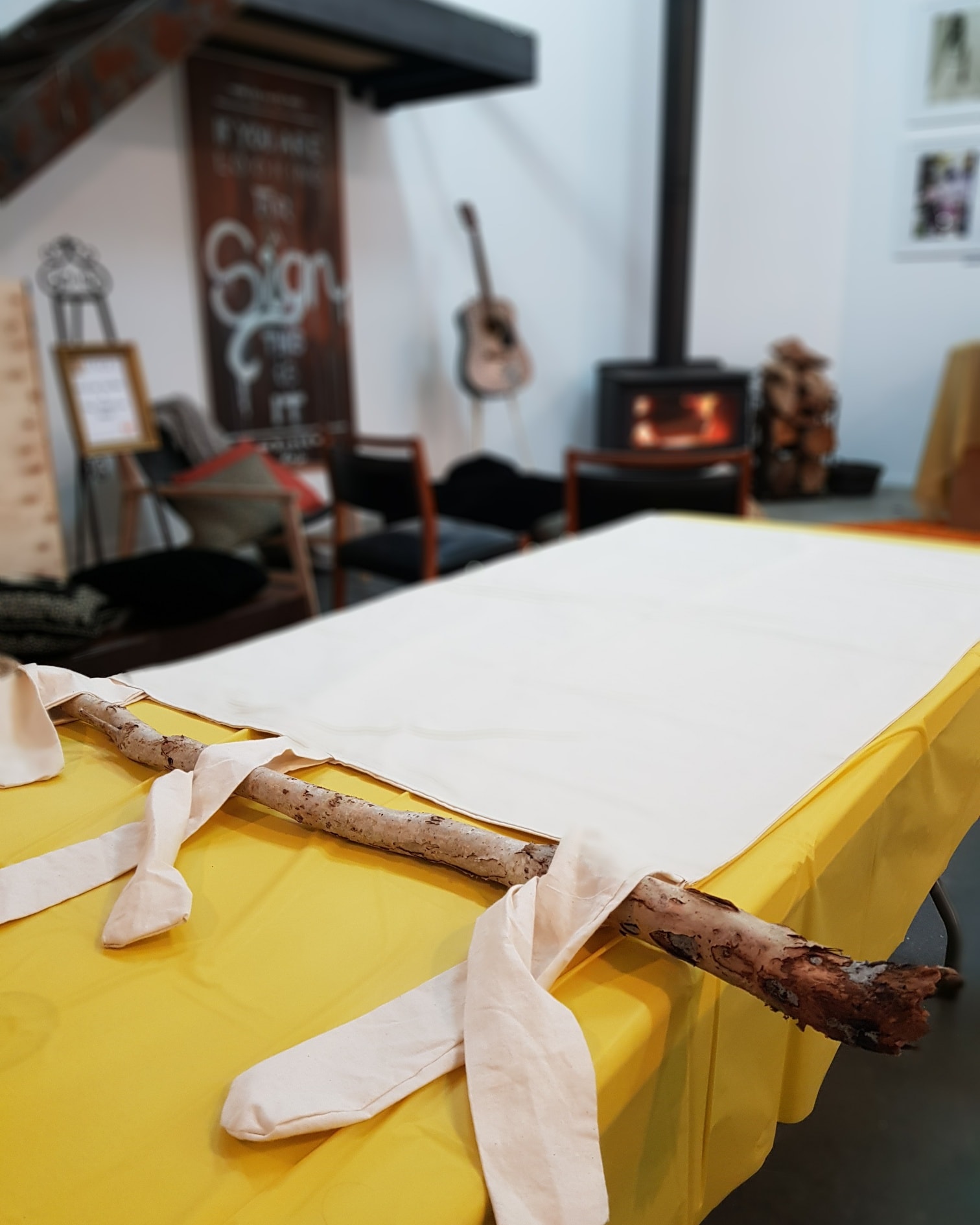 ---
This three-day Masterclass workshop program will empower you to:
Day 1:
create and define your unique personal branding,
how to stay motivated,
essential self-care,
maximising personal skills,
creative processes to embody your unique practice
Day 2:
how to get clear on your ideal client,
creative processes to explore your ideal client
how to get your message out there,
Day 3:
website design and online marketing
Budgets and setting fees as well as
forming a workable business plan.
creative process and ceremony to set your business intention


Labyrinth & Sharing Circle:
A Labyrinth, symbolic spiral has been created as a mosaic in the Meditation & Healing Garden at Kindred Art Space for you to walk along carrying your creative processes you have made during each workshop. Labyrinth's are designed for spiritual healing and also to set your intention at a deep symbolic level. It helps ground the wisdom you have gained by the therapeutic processes of the Workshop and bring this into your daily life and into your private practice.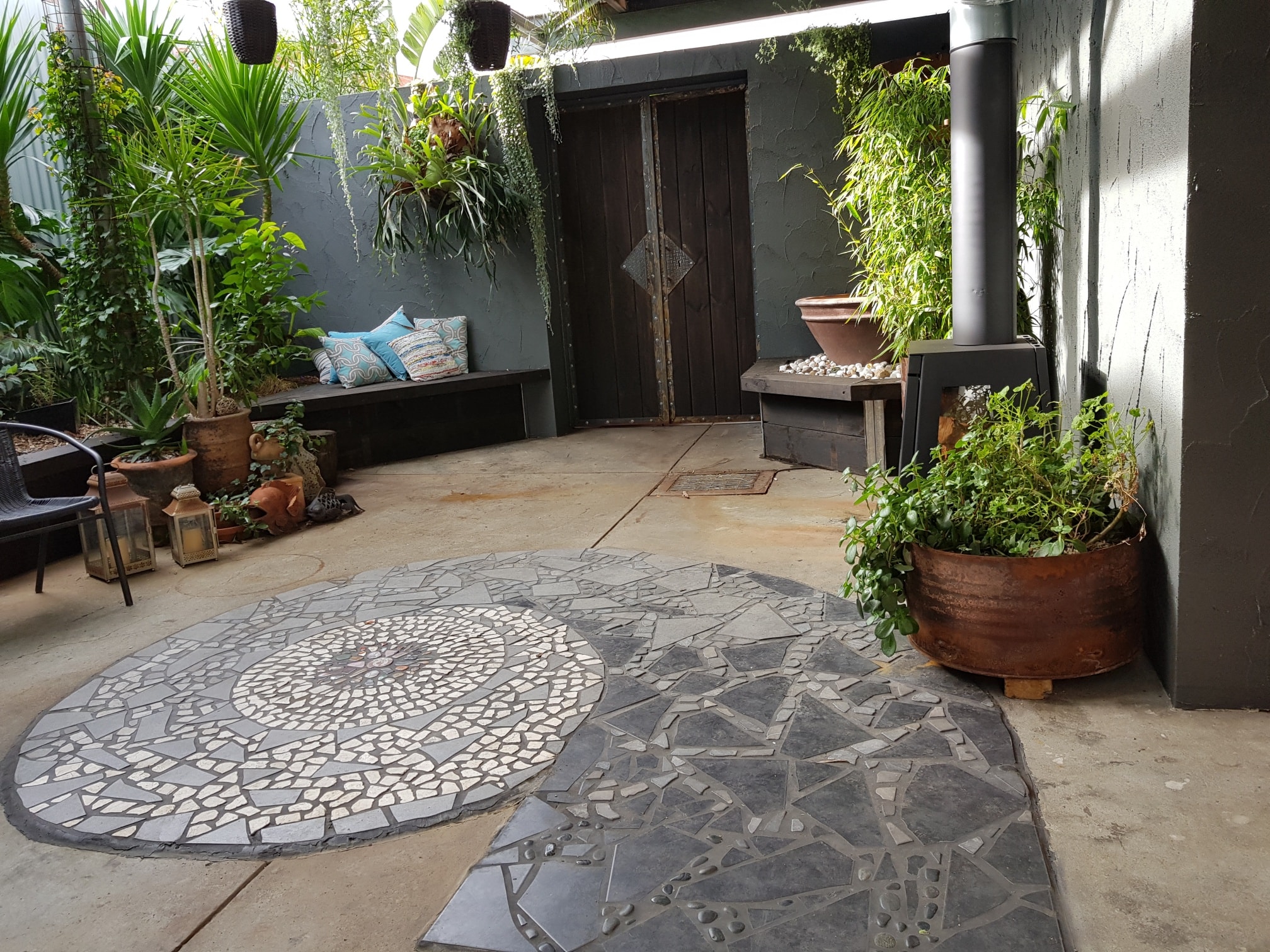 ---
WHAT PEOPLE ARE SAYING:
"Thank you Kerryn for the fantastic workshop!! The experience was invaluable I highly recommend to everybody. The workshop provides the opportunity for self-growth, so you can work through any personal blocks at your own pace. It was a complete surprise to be able to explore art therapy on a deeper personal soul level. Not only do you learn about business development, you have the opportunity to bond with others and share similar experiences too. The environment of Kindred Art Space is super welcoming and beautiful. The experience was 100% positive and supportive all the way, plus the fireplace was an added bonus!" – Clarisa – Counsellor
"I attended the workshop 'Start Up and Grow Your Business' for counsellors/therapists. It was such an amazing experience! I walked away from the two days feeling connected and inspired and even though it was a few months ago that I did the workshop I still regularly refer to the notes. Kerryn is a fantastic art therapist and made the workshop incredibly interesting with a wide variety of activities and discussions. I came away with very practical knowledge of steps to take, as well as personal insights that have changed the way I work in my business. Thank you so much Kerryn! It was such a pleasure meeting you and doing your workshop." Hayley Brenton – Therapist
"The workshop for growing your private practice was really informative. I felt very well supported and came away feeling inspired and uplifted. I'm really grateful for the opportunity and looking forward to putting into practice what I have learnt, thanks so much." Marianne Ellis – Soul Reflection Coach
"The Start up and grow workshops helped to clarify my vision of my future business. Kerryn is very welcoming and the large space is beautiful. The creative processes help to get to the heart of your unique experiences and how this can be a positive addition to your skills. I highly recommend doing this workshop for anyone starting a business or feeling their business has lost direction. Loved it!" Josephine Edmonds - Art Psychotherapist
More about what people are saying - http://www.empoweredart.com.au/about-art-therapy/testimonials-art-therapy/
---
WHATS INCLUDED:
Take-Away items include handouts and art you make through the creative and experiential processes designed for you to embody your unique practice.
Morning & Afternoon Tea provided throughout the 3 day workshop program

This Event is recognised by the Australian Counselling Association (ACA) When attending this 3 day workshop you receive Professional Development points towards your annual opd requirements
---
WHO SHOULD ATTEND:
The workshop program is suitable for counsellors and therapists wanting to start up a private practice and looking to build their current practice.
PLACES LIMITED
---
More about your Facilitator:
Kerryn Knight is a registered supervisor and member of the ACA College of Supervisors, a registered Level 2 Counsellor with the Australian Counselling Association (ACA), Sand Play Therapy Master Practitioner and a Transpersonal Art Therapist.
Her formal qualifications include Diploma of Transpersonal Art Therapy, Adv. Diploma of Business (Accounting), Certificate of Supervision and Certificate IV Workplace Training and Assessment. She is currently undertaking a Masters of Therapeutic Arts Practice.
Before embarking on her private practice and professional development venture, Kerryn became an accidental counsellor in her retail jewellery business where her passion for the therapeutic relationship began. She has also held management positions in the marketing industry and project management and staff training in the not-for-profit sector. Founded on witnessing the benefits her clients received from creative processes, coupled with the therapeutic relationship she provides, in 2016 Kerryn opened Kindred Art Space. This nurturing, welcoming creative warehouse conversion is a gallery and workshop space encircled by beautifully furnished consulting rooms, complete with a unique meditation garden and atrium rooftop garden. Kerryn shares this space with other independent specialists including psychologists, psychotherapists and hypnotherapists providing mental health and wellbeing for the community.
Kerryn combines the skills developed through all her experiences in her current practitioner role which focuses on personal and professional development.
Kerryn's unique background in business management enables her to give an independent perspective on the 'bigger picture' of private practice, processes required as well as provide mentorship and professional development support. Passionate about supporting her community through specilialist services for mental health and wellbeing, Kerryn has designed and developed this intensive 3 day masterclass workshop to support fellow counsellors and therapists to build their authentic and unique practice.


---
The Workshop space at Kindred Art Space: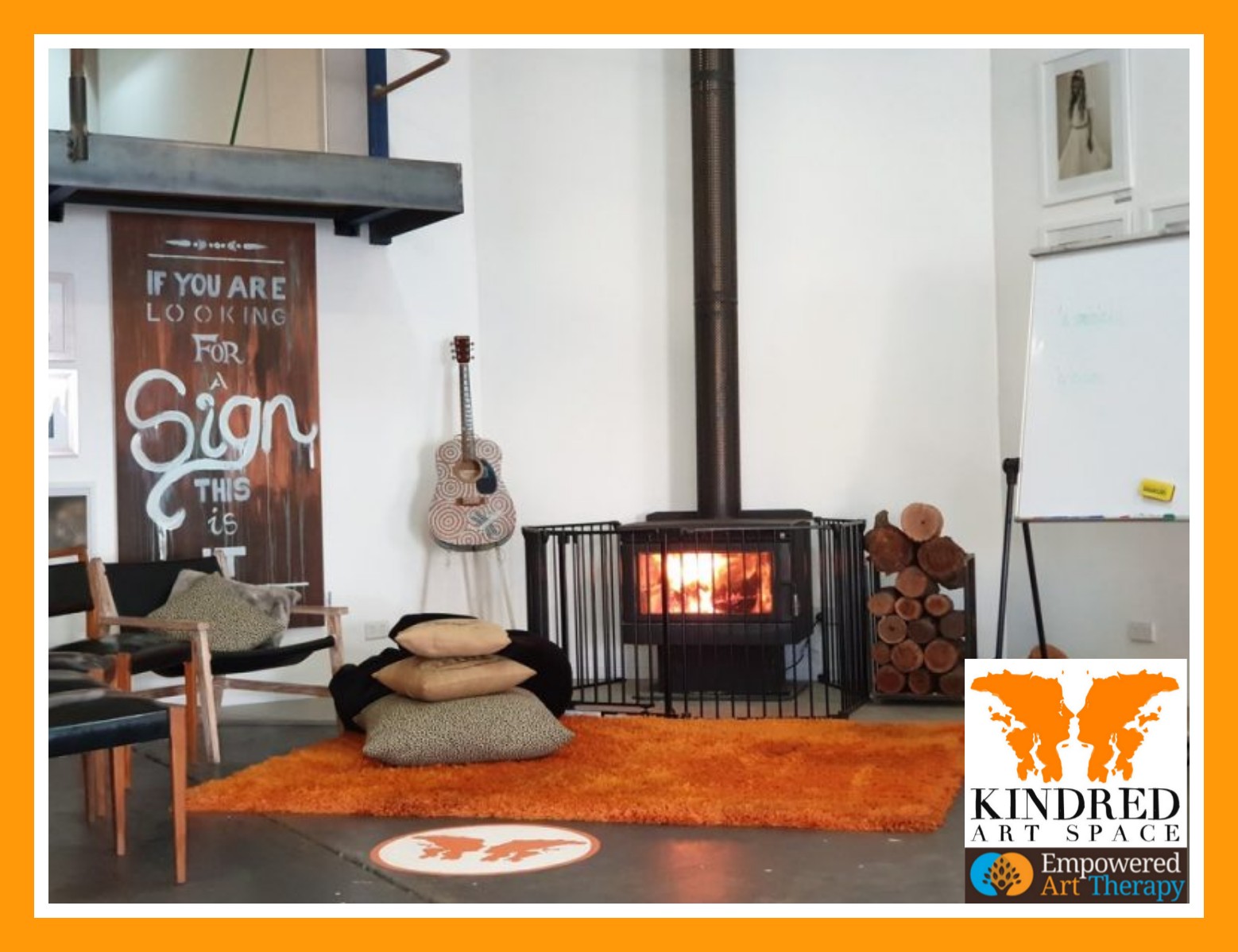 ---
FAQs
What are my transport/parking options for getting to and from the event?
FREE On-site and street parking

What can I bring into the event?
Journal/Note book and pen.

Lunch ( Morning & Afternoon tea is provided )
You may wish to wear something comfortable
Can I just attend 1 or 2 days of the 3 day workshop program?
For optimum results all three days should be attended
How do I obtain the promotional discount code?
Subscribe to our News & Events for 'whats on' and discounts to workshops here: http://www.empoweredart.com.au/contact-art-therapist/subscribe-to-empowered-art-therapy/
How can I contact the organiser with any questions?
You can contact Kerryn directly on 0450 253 990 or info@empoweredart.com.au

What's the refund policy?
7 days prior to the event

Do I have to bring my printed ticket to the event?
Yes
#startup #arttherapy #businessdevelopment #personaldevelopment #professionaldevelopment #privatepractice #selfcare #counselling #psychotherapy