Description
---

The Club and Volunteer Development Program provides support and direction to local Community Groups, Clubs and Associations to assist them to be well managed, more sustainable and better able to meet their legislative requirements. This is achieved through the promotion of suitable resources/tools, the provision of training sessions and workshops and by linking clubs with relevant agencies/service providers.
---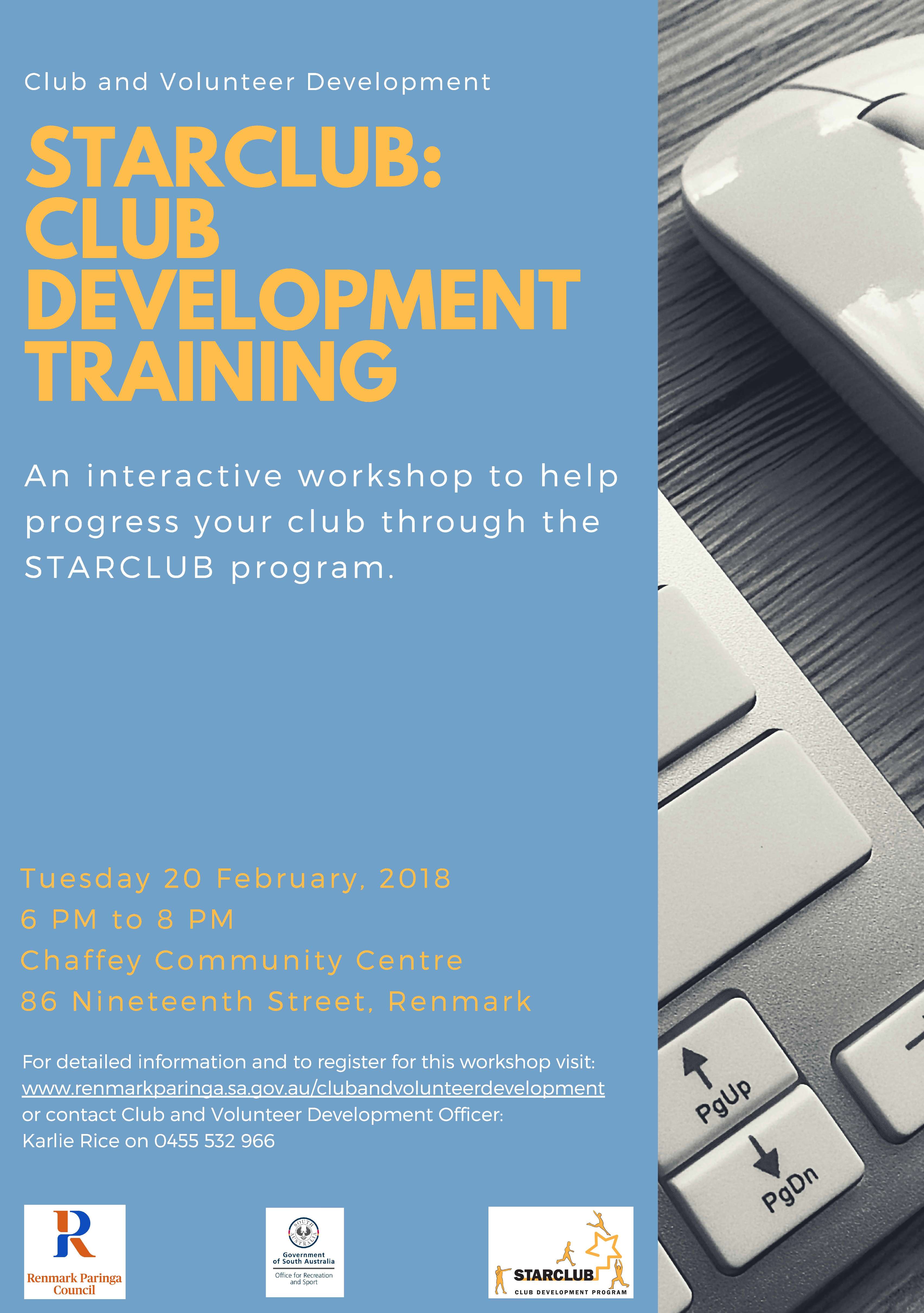 What is a STARCLUB?
A STARCLUB is a well-run club where quality coaches and officials work alongside valued volunteers in a safe and welcoming environment.
The STARCLUB Development Program is an initiative of the Office for Recreation and Sport and is all about continuous improvement and ongoing development.
By measuring your community group or club against the STARCLUB criteria, you are on your way to providing the best environment possible for your members and the wider community.
Workshop Details:
This FREE workshop is self-paced and aimed to progress your club through the STARCLUB program.
It is recommended that at least 2 members of each group attend the session and will require one web-enabeld device (laptop or tablet) and your clubs STARCLUB login details or clubs can be registered on the night if new to the program.
A light supper will be served at the commencement of the workshop.
Places in the workshop are limited, secure your spot today and keep your group, club or association moving along the path of success.
---
For more information about Renmark Paringa Council's Club and Volunteer Development Program visit
https://www.renmarkparinga.sa.gov.au/clubandvolunteerdevelopment
Or email the Club and Volunteer Development Officer at cvdo@renmarkparinga.sa.gov.au