Description
March with our float in the 2019 Mardi Gras parade to help celebrate our 40th year.
We don't normally march in parades. But this year we are definitely making an exception.
The Star Observer started in 1979, and is one of Australia's oldest, largest, and most respected LGBTI community not-for-profits. We are dedicated to reporting LGBTI news and inspiring community stories.
Fantastic parade entries cost serious amounts of money, so we need to charge a substantial price for tickets. But we guarantee that you will get to keep your parade uniform, have fun, look great, and be part of an amazing night.
Even with tickets helping us to raise money, we will still not cover all of the costs involved.
Our parade entry will include a truck with dazzling pink and silver decorations, professionally designed parade uniforms for our marchers, and training with a choreographer so you can learn the moves.
For those of you who are not able to march with us, please consider making a donation towards our float and parade entry. A donation of any amount will help us to cover our significant outlays.
And don't forget to register as a Star Observer volunteer http://www.starobserver.com.au/volunteer.
Our parade ticket entitles you:
* to march as part of the Star Observer float in the Mardi Gras 2019 parade
* a parade uniform (footwear not included, we recommend white or silver)
* ability to attend choreography practice sessions
To participate in our Mardi Gras Parade entry, you must agree to wear our parade uniform. Do not purchase a parade ticket if you are unwilling to wear the parade uniform.
Your outfit will be available for pick up at the final parade choreography practice session, or you must pick it up at our Sydney office before 26th Feb 2019. Marching in the parade does not entitle you to enter any other Mardi Gras event.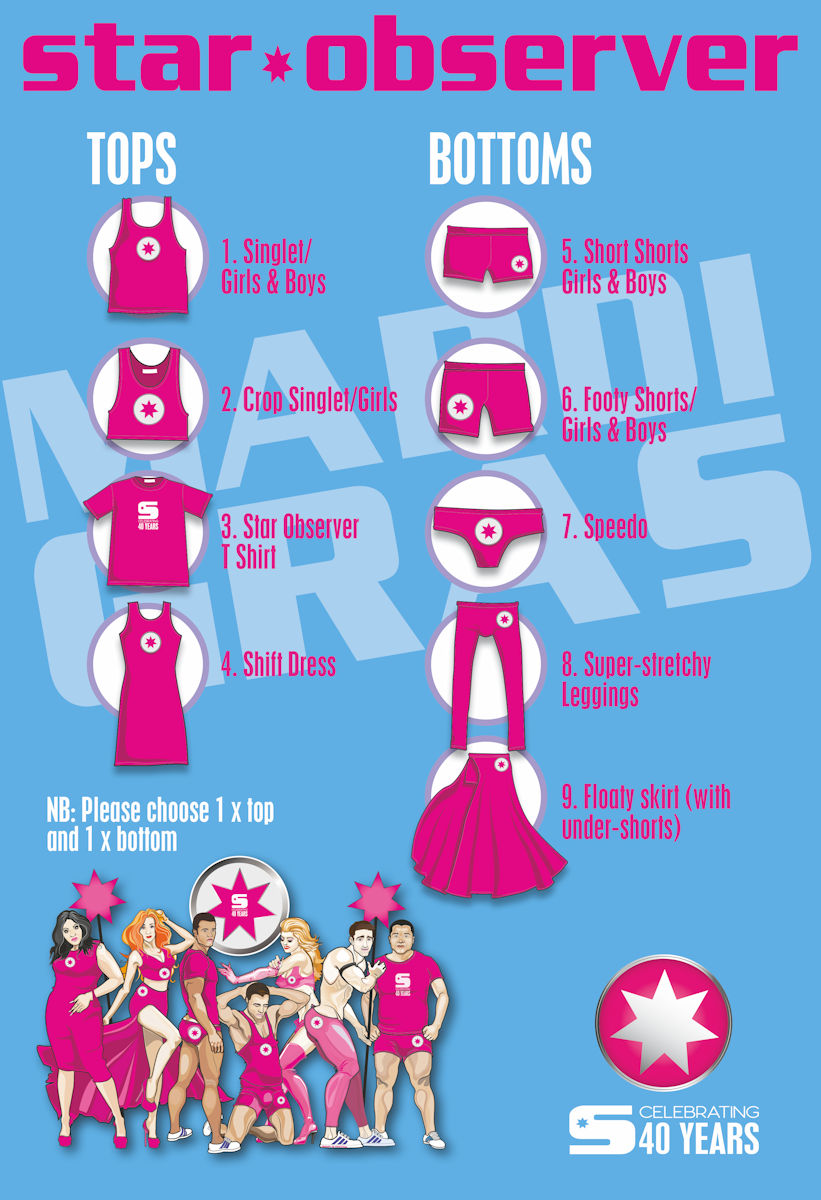 If you have any questions, please feel free to contact us to learn more.
http://www.starobserver.com.au/volunteer