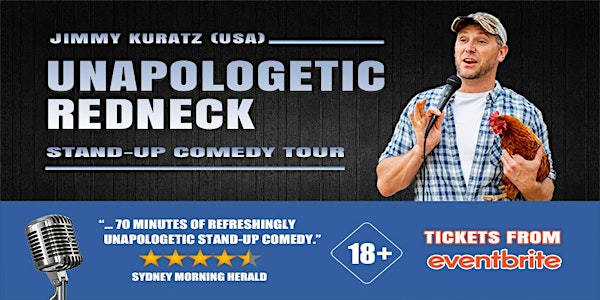 STAND-UP comedy @ KENDALL'S HOTEL, SCOTTSDALE, TAS
Location
Kendalls Hotel-Motel & Bistro
24 George Street
#18
Scottsdale, TAS 7260
Australia
Refund policy
Contact the organiser to request a refund.
Eventbrite's fee is nonrefundable.
STAND-UP comedy in SCOTTSDALE, TAS
About this event
No Bull***t ◄► No pandering ◄► Just a FUNNY guy!
► "Early Bird" tickets are only available during the FIRST week of sales. ◄
Please note that most shows sell out to capacity, so 'door sales' are rarely available.
Jimmy Kuratz has only recently moved to Tasmania ... and is LOVING it!
Originally from the American corn-growing state of Iowa, Jimmy knows about life in a small town: "If you're a decent lad, everyone knows within the first hour. But if you're a knobhead, everyone knows within the first 5 minutes!"
This is your chance to see just how much of a knobhead really Jimmy is! Hahahaha
The main question: "Is he funny?"
YES! ........ but only if you like REFRESHINGLY UNCIVILIZED, politically INcorrect, HARD-HITTING comedy. His style is not crude or repugnant, and he doesn't swear heaps, but his attitude is simply 'UNAPOLOGETICALLY REDNECK'.
For the last 2 years, Jimmy has been touring Western Australia with The Flannel Panel bogan comedy trio, Australia's hardest touring, rock'n'roll-style comedy maniacs. But now, he is itching to show Tasmania what he's all about!
An unbreakable veteran, Jimmy Kuratz will never balk, blink, deviate or buckle under pressure from any type of crowd. He's seen it ALL!!!
Having SOLD OUT Perth's Regal Theatre during the height of the pandemic and also SOLD OUT Perth Fringe Festival, Australia's most hilarious and unapologetic American redneck comedian is taking Tassie by storm. This is your chance to see JIMMY KURATZ's before he & the boys head overseas.
Straight out of the American trailer park and dished up to you on a platter, you won't be able to get enough of this entertaining Yank.
So get yourself ready for REAL COMEDY that will leaving you struggling to catch your breath between laughs.
Get yer tickets! Tell yer friends! Do it now coz this guy might get famous and then tickets will be way more expensive! Hahahaha
DATE -- 28 May, SATURDAY
START TIME -- 8:00pm sharp
DURATION -- 85 minutes
VENUE -- Kendall's Hotel-Motel & Bistro
ADDRESS -- 18 George Street, Scottsdale, TAS 7260