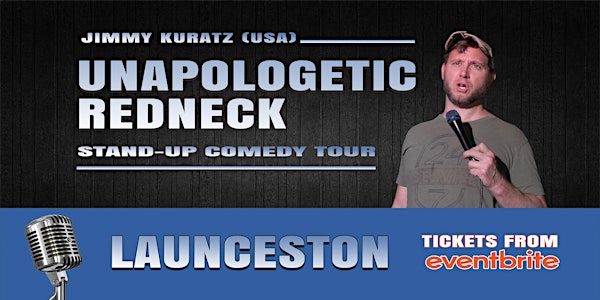 STAND-UP comedy in LAUNCESTON
Location
The Tramsheds Function Centre
4 Invermay Road
Launceston, TAS 7248
Australia
Refund policy
Contact the organiser to request a refund.
Eventbrite's fee is nonrefundable.
STAND-UP comedy @ LAUNCESTON (Tramshed Function Centre)
About this event
No Bull***t ◄► No Pandering ◄► No Fluff
JIMMY KURATZ is an American redneck now permanently residing in Beaconsfield, Tasmania.
Actually ... I am Jimmy. I don't have an Australian agent yet, so I wrote my own bio. I'll keep it honest & accurate so you know exactly what you're buying.
My comedy show--UNAPOLOGETIC REDNECK--is essentially 90 minutes of me taking the p*ss out of America, taking the p*ss out of myself, and taking the p*ss out of political correctness in general.
I describe the show as REFRESHINGLY UNCIVILIZED, politically INcorrect, and HARD-HITTING. You won't find me carrying on about any soft, new-age, we-can-save-the-planet rubbish. I just tell joke after joke after joke. Non-stop.
Isn't that what REAL COMEDY used to be?!?!?!
My material is not low-brow. But it isn't high-brow either. It's simply well-crafted, solid punchlines ... one after another ... every 20 seconds ... FOR AN HOUR & A HALF!
I think I've got something special here. THAT is why I'm touring from small town to small town. Driving all over hell. Taking my comedy to the people. Booking my own gigs. Doing my own advertising. Selling my own tickets. Writing my own bio.
As far as I am aware, there is NO OTHER COMEDIAN doing what I am doing right now. Apparently, I'm the only LUNATIC to think this is a good idea. Hahaha
But for that very reason, I feel that 5 years from now, you'll be telling your mates & your mums, "I once saw Jimmy performing at The Tramsheds. Even back then, he was a bloody funny bugger. I'm not surprised by the level of his success." (Hopefully that doesn't sound too wanky. Lol)
My previous show--American Trailer Trash--SOLD OUT Perth's Regal Theatre during the height of the pandemic. And my recent show--The Flannel Panel--also SOLD OUT at the Perth Fringe Festival this year.
Please, don't miss seeing me perform live. (I once missed seeing Nirvana performing at my local for $5! I regret it to this day. Don't do that to yourself!)
Grab your tickets, don your favourite flanno, and come laugh your head off!
► "Early Bird" tickets are only available during the FIRST week of sales. ◄