Stand Out from the Crowd!

Friday, August 8, 2014 from 7:00 AM to 8:30 AM (AWST)
Event Details

AcuityGroup and Bid Write collaboratively invite you to learn how to differentiate your company in the marketplace and win tenders. 
You will leave this event with the understanding, skills and awareness required to take the right actions to win more business.
Differentiate Through Positioning
Differentiating your company in the market place is a key strategic process that is often implemented poorly, if at all. Is your company well positioned to optimize business, from the right kind of clients?
Rob Bentley, from AcuityGroup, will explain the benefits of finding clarity and alignment in your position and how companies use their position to differentiate from their competition.
AcuityGroup is a business-coaching firm that specialises in assisting small to medium sized businesses to become aware of what is impeding their progress, and to focus on achieving a better commercial result.
Submitting Compelling Tenders
Hand in hand with the ability to position for success is the ability to submit a compelling tender. 
Nigel Dennis, from Bid Write, will trace the evolution of tendering maturity, sharing insights and observations about the increasing competition and subsequent growth of procurement and buyer professionalism. 
Bid Write is a tender specialist that helps you stand out from the crowd through focus, efficiency and years of practical, hands-on experience for proven results.  
Who Should Attend?
This event is suitable for small to medium sized businesses.
It is perfect for owners, business managers, business developers, sales people and administration managers etc who want to stand out from the crowd, position for success and win more business.
About the Presenters
 
Director of Acuity Group, Rob Bentley, has been a business coach since 2003, following a successful military and corporate career.

Running a small business since 1999, Rob has an affinity for small business owners, and the challenges they face. He also has developed leadership programs, and has been delivering the Acuity Leadership Program since 2007.

Rob has also completed an instructors course in Mindfulness Based Stress Reduction (MBSR), so is able to assist his clients not only with their commercial challenges, but with the significant stress that can accompany business ownership.
 

Director of Bid Write, Nigel Dennis, is Australia's most qualified tender response professional. 

Nigel has been writing bid responses for 20 years, with the last 15 years as a specialist consultant to industry. He has helped companies win hundreds of bids and billions of dollars of contracts.

He is also a thought leader with the Association of Proposal Management Professionals (APMP), the industry body and worldwide authority for professionals dedicated to the process of winning
business through tendering.  

Recommended Parking
Ticket parking is available on the street. Some areas allow the first hour for free. Parking near the Skate Park and in certain areas of the parking lot by IGA offer longer ticketed parking.
Booking Terms and Conditions
Eventbrite Fees: All Bid Write and Acuity Group booking fees are included in the published event price. However, as Eventbrite is an overseas agency, your bank or credit card company may charge an additional fee as a result of using this site which we cannot control or influence.
Cancellation: We require a minimum of 12 paying attendees for an event to proceed as scheduled. Bid Write and Acuity Group reserve the right to cancel an event if minimum attendee numbers are not achieved within 3 working days of the scheduled event date, or if other factors beyond our control mean that we cannot proceed with the event as scheduled. If Bid Write and Acuity Group cancel an event, notification to this effect will be provided via email and paying attendees will be offered the choice of using their payment as a credit toward a future event or having their payment fully refunded. Bid Write and Acuity Group are not responsible for any costs, damages or expenses (direct or indirect) attendees incur as a result of us cancelling any event.
Attendees: Attendees wishing to cancel their participation in an event may do so by notifying Bid Write and Acuity Group by email or telephone. Cancellation requests received 3 or more working days prior to the event will receive a full refund minus a 15% administration fee. No refunds will be made for event cancellations where the request is made within 3 days of the event.
Attendee Substitutions: We welcome attendee substitutions at any time up to the commencement of an event, as long as we have received prior notification of the substitution by email or telephone. We cannot guarantee that substitutions made on the day of an event will result in the needs of the substitute (eg dietary requirements) being met. No substitutions are permitted once an event has started.
Event Changes: Bid Write and Acuity Group reserve the right to make changes to an event that will not, in our sole opinion, negatively affect the performance and objectives of that event. For example, we may supply an alternative presenter if the advertised person becomes unavailable for whatever reason.
Privacy: Any personal information you provide to Bid Write and Acuity Group is subject to the Privacy Act 1988.
When & Where

Kailis Bros Leederville
101 Oxford Street
Leederville, WA 6007
Australia

Friday, August 8, 2014 from 7:00 AM to 8:30 AM (AWST)
Add to my calendar
Organizer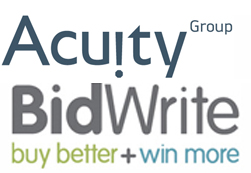 Acuity Group's business coaches help you develop sustained business success, and Bid Write's tender professionals focus on positioning for successful tendering and how you can WIN.